Eden Prairie, MN Outdoor Activities
---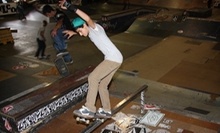 Robbinsdale - Crystal - New Hope
Skilled cement surfers teach budding skateboarders basic skills & tricks
Use Saturday 9:00am - 12:00pm
---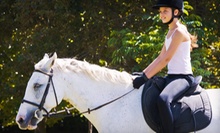 Horses gallop across large indoor and outdoor arenas during private lessons for all riding abilities
Use Today 9:00am - 5:00pm
---
Recommended Outdoor Activities by Groupon Customers
---
Roller derby combines the breakneck pace of NASCAR, the technical virtuosity of figure skating, and the hard-hitting action of badminton into a supersport smoothie. Your tickets get you in to see the Banger Sisters, Delta Delta Di, Kilmore Girls, and the Violent Femmes compete for first place, bragging rights, and bruises that most resemble Abraham Lincoln. Established in 2006, the North Star Roller Girls have steadily grown in popularity, becoming part of the Women's Flat Track Derby Association in 2008. Today, North Star's travel team, the Supernovas, periodically compete for a coveted national rankings spot. Teams are propelled by traditional quad roller skates, mounds of spunk, and intimidating monikers such as "Ida Kildher" and "Maggie McFaceStomp" as they propel their point-scoring teammates past opponents.
1301 2nd Ave S
Minneapolis
Minnesota
Several years ago, Ken Smith and Chase Williams were typical door-to-door salesmen. In need of a gimmick to boost sales and a quicker mode of transport, the duo tried riding Segways and immediately fell in love. Eventually, they turned their love for the two-wheeled transporter into their current venture, All American Segway. Their company provides all manner of Segway engagement, including guided Segway tours that offer rolling educations in local history and wildlife. Customers can also discover the revolutionary devices on their own by renting out Segways for recreational use, private parties, or as a friend for a lonely office chair or shopping cart.
15609 Highview Dr.
Apple Valley
Minnesota
US
507-206-0988
Water cascades over the precipice of a towering rock face, forming an elevated waterfall that overlooks the 18-hole circuit at Malt-Tees Mini Golf (formerly known as Adventure Gardens Mini Golf). Featured in CBS Minnesota's Best Things to Do in Richfield, the course winds through a labyrinth of colorful gardens and flowing streams, which players navigate via a system of bridges and putter pole-vaulting challenges. After rounds, appetites piqued by celebratory putter-gnawing can find relief at the concession stand, which serves up frozen desserts, drinks, and light snacks.
6335 Portland Ave. S
Richfield
Minnesota
612-861-9348
Melding a flurry of powerful forehand chops, pinpoint pivoting, and sneaky backhand lobs, tennis is second only to competitive chainsaw sculpting as America's favorite sport at which to grunt. Sponsored by the United States Tennis Association Northern Section, the Tennis Festival of the North features three days of events that include demos, clinics, an exhibition match, and jet-engine–powered tennis-ball launchers. Tennis fans and fanatics alike will enjoy an all-inclusive pass that includes access to Friday-evening demos and drills, Saturday and Sunday clinics, and general-admission seating to Saturday's exhibition. Tennis pros and experienced instructors lead informative sessions on topics such as Boomers and Beyond, Playing Tennis After 50, and Nutrition Hints for Winning Tennis, while attendees can also browse a vendor fair and an interactive fan zone. Additionally, Olympic gold medalist Lindsay Davenport and 18-time Grand Slam singles champion Martina Navratilova will be present to talk tennis and cut up the court during an exhibition match.
17185 Valley View Road
Eden Prairie
Minnesota
With only three home-turf games remaining in the season, cheer on the Twin Cities' fearsome squad of sassy ladies as they run, pass, tackle, kick, shimmy, teleport, twirl, and crank call their way across the gridiron. But don't expect any shortened fields, wussy tear-away flags, or altered rules just because the players have little use for a cup—this is straight-up football, right down to the earth-shaking QB sacks, high-flying Hail Marys, and tackles that pack their own crater. This hard-hitting action, coupled with intricate strategic plays, provides more entertainment than a shaky washing-machine race through a corn maze. Additionally, on May 8, Burnsville High School will host a BirdieBall golf tournament prior to the Vixen game (not included with the Groupon), which will feature par 3 holes, field goal drives, various prizes, and an opportunity to pair football with the most brutally unforgiving of sports.
600 E Highway 13
Burnsville
Minnesota
For most of the year, the outer concourses of the Hubert H. Humphrey Metrodome fill with the aromas of hot dogs and grilled onions to feed hungry fans during Vikings and Twins games. But from November through April, the smooth concrete floors of those same concourses become the skating surface for the Rollerblade RollerDome. Skaters have taken over the Metrodome every winter for decades, including in 1993, when Jonathan Seutter set a Guinness World Record there by skating 271 miles in 24 hours. The half-mile concrete loops provide the ideal conditions for speed skaters and beginners alike. On the upper level, experienced skaters get a cardio workout with separate alleys for speed skating and leisurely coasting. On the lower level, kids and novices can take their time while skating along to music spun by onsite DJs and really hip spiders.
900 South 5th Street
Minneapolis
Minnesota
US
612-825-3663
---