Edgewater, NJ Beauty and Salons
---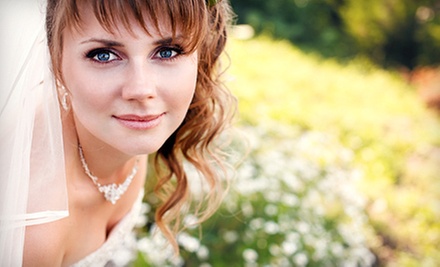 ---
Recommended Beauty by Groupon Customers
---
Skin Spa New York's seven Manhattan locations all represent the same business, but you wouldn't know it by stepping inside. That's because the spa strives to imbue each spot with the feel of its surrounding neighborhood, whether it's the bustling atmosphere of Midtown or the artsy character of Chelsea. Whatever the address, every studio brims with a mix of pamper-centric spa and results-oriented med-spa services using products such as PCA Clinical Skin Care and glo therapeutics. Private massages and full-body waxing complement the purifying effects of facials, which target individual issues such as blemishes and fine lines. Meanwhile, higher-tech treatments can revamp the entire body without a single incision, thanks to light-based techniques such as the collagen-boosting Laser Genesis, skin-tightening Titan laser, and anti-aging Photolight and Limelight facials, which remove signs of sun damage. A company-wide collection of more than 20 lasers can help clients rid themselves of hair by targeting and destroying the follicles that grow it. A plentiful stock of skincare serums is also available for purchase, allowing clients to keep their skin pristine at home.
Lexington Ave. and E 40th St.
Manhattan
New York
212-620-0017
Elegant chandeliers hang from S.M. Art Beauty's ceiling like crystal jellyfish, highlighting orange pedicure chairs with bubbling footbaths, and color polishes in sumptuous reds and pinks. After tailoring a face-framing haircut, expert stylists can revamp strands with a relaxing Moroccanoil treatment or create a custom style with high-end Dermalogica products. Patrons can also request S.M. Art Beauty's deep-tissue or acupressure bodywork to ease chronic tension, or customize waxing services to remove that finicky third eyebrow.
152 W 36th St.
Manhattan
New York
US
212-204-7077
NYC Laser Place knows their lasers and, unlike supervillians, use them for good—specifically to enhance their clients' appearances and bolster their confidence. Laser hair-removal treatments attack follicles with pulses of powerful light that work to gently remove hair and effectively destroy its chances for regrowth. With similar lasers, the staff can also diminish blemishes such as age spots and freckles during photofacials, which, despite their name, can be administered nearly anywhere on the body.
119 W 57th St., Suite 520
Manhattan
New York
US
646-820-5273
With six locations peppering Manhattan, Brooklyn, and the Bronx, Precise Brows' fleet of trained waxers keeps faces and bodies looking polished. Waxing banishes unwanted fur from arms, legs, stomachs, and bikini areas, and hairstylists shear off split ends from scalps and blow-dry remaining lengths into sleek shape. Faces fearful of wax can forgo the sticky stuff in favor of threading services available from the neck up. Taking a break from bristle, the staff can also enhance winks with eyelash extensions or etch beautiful black or herbal henna onto skin to ready it for a special occasion or camouflage regretful tattoos of Jeopardy host Alex Trebek.
347 Lexington Ave., Floor 2
Manhattan
New York
US
212-867-3171
Smita Harmalkar, aesthetician and owner of Saloni Threading Salon, beautifies male and female patrons with threading and all-natural spa techniques she picked up during her formative years in India. Smita gently shapes eyebrows with wound cotton thread, a centuries-old technique developed in Asia. Sugar waxing clears larger patches of hair with a blend of sugar, lemon juice, and herbs, a mixture that grips individual hair shafts but, like an inexpensive tattoo, won't stick to skin. Smita also administers rejuvenating facials that combine aromatherapeutic Shaffali skincare products with pressure-point massages on the hands, feet, and ears. Treatments take place in a salon space whose rich saffron walls and printed crimson designs draw on Indian decor, accented with a chandelier of dangling ruby pendants.
853 Broadway Ave, Suite 612
New York
New York
US
212-254-6386
When clients walk through the doors at Industry 80 Salon at Depot Square, they cross the threshold into a contemporary wonderland. At each hairstyling station, chrome shelves and counters bathed in purple neon lights evoke the interior of a '50s-movie spaceship, and the range of sleek, high-end hair products could almost be hair-friendly rocket fuel. Salon owners Geo and Dominic use their respective backgrounds in design and hairstyling to lead a team of skilled hairstylists. The staff provides a variety of aesthetic services including haircuts and styling, laser hair removal, and Botox and Juvederm to perfect faces.
Also tucked within this cutting-edge beauty haven is Serenity Facials, where aesthetician Fay Brower pampers skin with all natural botanical products, as well as stimulating collagen masks. By using private treatment rooms, aromatherapy, and facial massage, Fay strives to make each facial as much about relaxation as it is about correcting and perfecting skin tone. And, as an added bonus, Fay also offers makeup services to help enhance the natural glow brought forth from one of her anti-aging or detox facials.
11 West 36th Street
New York
New York
917-597-0723
---