Things to Do in Edgewater
---
Five-hour boat trips, passengers seek out Jamaica Bay flounder on Captain Dominick's restored party boat
---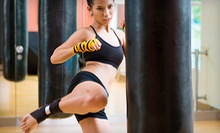 Flurries of jabs, kicks, and punches help students build strength and self-confidence in three types of martial-arts classes
---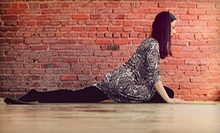 Use Saturday 10:30am - 12:00pm
---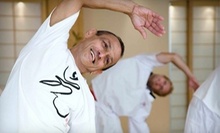 One-hour classes deepen breaths, strengthen cores & improve posture.
Use Saturday 6:00am - 1:45pm
---
Recommended Things to Do by Groupon Customers
---
Fun Station USA fills its indoor space with the scaled-down amenities of an amusement park, such as mechanical rides, a multileveled maze, and a large concession stand stocked with carnival cuisine. At all hours of operation, the air buzzes with excitement—a byproduct of jingle-jangling machines, flashing lights, and splashes of color at every corner. After acquiring tickets from myriad arcade games that include skee-ball and air-cannon shooting galleries, revelers head to the redemption counter to exchange their winnings for prizes and foreign currency.
40 Rocklyn Ave.
Lynbrook
New York
Under the bright lights of the world-famous Madison Square Garden arena, four of the best women's college basketball teams in the country will tip off in the Maggie Dixon Classic. The first game pits Baylor against St. John's before DePaul takes on Tennessee to guess the number of jellybeans hidden inside the basketball. The undefeated Baylor Bears, ranked No. 1 in the nation nine games into the season, follow the lead of junior slam-dunk machine Brittney Griner. Pumped up from her placement on the Naismith Trophy early-season watch list, St. John's senior forward Da'Shena Stevens will induce frustrated growls from Baylor as she makes them work for their points. With 15 NCAA Tournament appearances in the last 23 years, DePaul's squad enters the high-pressure match gracefully, and Tennessee confidently follows the lead of its celebrated coach, Pat Summitt, named Sports Illustrated's Sportswoman of the Year for her more than 1,000 wins and ability to slam dunk while riding a unicycle.
2 Penn Plz.
Manhattan
New York
US
Timothy Haskell is no stranger to scaring folks: The Daily Beast considers his Nightmare series "one of the most frightening haunted-house productions in New York City." But when he teamed up with haunted-house vet Steve Kopelman, Timothy didn't want to keep populating creepy corridors with imaginary ghouls. At Nightmare: Killers, the duo tap into the true terror inspired by historical and contemporary serial killers to explore the monstrosity of their actions and the celebrity and cultural obsession surrounding them. The New York Times lauds the attraction as "a taut, assured production that knows exactly what it wants to do (scare the hell out of you) and performs its task with ruthless, coldblooded precision."
In the lobby, a gallery of artwork, memorabilia, and items from or about famous serial killers primes guests on the haunted attraction's theme and provides a glimpse into the warped minds of the killers in question. At the front of the line, personnel can mark any willing visitor's forehead with an optional scarlet X, which will grant the actors permission to interact with those victims for the next petrifying 20–25 minutes. Inside the haunt, rooms depict scenes based on Ted Bundy and the Zodiac killer, with the occasional cameo from pop culture's most fearsome fictional figures. To heighten heart rates even more, visitors will also have to navigate twists and turns, fog, and uneven footing as they desperately try to avoid becoming each psychopath's latest victim.
623 Broadway
New York
New York
Thousands of fashionistas flock to StyleFixx Premier Shopping Events to meet up-and-coming independent fashion designers and browse the latest styles. This year's displays include the 2012 lines of Hivernage NYC, Bling Boutique, and Cimber Designs. In between shopping sprees, attendees may relax with complimentary beauty treatments such as hair services by Dellaria Salons, makeovers by Virginn Pure Mineral Makeup, and body wraps by good-natured mummies. Once pampered, refreshed guests mingle while sipping free cocktails and munching on samples from Finale Desserts and Haru Sushi, and each partygoer receives a StyleFixx Swag Bag loaded with product samples.
125 W 18th St.
New York
New York
US
The phosphorescent, indoor landscape at Monster Mini Golf immerses putters in an eerie universe that inverts the sun-soaked cheer of conventional courses. Rimmed in glowing green barriers, 18 holes lure swingers of all sizes to challenge their coordination and resolve in the face of winged monsters, scowling animated trees, a creepy clown, and their opponents' shockingly dazzling smiles. Sheltered from searing rain and howling wind, the indoor course enables play around hazards such as a spell well and luminous, ghostly windmill at any time of the year. An in-house radio station and DJ mask the sound of pounding hearts with lively beats and course commentary, and golfers looking for additional glory can win prizes by participating in regular contests or at the onsite arcade (arcade games not covered by this Groupon).
49 E Midland Ave.
Paramus
New Jersey
BumbleBee Tennis's wide spectrum of tennis programs for juniors and adults nurture players at every step of game development. Skilled instructors helm a variety of lessons from Intro to Tennis classes to private one-on-one intensives. All teachers are trained professionals and most have played competitively at the collegiate level. While helping students focus on technique and making solid contact with the ball, instructors also attempt to ensure that everyone from youngsters to veterans enjoys the game and knows which racket string corresponds with which guitar chord. Adults interested more specifically in the cardiovascular aspect of the game can enroll in Cardio Tennis, a 60-minute class comprised of high-intensity drills and games that elevate heart rates into the aerobic zone and subsequently evaporate calories.
116 W 11 St.
New York
New York
347-284-6061
---