Golf in Edgewood
---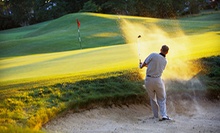 Cart zips clubbers across par 65 course as it bobs and weaves across 4,651 yd. of Lancaster County farmland
---
Recommended Golf by Groupon Customers
---
Arundel challenges Mother Nature herself with its covered and heated driving range. At night, swingers can stay in the game thanks to extended hours (until 8:30 every night except Sundays) and lit facilities. With four rounds of mini golf, perfect putting skills or rustle up friends for a round on Arudel's well-manicured little greens. The golf park also boasts batting cages, allowing visitors the chance to hone their hitting skills. A staff of PGA gurus keeps the facilities all-age friendly.
1501 Dorsey Rd.
Glen Burnie
Maryland
Golf is a sport of physical precision and aerial dynamics, won and lost upon the pendulum of your swing. Use today's Groupon to brush up on your golf physics and practice blasting balls with your refined stroke. For $30, you get a 30-minute video swing analysis (normally $50) and large bucket of balls ($10) from Par Breakers Golf Academy, a $60 total value. This comprehensive indoor golf facility is a short 30-minute golf-cart trip from Philly in Oaks.
99 Brower Ave., 2300
Oaks
Pennsylvania
Clubgolf Performance Center members receive unlimited access to the indoor facility's myriad game-improving services. Observe, critique, and apply subtitles to your swing with video analysis and exchange golfer trading cards with experienced, PGA-certified club-wielders on the 1,200-square-foot putting green. During a professional diagnostic, Clubgolf's instructors will analyze and evaluate each knee bend and balance shift of your game, then prescribe a training regimen to help ensure better dimpled-ball smacking. Members can also attend complimentary golf classes, choosing from more than 15 courses offered each week, and golf-specific fitness programs, such as tee-lifting and knickerbocker-modeling practice.
9811 Washingtonian Blvd.
Gaithersburg
Maryland
Waverly Woods takes club-toting competitors careening through an emerald labyrinth of kempt fairways, towering tree lines, and boldly contoured greens designed by prolific course architect Arthur Hills. Begin a day filled with merciless divot-tearing and tender driver-coddling with a stint at the club's range, where a bag of 30 range balls rains like ballistic spheroids onto distant targets. Though the relatively challenging course features few sand traps and only one hole with threatening water hazards, ever-sloping topography and treacherous landforms filter imprecise shots into unfavorable lies that force off-balance side-hill stances. The course's difficulty is tempered by five sets of tees—with aggregate distances ranging from 4,808 to 7,024 yards—though bentgrass greens await duffers of any ilk with fast-breaking putts more difficult to read than a toddler's attempt at calligraphy. After an exhilarating round, players can redeem their $20 lunch voucher for Black Angus hamburgers ($7.25), hot buffalo wings ($7.25 for 10) and other noshes from Waverly Woods' menu of savory grill fare.
2100 Warwick Way
Marriottsville
Maryland
410-313-9182
At Sumner Fitness, a Titleist-certified instructor obtains a player's golf history and identifies swing problems using physical screening, golf biomechanics, and human eyes. With a golf dossier in hand, the links expert will create a program tailored to your needs and follow up your on-site evaluation with an email containing customized results to help enhance golf performance. By combining physical workouts with an improved technique, both weekend swingers and pros can maximize distance and accuracy.
4611-K Sangamore Road
Bethesda
Maryland
After spending his formative years helping his father to operate multiple golf facilities, John Invernizzi decided to dedicate his adult life to spreading the gospel of the game. The PGA pro opened Hereford Golf Center in 1995 with the aim of creating a pressure-free space for golfers of all stripes to hone their swings, learn to appreciate the game, and debate about which club would be the most useful to ward off feral caddies. In the ensuing 17 years, clubbers have been hitting practice balls at the center's 36-stall driving range, replete with eight target greens that range from 50 to 260 yards.
The adjacent Lost Falls Miniature Golf Course takes friendly competitors careening past two ponds, a large stream, and a mysterious cave as they steer golf balls toward pintsize flagsticks. True to his mission of making golf fun and accessible for everyone, John and the staff at Hereford Golf Center provide clubs free of charge, sparing clubless players from hastily purchasing one or digging in their backyard for a conveniently shaped mastodon bone.
17110 York Rd.
Parkton
Maryland
---