Things to Do in Edina
---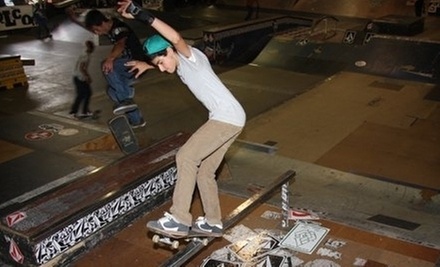 Robbinsdale - Crystal - New Hope
---
Recommended Things to Do by Groupon Customers
---
Water cascades over the precipice of a towering rock face, forming an elevated waterfall that overlooks the recently renovated 18-hole circuit at Malt-Tees Mini Golf. Featured in CBS Minnesota's Best Things to Do in Richfield, the course winds through a labyrinth of colorful gardens and flowing streams, which players navigate via a system of bridges and putter pole-vaulting challenges. After rounds, appetites piqued by celebratory putter-gnawing can find relief at the malt shop, which serves up malts, ice cream cones, espresso, soft drinks and light snacks.
6335 Portland Ave. S
Richfield
Minnesota
612-861-9348
At Claymate Creations, Anjee Mai Emerson celebrates her two passions: art and play. Inspired by her joy in creating sculptures, she uses her colorful creation haven to share that love with students aged 8 and older. She leads them in shaping polymer clay monster sculptures, motivating them to tap into their imaginations to bring one-eyed green gremlins or self-destructive socialites to life. In each three-hour playshop class or private party, up to six guests gather in this casual learning environment. Anjee encourages them to have fun playing with clay while they flex their problem-solving and critical-thinking skills.
She also showcases her own work throughout the studio, and sells her handmade monsters, earrings, magnets, and stationery at a handful of local boutiques.
3754 Pleasant Ave.
Minneapolis
Minnesota
Before their show, guests of the Burnsville Performing Arts Center peer out the lobby's two-story glass walls to the skyline of Minneapolis. Shaking off the inspiring sights of civilization, they enter into a world of entertainment and make believe. Inside the 1,014-seat auditorium, the proscenium stage spotlights actors and musicians, and striking metal cutouts line the walls. When lit from behind, these cutouts create a tangle of shadows and light reminiscent of a child's dream or the opus of an insane shadow puppeteer. The center also hosts a 150-seat Black Box theatrer, as well as an expansive art gallery and rehearsal area.
12600 Nicollet Ave.
Burnsville
Minnesota
952-895-4680
Several years ago, Ken Smith and Chase Williams were typical door-to-door salesmen. In need of a gimmick to boost sales and a quicker mode of transport, the duo tried riding Segways and immediately fell in love. Eventually, they turned their love for the two-wheeled transporter into their current venture, All American Segway. Their company provides all manner of Segway engagement, including guided Segway tours that offer rolling educations in local history and wildlife. Customers can also discover the revolutionary devices on their own by renting out Segways for recreational use, private parties, or as a friend for a lonely office chair or shopping cart.
15609 Highview Dr.
Apple Valley
Minnesota
US
507-206-0988
Dappled light from an overhanging crystal chandelier catches the glittering fibers of yarn skeins arranged in displays, on tables, and covering the towering walls of StevenBe's high-ceilinged atrium. Store proprietor Steven Berg continues to redefine the traditional knitting methods he first learned as a child, infusing patterns with creative twists, nontraditional materials, and enough sparkle to rival a Swarovski Lite Brite. In an interview with Patch.com Berg stated, "We want the knitting experience to be] fun and playful, lighthearted—we want this to be a happy place where—whatever troubles you might have at home—you can leave them behind." StevenBe's eye-catching displays of chunky yarns, wools, cottons, and novelty materials wrap visiting knitters in a fibrous embrace faster than a lonely box of Wheaties, and paintings from local artists adorn the walls. Animal-print armchairs support a growing circle of crafters during special events and sun-soaked afternoons that may feature refreshments or live musicians' buzzing instruments above the gentle clicking of knitting needles.
3448 Chicago Ave.
Minneapolis
Minnesota
612-259-7525
---