Edison Gyms and Fitness
---
Gym, Exercise, Weightloss Deals
---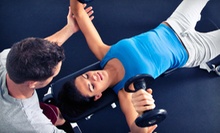 Certified trainers pump up bods through dynamic, balanced fitness regimens with proper form and techniques that melt fat and reshape figures
Use Saturday 8:00am - 1:00pm
---
Recommended Gym, Exercise, Weightloss by Groupon Customers
---
The NASM-certified personal trainers at Gifted Bodies strive to improve lives, not just bodies. Driven by the belief that all clients have the potential to become gifted, trainers redefine clients' limitations and push them toward progressive goals with a mixture of firm motivation and compassion. During boot-camp classes and group sessions, which include kickboxing, Zumba, ab work, and yoga, they guide patrons of all backgrounds through invigorating routines.
They also visit homes for one-on-one appointments—as long as they have a 5'x5' space or a permit to punch through drywall, trainers can commence a custom exercise routine. To instill sustainable habits for healthier living, they place emphasis on nutrition as well as gym drills. Troy Samuels, Gifted Bodies' creator and nutritional counselor, likens one's diet to the fuel put into a car: the proper fuel allows the vehicle to hit maximum speed.
431 Raritan Ave., 2nd Floor
Highland Park
New Jersey
Tiger Hall: Play Zone and Activity Center spreads fun and interactive-learning opportunities throughout its 2,800-square-foot facility, offering everything from a spacious playroom to a relaxing parents lounge. On weekdays, the center provides families with private programming and preschool options. Come the weekend, Tiger Hall transforms into an energized hub of entertainment, complete with open-play hours, workshops, and a variety of classes, including in art, dance, and music.
53 State Rd.
Princeton
New Jersey
Jeannie, along with her staff of instructors at Easy Fitness with Jeannie, leads a variety of classes designed to strengthen and tone muscles while burning fat. Classes include energetic Zumba sessions of Latin dance based steps set to upbeat music, relaxing yoga for all skill levels, and intense boot-camp sessions incorporating plyometric and calisthenic exercises.
420 Chestnut St.
Union
New Jersey
908-258-7020
---