Edmond, OK Drs and Health Practioners
---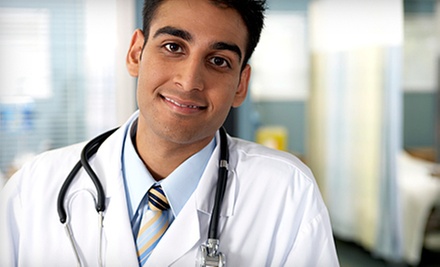 ---
Recommended Drs & Health Practitioners by Groupon Customers
---
Shadid Plastic Surgery Associates proves the adage that two are better than one. Board-certified plastic surgeons Derek and Edward Shadid helm the practice, combining their medical knowledge with modern technology to give patients their desired results with the minimal amount of discomfort. They lend skilled hands to procedures that sculpt and contour the entire body, or focus on facial features. But not all of the surgeons' procedures are surgical—their on-site medical spa welcomes clients for less invasive treatments, such as chemical peels, laser hair reduction, and Botox injections that smooth lines from frowning or excessive winking. And while experienced nurse-aestheticians administer many of the med-spa treatments, the Shadids always take part in patients' initial consultations and oversee their care.
13820 Wireless Way
Oklahoma City
Oklahoma
405-755-4451
Dr. Kevin Layton draws upon more than 20 years of general dentistry and orthodontic training to prettify smiles of all ages at Dental Images of OKC. Armed with advanced implements and a warm demeanor, Dr. Layton fortifies teeth against encroaching plaque, scans mouths for signs of gum disease and oral cancer, and sweeps up pixie dust left behind by careless fairies. Cosmetic fix-ups range from porcelain veneers and whitening procedures to traditional and bracket-free braces. During each visit, patients can watch sitcoms on the office's TVs or sit back in awe as the doctor uses a mesmerizing laughing-gas wand to pull rabbits out of their mouths.
5804 NW Expy.
Oklahoma City
Oklahoma
405-728-3300
A nationally certified and licensed massage therapist, Sonia Gibson employs a diverse blend of massage techniques during her sessions. Sonia focuses on every aspect of human well-being so patients don't wake up feeling like they were hastily assembled by elves the night before. Services include Swedish massages, which aim to alleviate chronic discomfort and promote increased circulation.
3209 S Broadway, Suite 217
Edmond
Oklahoma
405-285-9454
The team of medical personnel at Allen Medical, composed of a pulmonary physician and two nurse practitioners, promotes overall health and wellness with full-body examinations and medical checkups. Comprehensive health assessments start by thoroughly examining medical records and history for any medical issues, such as chronic cases of the heebie-jeebies, before moving on to physical exams. These exams focus on fulfilling the requirements for occupational, sports, camp, and school physicals.
608 NW 9th St., Suite 6200
Oklahoma City
Oklahoma
405-272-7677
Informed by their own experience as podiatric patients, Drs. Trent Smith and Christopher Green aim to treat clients at Total Foot and Ankle with minimally invasive medical techniques. To make accurate diagnoses, they use ultrasound to detect any structural aberrations in the foot. Then they can craft custom orthotics to correct gaits, or tackle more severe issues with a range of procedures, from arthroscopy to complete ankle replacement.
3330 NW 56th St., Suite 600
Oklahoma City
Oklahoma
405-947-8041
---