Shopping in Edmond
---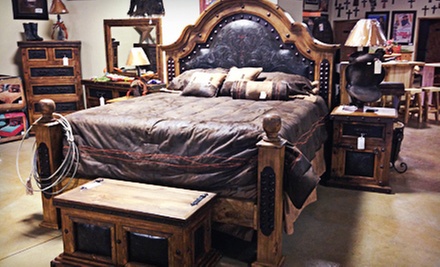 ---
Recommended Shopping by Groupon Customers
---
A baseball takes flight. A batter readies his arms. Steady hands and eyes send balls sailing into the netting, whereas uncertain swings produce only a focused breeze. In All About Sports's 15 batting areas, batters calibrate their swings as they smack baseballs across a 50- to 65-foot space. Friends can roll balls into manually fed pitching machines and watch as they hop over makeshift home plates, meet the bat with a resounding crack, then slide dolefully back to their home at the base of a ball pit. Athletes may also work on fundamentals with available equipment including batting tees and pitching rubbers. All About Sports requires all batters to wear helmets to guard brainpans against loose baseballs.
320 S Symes Ln.
Mustang
Oklahoma
405-256-6054
When curating their eclectic inventory, which ranges from tiny necklace charms to stately furniture pieces, the shopkeeps at Cedarburg Square prioritize quality and character in an effort to set themselves apart from big-box stores. Named after Cedarburg, Wisconsin—a small town with an old-fashioned main street lined with boutiques and shops—the store seeks to fuse big-city style with small-town service. Store buyers hunt for products in San Francisco, Dallas, and Atlanta, and these stylish finds are sold in-store with complimentary gift wrapping and friendly service. Shopping becomes a treasure hunt as browsers linger at tables heaping with dishes, jewelry, decorations, and at least one lamp with a genie in it. Popular gifts include soy-based Excursion candles, Beaucoup charm necklaces, and bouquets harvested from a garden of silk flowers. On Saturdays, chefs pass out samples of gourmet recipes, dispensing tips and recommending products. Great à la carte or in custom gift baskets, gourmet foods include sauces, candies, coffee, and tea from brands such as Robert Rothschild, Shooting Star, and Bella Cucina.
6726 NW 39th Expy.
Bethany
Oklahoma
Vintage and bohemian-inspired apparel, costume jewelry, and eye-catching gifts drape from eclectic props at Cloverleaf Boutique, drawing shoppers in with their whimsy and charm. "The Cloverleaf is one of those stores you notice while driving by and think: 'I've got to stop in there,'" said Jennifer Palmer of NewsOK. Colorful throw pillows mingle with kitschy lampshades, and cowboy boots line up for the opportunity to dance with flouncy dresses. Cloverleaf Boutique's one-of-a-kind outfits and gift ideas evolve from season to season.
2825 W Wilshire Blvd.
Oklahoma City
Oklahoma
405-840-5556
Queen of the Tees handcrafts girlie, glittery T-shirts that celebrate sports teams, school organizations, cheer & pom, and any other source of spirited celebration. Its online yearbook shows off classic designs with sparkling letters that might read Go Big Red or I'm shouting for no reason. Customers can purchase individual or bulk-ordered shirts that display the design of their choosing.
200 N Main
Newcastle
Oklahoma
405-387-3811
Batteries Plus, No. 19 on the Dun & Bradstreet AllBusiness AllStar Franchise rankings, connects to a network of 515 stores in order to stock more than 40,000 types of batteries and light bulbs and ensure that customers can special order obscure parts. Their batteries range from dainty watch batteries to 5,000-pound leviathans that can power forklifts, and an on-site tech center can design and assemble custom batteries or rebuild old ones. A diverse array of chargers keep systems juiced, and the shop's bulbs range from fluorescent tubes to heat lamps. To safeguard the environment, Batteries Plus's staff recycles all types of batteries and bulbs rather than hauling them to landfills or feeding them to each other.
1601 S Broadway, Suite B
Edmond
Oklahoma
405-796-7587
The staff at LXXI boutique doesn't believe in saving style for special occasions. The shop's eye-catching pieces add flair to everyday wardrobes, with a focus on providing casualwear and plenty of items to layer. Boots, sandals, and intricate belts polish off ensembles forged from piles of shirts, sweaters, and jeans folded on nearby tables. Handmade jewelry dangles from displays, and Circle E candles line shelves, waiting to freshen up homes, offices, and mothball factories. Shoppers cultivate their looks amidst the boutique's bold primary colors, track lighting, and pop art.
209 E Main St.
Norman
Oklahoma
855-574-0092
---