Things to Do in Edmond
---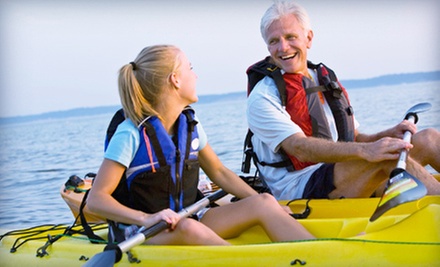 ---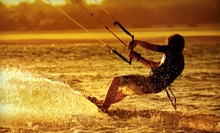 Using mountainboards instead of kiteboards, instructors teach students of all ages to launch, land, and rig a kiteboard on land
---
Recommended Things to Do by Groupon Customers
---
In the months after the bombing, then-Mayor Ron Norick commissioned a 350-person task force to explore ways to remember those who had died in the horrific terrorist act. Visitors will be taken on a powerful chronological tour of the complete story, including a background on terrorism, a history of the site, an audio recording of the blast, and a look at the chaos that ensued. As grim as the experience can be, the museum concludes with an uplifting showcase of hope that explores rebuilding efforts and the city coming together in support. The museum also includes a classroom and children's area for younger museumgoers.
620 North Harvey Ave.
Oklahoma City
Oklahoma
The Gaylord-Pickens Museum focuses on the history of Oklahoma and the people who have shaped it. Permanent exhibits offer interactive touch screens to explore the stories of Oklahomans who have contributed to the state's rich heritage. The ONEOK exhibit allows individuals or small groups to record their own memories and experiences in a glass box, which they can send to themselves as an electronic letter. Today's Groupon also gives access to the special exhibits, currently featuring The Passionate Lenses of Yousef Khanfar, which displays a collection of photography from Yousef Khanfar's 30-year career.
1400 Classen Drive
Oklahoma City
Oklahoma
Science Museum Oklahoma is an exploration oasis with interactive and rotating exhibits for mad scientists, curious children, or anyone who wants to know why astronauts eat cardboard in space. With a Silver 6 membership, you'll enjoy unlimited free entry for up to six people to permanent exhibits, Science Live, and the Planetarium, plus four one-time use guest tickets and discounts at the Science Shop, Pavlov's Cafe and on birthday party rates. Explore the museum's varied exhibits, such as Destination Space, which allows budding astronauts or curious earthlings to see the actual Apollo Command Module Mission Simulator and learn the history of the Sputnik vs. Explorer 1 space race. Enjoy the playful and kid-friendly simplicity of the GadgetTrees, a playground that demonstrates simple machines. Kidnap the zoo's most cuddlesome koala, and, when a detective is on your trail, take him for a full-fledged pursuit of would-be criminals at Whodunit: The Science of Solving Crimes, which creates a real-life mystery to solve using hands-on scientific methods.
2100 NE 52nd St.
Oklahoma City
Oklahoma
For 10 years, this critically acclaimed film festival, the largest in Oklahoma City, has attracted filmmakers from around the world to showcase eclectic creations of independent-film arts. The name "deadCENTER" refers to Oklahoma City's geographic location in the center of the United States, along with the festival's central setting within OKC. There are seven locations that will be showing the fest's documentaries, animated shorts, narrative features, kids shorts, midnight movies, comedy shorts, and Oklahoma-centric work. Hold tight to BMX legend Mat Hoffman's handlebars for a wild ride in The Birth of Big Air (June 9 at 9:30 p.m., June 11 at 5:30 p.m.) or get an insider's look into the meticulous process of movie reviewing in For the Love of Movies: The Story of American Film Criticism (June 12 at 2:00 p.m.). DeadCENTER will also be showing the silent-film epic Metropolis (June 11 at 5:30 p.m.) in its recently discovered and restored version. Click here for a full list of all of the films in the festival and be sure to check the schedule to find out when they're showing.
706 W Sheridan Ave.
Oklahoma City
Oklahoma
At Remington Park Racing Casino, thoroughbreds gallop circuits around the track as visitors cheer for their favorite steed from a spacious brick plaza or the five-tiered clubhouse dining room. The clubhouse's wait staff makes the rounds with platters of tender steaks, seafood, and pasta, or visitors can remove their dress halters and nosh at more casual eateries such as the Wild Rush Bar or Jackpot Pizza. The onsite casino keeps gamblers entertained between races, and a balcony overhead spills out live music Thursday–Sunday.
1 Remington Pl.
Oklahoma City
Oklahoma
405-425-3270
With Western-themed labels and names such as Dustbowl chardonnay and Roadrunner syrah, the wines at Put a Cork in it announce their regional flavors on the bottle and on tasters' tongues. The selection of locally produced wines varies throughout the year, much like the selection of snowflakes on a movie set, although it typically includes about 15 blends and single-varietal bottlings for visitors to sample or purchase. Featuring dry, unctuous reds as well as fruity whites, the winery doesn't overlook any taste buds or sweet teeth.
The staff strives to maintain a relaxed environment by leading informal, yet informative, tastings for small or large groups, as well as hosting occasional live musical performances.
115 E California
Oklahoma City
Oklahoma
405-605-6656
---