Theme & Amusement Parks in Edmonds
---
Theme & Amusement Park Deals
---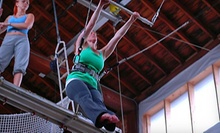 After experienced instructors lead brief ground demonstrations, students practice swinging on a flying trapeze
---
Recommended Theme & Amusement Parks by Groupon Customers
---
The buzz of motors rises and falls as bright-red blurs zip around the track at PGP Motorsports Park. Here, in the shadow of Mount Rainier, racers ages 15 and older loop around an 8/10-mile track at speeds of up to 48 miles per hour, leaning back in the ergonomic seats of Italian-built Birel N35 karts. The 30-foot-wide asphalt track can be altered to take on 12 different configurations and is centered in a velodrome, which puts spectators at an elevated angle so they get a good line of sight no matter where they sit.
For safety reasons, drivers should wear long sleeves and pants and closed-toe shoes. Drivers are equipped with helmets and driving suits, and since races take place rain or shine, they will also be provided with rain gear that includes waterproof gloves and booties.
31001 144th Avenue SE
Kent
Washington
253-639-7223
Not only is the Seattle Aquarium the ninth largest of its kind in the United States—with more than 22 million visitors since its opening in 1977—it is also an integral center for marine conservation and education. The exhibits display stunning creatures of land and sea, and staff biologists study the aquatic tenants to conduct critical research on giant Pacific octopuses, sixgill sharks, sea otters, and other indigenous animals.
Though the Seattle Aquarium is an advanced center for research, it isn't all serious business and otters wearing lab coats—it also hosts numerous interactive exhibits and displays to please young and old alike. The Marine Mammals exhibit puts visitors up close with sea otters, playful river otters, harbor seals, and fur seals. The Pacific Coral Reef exhibit displays visually stunning and vibrant tropical fish, and the 120,000-gallon Windows on Washington Waters exhibit provides a floor-to-ceiling view of hundreds of Puget Sound fish, including salmon, lingcod, rockfish, and wolf eels.
The Seattle Aquarium also stays actively involved with the community. The aquarium's biologists partner with local divers to take an annual octopus census, and each year the center trains more than 150 volunteers to teach visitors about the ecosystems of local beaches.
1483 Alaskan Way
Seattle
Washington
Traxx Indoor Raceway measures out adrenaline in seconds. It takes a go-kart just 23 seconds to careen around the indoor 1/5-mile track once, and 45 seconds for it to crest the 1/4-mile outdoor track's hill and swoop around its smooth turns back to the starting line. Drivers can reach speeds of 35 miles per hour in the SODI GT2 gas-powered karts, so the track provides helmets, jumpsuits, and notes from their mother to keep the racers safe. All contests last 20 laps or up to 15 minutes, except for the Traxx 100, a monthly marathon when 10 drivers rumble around the outdoor track 50 times.
Although drivers on the main track must be at least 14 years old, the team is committed to spreading the excitement around. Kids aged 3–10 gear up and hop into electric cars, zipping around their own four-turn track under the watchful eyes of attendants. Among other carnivalesque distractions, the colorful facility boasts an arcade and a 24-foot climbing wall to thrill jaded teenage thumbs, as well as a checker-themed banquet hall that seats up to 150 people for parties and team-building events.
4329 Chennault Beach Rd.
Mukilteo
Washington
Nestled within a 150-foot floating vessel 5 metres below Victoria's Inner Harbour, Pacific Undersea Gardens sprawls with an interactive aquarium and dive-show theatre. More than 5,000 animals such as rock cod, red snapper, Pacific salmon, and wolf eels slink and swim through the facility's natural, protected environment, which guests can peek into from the dry side of numerous viewing windows. As critters flit about in a tidal pond, visitors of all ages gently interact with the sea creatures. In the vessel's spacious theatre area, divers shielded in masks equipped with communications gear chat with onlookers while swimming among sea stars, anemones, and a giant Pacific octopus affectionately named Armstrong. After the show, divers clear their schedules to meet with birthday partygoers, and friendly guides educate school groups and oversee activities such as knighting favourite teachers with a swordfish.
490 Belleville St.
Victoria
British Columbia
250-382-5717
Sykart is an indoor karting company. We've got two tracks, one in Tukwila, Wa and one in Tigard, Or. Our facilities feature high tech European style karts capable of 40+ mph driven on fun and challenging indoor courses.
17450 W Valley Hwy.
Tukwila
Washington
With hands gripped to the wheels of karts capable of cresting 45 miles per hour, up to 12 racers hum around the hairpin turns and straightaways of K1 Speed's indoor track during adrenaline-spiking sprints toward the podium. This brand of excitement can be found at all 15 locations, where racers eschew the fumes and inflammatory skywriting of gas kart exhaust for European, eco-friendly electric karts designed to instantly accelerate out of curves, which are bordered by safety barriers that absorb impacts. To keep everyone in the chase, dialed-down junior karts (available at select locations) safely carry tiny drivers between the height of 48" and 58".
2207 NE Bel-Red Rd.
Redmond
Washington
---