Edwards, CO Outdoor Activities
---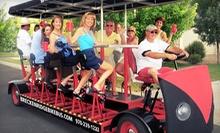 In a pedal-powered party bus, up to 16 passengers whisk themselves to local bars or on trips down Main Street
---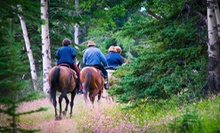 Steeds carry riders through Tenmile Range during traditional trail rides and dinner rides that end with a meal at a buffet
---
Recommended Outdoor Activities by Groupon Customers
---
Even the most rugged trucks are no match for the steep mountain terrain. Instead, visitors to Glenwood Caverns Adventure Park abandon their autos in favor of a 4,300-foot-long gondola tram, taking in the panoramic mountain vistas from the safety of a futuristic, six-person pod as it ascends to the summit. Once there, visitors are confronted with a dizzying array of attractions that pair the majesty of nature with the thrills of modern amusements. The innovative alpine coaster zooms down a 3,400-foot track as riders control their car's speed, gunning it to feel the wind in their hair or slowing down to savor the picturesque greenery. In a nod to the region's mining history, visitors can ride the bumpy trails in a conestoga-wagon simulation, pan for gemstones, or hear resident gunslinger-dentist John Henry "Doc" Holliday speak about pulling teeth and casting snake-oil infomercials. An indoor laser-tag arena puts a futuristic twist on Wild-West shootouts, and a 4-D motion theater brings hit films to life with surround sound and moving seats. Cap off a day of adventure with a trip down a 625-foot-long zip ride or a plunge into the Glenwood Caverns and Historic Fairy Caves, following the soft glow of safety lights and sturdy handrails until emerging onto the rough stone balcony of Exclamation Point and gasping at the sight of the winding Colorado River as it digs a centuries-old trench in the countryside.
51000 Two Rivers Plaza Rd.
Glenwood Springs
Colorado
For more than 25 years, Lakota Guides has escorted its clientele to Edwards' and Vail's most scenic spots on river rafting, off-road, and group trips. Team Lakota, led by Karl Borski and John Mark Seelig, has hundreds of years of combined experience in outdoor activities ranging from rafting and rescue operations to tree massage and bark exfoliation. The guides demonstrate their mastery when leading visitors on Class V water-rafting trips along the Colorado and Arkansas Rivers. They also romp through the mountainous terrain aboard rugged off-road vehicles during daylong treks.
429 Edwards Access Rd.
Edwards
Colorado
970-845-7238
Breckenridge Stables' herd of more than 100 steeds trots along for scenic trail rides, Western-style lessons, and historical tours of the town. As horses deftly navigate the Tenmile Range, guides point out local wildlife along the continental divide, the imaginary line drawn when Paul Bunyan and Babe the Big Blue Ox broke up. During colder months, Breckenridge Stables' custom-built mountain sleighs keep passengers snuggly during sleigh rides as a team of belgian, clydesdale, or percheron horses canters through the Colorado air.
620 Village Rd.
Breckenridge
Colorado
970-453-4438
Within an hour of Mountain Angler's Breckenridge headquarters, five rivers, a trio of reservoirs, a dozen small streams, and several ponds teem with fish. Jackson Streit, author of Guide to Fly Fishing in Colorado, founded Mountain Angler in 1985 with the intention of matching experienced guides with guests eager to explore the region. Mountain Angler personnel whisk clients away on river or lake boating excursions, full- or half-day walk-and-wade trips in pursuit of brook and rainbow trout, and fishing sessions on one of four private ranches. Before plumbing the watery depths on lengthier voyages, visitors can reel in fishing skills during lessons and load up on rods, wading shoes, and low-frequency whistles audible only to worms at Mountain Angler's fly shop.
311 S Main St.
Breckenridge
Colorado
800-453-4669
The experts who lead Aspen Walking Tours blend history, research, and cultural anthropology in a trio of informative strolls, nourishing the minds of tour-takers with local factoids. These guides quarterback small groups during each trek through time, imparting stories and tidbits that they've researched themselves. The Aspen's DarkSide tour unearths the area's ghastly past, rife with ghosts, murder, and mayhem, and the Aspen's Past to Present tour details Aspen's evolution from a modest mining camp to world-famous resort. In the fall, rather than wearing shoes whittled from dry ice, visitors can experience real chills with a spooky saunter through the Ute Cemetery—Aspen's first burial ground—during the Walking with the Dead tour.
320 E Hyman Ave.
Aspen
Colorado
970-948-4349
Nestled in River Run Village at the base of Keystone Mountain, NorSki Sport Rental arms outdoor enthusiasts with high-quality, custom-fitted equipment from manufacturers such as K2, Nordica, or Rossignol. Cold-weather cavorters lock into a snowboard or pair of skis for a speedy journey down the slopes, or slip on a pair of snowshoes to traipse about Keystone's extensive trail system in search of the abominable snowman's ice-sculpture garden. For warmer amusement, patrons rent Specialized brand mountain, touring, and hybrid bikes during the summer months. NorSki's knowledgeable team of mechanics carefully dotes on each piece of rental equipment, maintaining a fleet that is both safe to ride and assured of its self-worth.
70 River Run Rd.
Keystone
Colorado
US
970-468-1475
---