Beer, Wine & Spirits in Eggertsville
---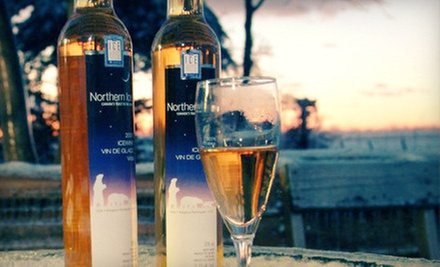 ---
Beer, Wine & Spirits Deals
---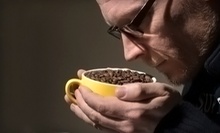 Coffee enthusiasts roast pound of ethically sourced, sustainably grown International Golden Bean coffee
Use Sunday 8:00am - 6:00pm
---
Recommended Beer, Wine & Spirits by Groupon Customers
---
Under the direction of master winemaker David Johnson, the team behind Rootstocks celebrates wine by leading clients through vine-to-bottle experiences at its pesticide-free vineyard. Members participate as much or as little as they like in producing their own wine, joining any part of the year-long process that includes barrel sampling in the winter and crop thinning in the summer. Located on 10 acres in Niagara wine country, the red clay soil nourishes grapes such as cabernet franc, chardonnay, and pinot noir, all of which Rootstocks' team helps visitors turn into their signature blends. After the grapes have been harvested by hand, processed, aged in barrels, and assigned astrological signs, an in-house graphic designer helps clients create their own custom labels.
4101 King St.
Beamsville
Ontario
905-562-3373
Herbert Konzelmann was in a pickle. He took the reins of his great-grandfather's winery in Germany just around the time that the country's growing population needed more land. Unable to acquire the acreage he needed to expand, Herbert uprooted his business from his homeland and moved to Niagara-on-the-Lake in 1983. He chose the shorefront spot due to its balance of sun, soil, airflow, and moisture that mimics the climate of the many successful wineries started inside of deserted terrariums. He and his staff—many of whom are part of the Konzelmann family—strive to produce low-yield, high-quality wines. To achieve this, they handpick grapes from the oldest vines to create award-winning vintages in their signature style: a clean, delicate, and fruity pour. The lush lakefront vineyard also serves as a backdrop for weddings, corporate events, tours, and tasting.
1096 Lakeshore Rd.
Niagara-on-the-Lake
Ontario
905-935-2866
To the Spicola family, wine isn't simply something sipped on at dinner or during a party. Rather, it's the family heritage, which forms a bridge between generations. Today, Dominic Spicola runs the Winery of Ellicottville with his son-in-law, but years ago, he worked alongside his father, Francesco, an Italian immigrant schooled in his home country's winemaking tradition. Together, the duo crushed and pressed annual harvests into barrels of wine, making sure their relatives had enough to fill glasses at dinner and water balloons at family picnics throughout the year.
Today, Dominic and his son-in-law mesh this Old World wisdom with New World techniques to craft chardonnays and merlots, reds and whites. They sell their bottles from an unassuming shop on Monroe Street, where sky-blue walls, family pictures, and shelved knickknacks surround a sun-splashed bar.
14 Monroe St.
Ellicottville
New York
716-699-1055
---