Restaurants in El Cajon
---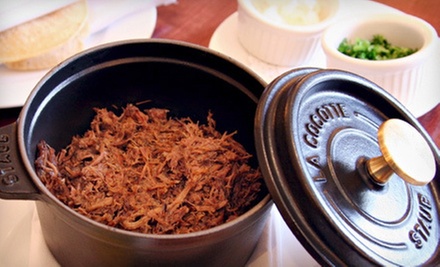 ---
Recommended Restaurants by Groupon Customers
---
Once known as Da Kitchen and Mo's Island Grinds, Homestyle Hawaiian keeps the home-cooked tradition alive, infusing fresh island fare with the familiar flavors of down-home cooking. A menu fit for breakfast, lunch, dinner, and dessert features combo plates stacked with Hawaiian classics, such as meat jhun and kalua pig, which refuel diners hungered from long days of shooting ex-boyfriends' furniture out of a cannon, and bites laden with other Asian flavors, including Korean-style chicken. The kitchen crew ends hearty meals with Hawaiian shaved ice and four types of crème brûlée, including toasted coconut and bananas foster.
7504 Mesa College Dr.
San Diego
California
858-395-9740
For 26 years, The Gathering's award-winning kitchen has prepared a swath of grilled American fare that integrates seafood, steak, and veggies. Restaurateur and magician Dan Thomas wanders between tables at dinner, performing card tricks as diners look up from their plates of meaty crepes. He emphasizes that humans are "analog in a digital world," and he sees restaurants as one of the last places where people can experience neighborly hospitality and snack on all the semiconductors they can eat.
902 W Washington St.
San Diego
California
619-260-0400
Nautical Nellies, now in its 15th year of business, is no stranger to recognition— the eatery, which overlooks the city's inner harbour, has topped multiple Open Table Diners' Choice awards in categories including Best Food, Best Seafood, and Best Overall. Fillets of wild Pacific halibut or Vancouver Island ling cod flake beneath forks, and shellfish, lobster, and dungeness crab claws teeter on multi-tiered seafood towers. Diners can sample 10 varieties of oysters and rolls of fusion sushi, many of which come recommended by the Ocean Wise sustainable seafood program. Grass-fed Angus steaks, aged for 35 days, are cooked to any specification, from well done to what chefs term "blue"— seared on the outside, with a cool center and a scrawled-on frowny face.
Thanks to the work of wine director Betty Furneaux and sommelier Lisa Hartery, Nautical Nellies' beverage programs are just as thoughtfully designed as their dining menus. Wine Spectator honoured the eatery's wine list with an Award of Excellence in 2011. Cocktails range from beachy mojitos to the savoury double-prawn caesar with vodka, Clamato juice, and two black tiger prawns. The restaurant also dedicates a menu exclusively to scotch.
3784 Ingraham St.
San Diego
California
USA
858-270-9999
Just as with birthdays, phone numbers, and wearing pants, everybody forgets to make a lunch sometimes. Load up on layered loafs with today's Groupon, which gets you $10 worth of Quiznos food at its Preston Road location for $5.
124 West Main Street
El Cajon
California
US
For more than 30 years, Quiznos has toasted its submarine sandwiches to bring out the hidden flavors found in butcher-quality meats, cheese, and artisan breads. Its classic and signature subs take on a variety of shapes, sizes, and styles ranging from the prime rib mushroom and swiss to the classic italian donning black olives, mozzarella, red-wine vinaigrette, and plentiful sliced meats. Those closely monitoring their waistlines can take unabashed bites of sandwiches that have fewer than 500 calories, such as the pork-cuban, Baja-chicken, and veggie-caprese subs. Quiznos' Sub Sliders offer slimmer versions of sub fare and flaunt supreme aerodynamics when shot out of T-shirt cannons and into mouths. A selection of Flatbreads, soups, and salads round out Quiznos' varied menu.
124 West Main Street
El Cajon
California
US
---