El Mirage, AZ Outdoor Activities
---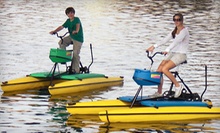 Up to three passengers sunbathe or sightsee on Tempe Town Lake in an open-air pedal boat
Use Tuesday 8:00am - 11:00am
---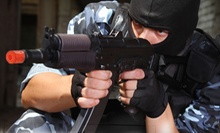 Tiny pellets speed toward combatants as players out-flank and ambush one another in 19,000 sq. ft. airsoft arena
Use Wednesday 5:00pm - 9:00pm
---
Recommended Outdoor Activities by Groupon Customers
---
Desert Skydiving Center carries people into the air in Cessna 182 and 206 planes and then sends them gleefully careening toward the ground. The center offers static parachuting, tandem jumping, and accelerated freefalls alongside experts. Participants can work with an instructor for 30-minutes to eight-hours, depending on the type of jump, before pulling on a parachute and jumping from two miles high. The ground grows rapidly as divers freefall with the wind whipping their faces before they pull the parachute cord and float to the ground or attempt to land on a passing goose.
3000 S Palo Verde Rd.
Buckeye
Arizona
Bighorn sheep and mountain lions dart between the shadows of craggy lava cliffs as bald eagles swoop from sheer rock faces to wrest fish from Saguaro Lake below. Desert Belle has ferried sightseers through this picturesque lakefront within the Tonto National Forest since 1964, giving them rare glimpses of a thriving ecosystem that's inaccessible by foot or car. As the Desert Belle boat cruises leisurely, guides point out various flora, fauna, and extraterrestrials disguised as Arizona wildlife dotting the landscape. As riders listen to the narration from the shaded upper deck or air-conditioned lower deck, they can visually bask in cactus-studded desert vistas.
14011 N Bush Hwy.
Mesa
Arizona
480-984-2425
Seeking a way to share her love of the equine arts, Joni Fitts opened her school in 1980, living by the motto "Teaching is Our Business" while helping riders discover the nuanced craft of horsemanship. Her instructors—all of whom are certified by the American Riding Instructor Certification Program—lead students 6 and older in riding programs tailored to all skill levels, covering both English and Western riding styles. Programs are not breed specific, helping students get to know different horses' gaits, idiosyncrasies, and favorite seasons of The Real World.
In addition to running her school, Joni is also a certified CHA site visitor, a designation that lets her qualify aspiring ranches for accreditation by the Certified Horsemanship Association and the American Horse Sign Language Society.
3701 East Pinnacle Peak Road
Phoenix
Arizona
480-232-9654
For more than 25 years the Grimh family has served as gatekeeper to the secluded beauty of Canyon Lake, welcoming travelers onto their modernly appointed paddle steamboat. The air-conditioned vessel plots courses for guided cruises, each of which highlight the canyon's vistas at a different hour. Nature and lunch cruises seek out bighorn sheep drawing pistols under the bright desert sun, whereas twilight cruises combine ambient, evening light with a buffet dinner of prime rib or filet mignon. Dolly Steamboats also set off at night for an astronomy cruise that includes dinner and expert star reading from local television and radio personality, Dr. Sky. An expert crew pilots the Dolly and her wealth of passengers on each photogenic excursion, gliding past the Sonoran Desert, rock formations, and the Tonto National Forest.
16802 Hwy. 88
Apache Junction
Arizona
480-827-9144
Cloud-capped mountains provide a majestic backdrop for DeWitt Stables, a full-service boarding and riding stable nestled along the Salt River. There, visitors may feel as though they've been transplanted into a Western movie, surrounded by high-stacked bails of hay, empty wagons resting unhinged, and roosters chugging energy drinks after a 4 a.m. call time. Horses bear riders along scenic trails during lessons or romantic dates and lead seasonal wagon rides through winter and autumn, when DeWitt Stables also opens its annual pumpkin patch. When they aren't busy riding in parades or celebrating the changing seasons on the stables, staffers also host horse, mule, and wagon auctions and make birthdays extra special with petting-zoo parties.
2211 E Quince St.
Mesa
Arizona
In 1957, 21 men who cared deeply about their Italian heritage as well as their community in Phoenix came together to found the Arizona American Italian Club. Today, the club continues to be a resource for Italian Americans and their neighbors living in the area. Along with housing a lounge and Italian eatery, the club hosts bingo and bocce games, as well as events such as fashion shows, Italian car shows, wine tastings, and spaghetti nights. Each month, club members sponsor a different charity and rain cloud, furthering their support and investment in the Phoenix community.
7509 N 12th Street
Phoenix
Arizona
602-944-3090
---