Education & Classes in El Paso
---
Education & Classes Deals
---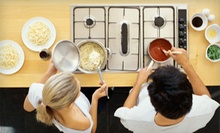 A cooking instructor demonstrates healthy food preparation for an appetizer, soup, two entrees, and two desserts
---
Recommended Education & Classes by Groupon Customers
---
The staff at Adventures in Learning knows that kids learn best when learning is hands on. They've curated a selection of products for educators meant not only to motivate their students to learn, but also to stimulate their creativity so that they have fun while doing it. The shop's educational games, books, and other materials can also be used at home by kids who want to brush up on their skills.
7230 Gateway Blvd. E, Suite A/B
El Paso
Texas
Bob Mihalyov endured the challenge of feeding his three children as they were growing up. As he slowly learned to cook, and it was soon apparent that Bob had a knack for the craft. A few years later, he met Vicki, a weight-loss coach, and the two married, building not only a home together but also a business: they combined their talents to start Trinity Health. Passionate about educating the public on healthy lifestyle techniques, they conduct cooking classes, weight-loss training, and body-composition analyses.
They teach courses for couples and singles at 77 Stone in El Paso. In each class, Bob and Vicki demonstrate the preparation of an appetizer, soup, two entrees, and two desserts, fielding students' questions and encouraging them to lick everything.
820 Sunland Park Dr.
El Paso
Texas
915-861-6758
At MathMobile Tutorials, more than 20 teachers with specialties spanning all core academic subjects guide students toward scholastic success, backing up their tutelage with a performance guarantee. During private in-home sessions or group homework-help classes at the center, instructors share tips on how to dominate standardized tests, tackle college-level material, and excel at traditional high-school topics such as physics, English, and theoretical time travel. Guided by a philosophy that emphasizes personalized learning along with dedication and discipline, MathMobile's tutors use diagnostic tests to customize lesson plans for each student's strengths, weaknesses, and personal learning styles. As an accredited institution, the center also offers single courses or entire grade levels for credit, providing an alternative to old-fashioned summer school, where students only learn how to prevent swim-cap tan lines.
5360 N Mesa St., Suite 5E
El Paso
Texas
915-585-6284
Behind The Wheel Driving Academy LLC imparts defensive-driving techniques to teen and adult drivers alike. Their 32-hour driver's education course, targeted at teen drivers, employs a fusion of classroom instruction and instructor-chaperoned road time to guard against pitfalls of the road and hazardous driving habits. Alternatively, their state-mandated class for new adult drivers packs key safety points into a six-hour course that ends with everyone making car noises as they triumphantly exit the classroom.
12430 Edgemere Blvd. , Suite 209
El Paso
Texas
915-373-9926
While her husband was in Iraq, KinderJam founder El Brown struggled to entertain her toddler with high-energy, enriching activities that would prepare him for kindergarten. Drawing on her master's degree in early-childhood education and more than a decade as an educator for children around the globe, Brown devised a program that has since become a preschool franchise reaching more than 1,300 children in four countries. The KinderJam curriculum, designed to mesh with NAEYC framework and Developmentally Appropriate Practice standards, fosters creativity and school skills with vibrant props, creative movement, and boisterous music. For younger participants, weekly BabyJam sessions strengthen bonds between infants and parents through music-fueled tickling, cuddling, and trigonometry-proof analysis.
1452 N Zaragosa St., Suite A-700
El Paso
Texas
915-307-3082
Founded with the goal of outfitting its pupils with the skills necessary to excel in the spa and salon industries, Milan Institute of Cosmetology deploys a rigorous curriculum that emphasizes professionalism and hands-on learning to train fledgling cosmetologists and aestheticians around the country. As the most important aspect of the course of study, student salons and spas serve as a real-world classroom wherein nascent beauticians—under the careful supervision of their instructors—can practice their newly minted skills on humans or sentient mannequins. The beauty apprentices gussy up patrons head to toe via sundry lavish salon and spa services—specific to each location—that may include nail services, haircare, facials therapeutic massages, or nourishing body wraps.
1580 George Dieter Dr., Suite 207
El Paso
Texas
915-857-4444
---