Golf in El Reno
---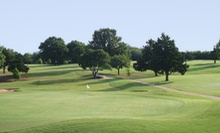 Pristine course and occasional training site for PGA Tour pros hosts 18-hole golf outing including cart, range balls, and post-round sodas
---
Recommended Golf by Groupon Customers
---
Guiding golfers along a lush chlorophyll carpet that stretches for 6,524 yards from the back tees, the course at Choctaw Creek challenges all oncomers with tight, tree-lined fairways and treacherous approaches into elevated greens. The course's titular creek snakes its way through seven holes of the front nine, demanding cautious attention from golfers wary of the unplayable lies and amphibious gophers likely hiding in its murky depths. The back nine demands precise bifurcation of narrow fairways, lest drives stray into the fairway-lining foliage or greenside bunkers. After golfers work up ravenous appetites over 18 holes, the Creekside Grill stands at the ready to refuel them with sandwiches and house-made soups.
Course at a Glance:
Par 71

6,524 yards from the back tees

Course rating of 71.2 from the farthest tees

Slope rating of 118 from the farthest tees

Four tee options
2200 N Hiwassee Rd.
Choctow
Oklahoma
405-769-7166
Coffee Creek Golf Course's 18-hole course integrates groves of trees, rolling terrain, and numerous streams and ponds into a 6,623-yard layout that winds through the rustic scenery of a former horse ranch. The course's front and back nines form two distinct acts of on-course challenges, as the front side roams across relatively open, rolling terrain, setting up a climactic back nine teeming with tight tree lines and water hazards filled with frog civilizations that use golf balls as currency. Slick, bent-grass greens await at the end of every fairway, certain to make even simple putts tricky. Coffee Creek's driving range dutifully prepares pin-hunters' swings to hit the high-fade drive and pinpoint approach necessary to best the par 5 third hole—rated the course's most difficult. An onsite pro shop showcases apparel and accessories from Titleist, Callaway, and Ping, and the Out of Bounds Grill's menu lets players curb post-round cravings without having to eat their stash of broken golf tees.
Course at a Glance:
18-hole par 70 course
Length of 6,623 yards from the farthest tees
Course rating of 72.1 from the farthest tees
Slope rating of 125 from the farthest tees
Four tee options
Link to scorecard
4000 N Kelly Ave.
Edmond
Oklahoma
405-340-4653
The 18-hole course at Sugar Creek Canyon Golf Club puts golfers face-to-face with a wide variety of challenges, from violent crosswinds to treacherous sandstone ravines. Completed scorecards often tell a tale of two nines, as the wide-open front nine lulls the unwary golfer into overconfident thwacks, though the relatively flat layout brings wind into play on many bids for the green. Lack of restraint going into the back nine may be one's undoing, as this half tacks along the edges of the course's eponymous canyon: rolling, diving, and swelling through a gauntlet of ravines and gullies. Whereas the front nine posed few obstacles to knock down shots that drifted astray of the fairway, the back nine features plenty of cedars, grassy hillocks, and sandstone outcroppings in which to lose a ball. Holes 14–17, known collectively as The Stretch, make each player earn a score worthy of posting in the clubhouse or skywriting over an opponent's home. The par 5 16th, for instance, demands a precise tee shot lest the ball wind up in the twin ravines that straddle the fairway landing area. After safely sidestepping these disaster zones, players must then make a difficult choice between going for the green or laying up well short, as every endeavor that lands within 75 yards of the putting surface winds up in the bunker or deep rough.
Though players must adapt to a number of scenarios, course designer and longtime professional player Mark Hayes made sure that each hole adheres to a common theme of pristine conditions and playability for all levels of golfer, with four tee options at each hole. Sugar Creek Canyon also hosts tournaments every year.
Course at a Glance:
18-hole, par 71 course
Four tees options at each hole
Total length of 6,837 yards from back tees
Designed by Mark Hayes:m]]
200 W Sugar Creek Dr.
Hinton
Oklahoma
405-542-3974
Prolific course architect Rocky Roquemore preserved the natural beauty of the land by sculpting tree-hemmed fairways that incorporate 14 ponds. Deer and wild turkey occasionally dart across the zoysia fairways, casually stopping to lay down their beach towels in one of the course's 100-plus sand traps. After conquering the water-guarded green of the 11th hole and carrying the ball past the water-flanked fairway of the 18th, golfers can relax by slicing into steak and seafood at the clubhouse restaurant. The lounge on the recently renovated clubhouse porch offers views of the course and adventurous players strapping on snorkeling masks to retrieve balls in the course's waterways.
Course at a Glance:
18-hole, par 72 course
Length of 7,063 yards
Course rating of 73.8
Slope rating of 127
See individual hole details and the course layout.
7 Clubhouse Dr.
Blanchard
Oklahoma
405-224-7588
---