Things to Do in Elizabethton
---
Recommended Things to Do by Groupon Customers
---
Since 1976, area merchants and knowledgeable experts from around the country have gathered to swap ideas, inspiration, and advice at the Western North Carolina Home Show. Throughout the Asheville Civic Center, hundreds of local businesses and experts set up booths where they explain the nuts and bolts of their industry, whether landscaping, interior decoration, window installation, or furniture crafting. Meanwhile, speakers present seminars on a wide variety of topics throughout the weekend-long extravaganza, from hyperpractical subjects, such as setting a budget, to more abstract topics, such as the definition and history of green building. Visitors to the show depart with rekindled enthusiasm for projects, as well as an arsenal of facts that give them an edge when vetting contractors or performing standup at interior-design conferences.
87 Haywood St.
Asheville
North Carolina
828-255-2526
Every day from dawn to dusk, adventure seekers climb aboard Asheville 4 Wheeler Rentals' stable of two-person ATVs and skirt Pisgah National Forest's wooded wonderland—more than 180 acres of privately owned unpaved roads and pristine land. Hardwood trees whip past the sturdy buggies as drivers staunchly traverse the bumps and jumps of a wilderness ride in search of the area's numerous waterfalls and gnome villages hidden behind waterfalls. The company's guide and cart-keeper will gladly accompany guests on their endeavors into his property and also offers expeditions into the depths of the national forest itself.
50 Deer Rock Rd.
Hot Springs
North Carolina
828-622-7504
Thousands of sheep have Friends & Fiberworks to thank for their cool, breezy summers. The shop's 4,000-square-foot show room is packed with the dyed, spun remnants of their winter coats, inspiring shoppers to fashion art for the home and body. Wooden display panels show off sample projects above shelves stuffed with skeins of all kinds, including yarns spun by local fiber artists such as Rowan and Debbie Bliss. Amid the rainbow of pillowy packages, cushy armchairs await practicing knitters and spiders-in-training.
More than just a supply shop, Friends & Fiberworks cultivates its own flock of knitters and craftspeople through ongoing classes and twice-yearly retreats. The talented instructors delve into everything from weaving on a loom to spinning wool into yarn and straw into gold, eliminating the need to wager firstborn children away to nameless imps.
800 Brevard Rd.
Asheville
North Carolina
828-633-2500
Weather, sports, and the adorable antics of children. Too frequently these topics dominate dinner-table discussions. Seldom do diners dig into the important topics of the day, such as who is sending threatening letters to a famous country music family? How did someone end up dead on the set of an '80s trivia game show? And who could have possibly wanted a Roaring Twenties gangster dead?
These kinds of riveting questions swirl around the dinner tables at the Casbah Theater, where Two Pence Productions inspires intrigue with a lineup of dinner shows, many of which are murder mysteries penned by playwright Eileen Moushy. Her original whodunits follow the classic sleuth framework that begins with a prelude to a murder, progresses to the dastardly deed, and culminates in an epic revelatory scene.
As the actors circulate throughout the theater and among the tables, guests listen in on dialogue to pick out clues and root out motives. Each plot line unfolds in a rich, evocative setting––such as the glamorous '80s or the dapper '20s––and the theater encourages guests to dress in costume, often awarding prizes to those who stay in character and use their cell phones as lie detector devices.
807 W Walnut St.
Johnson City
Tennessee
423-202-3660
Each pass is valid for multiple visits or multiple children. Passes can be redeemed during all open-bounce hours, excluding Parent's Night Out. Parents can join their kids in the play structures at no additional cost.
[[m:####Leaping Lizards Family Entertainment Center
Leaping Lizards Family Entertainment Center's inflatables range from rainbow-striped complexes of slides and obstacles to a wave-riding shark feasting on a boat. Youngsters—and parents, if they want—can bound across the bouncy surfaces during regular hours, or add some bounce to a birthday party, complete with pizza, drinks, and a private room. Alternatively, staffers who have undergone rigorous safety training supervise tots on Parents Night Out, a Friday-night event that replaces babysitters with bounce-house fun and gives parents an opportunity to check out the local fight club.
1065 Wilcox Ct.
Kingsport
Tennessee
423-230-5700
Balls roll uphill. Surging streaks of water flow upward behind them. People struggling to stand at a 90-degree angle are upright at 45-degrees. Such are the laws of gravity at Mystery Hill's Mystery House, an enigmatic amusement center perched atop a slope that enjoys a stronger-than-average gravitational pull to the north. The same peculiar pull looms over the nearby Mystery Platform, where people standing on the north side always appear larger than those on the south. For more than 50 years, visitors have flocked to the curious hilltop to explore its strange gravitational pull and interact with other science-related exhibits.
Aside from the Mystery House, most of the museum's scientific attractions congregate in The Hall of Mystery, where guests can step inside a giant bubble, flee the chase of their shadow, or learn to beat the moon at rock-paper-scissors. Alternatively, Mystery Hill museums include Appalachian Heritage Museum, which houses antique sewing machines, books, and a list of the personal blog URLs of mountain families from the late 1800s to early 1900s. The Native Artifacts Museum assembles more than 50,000 arrowheads, effigy pipes, awls, and other accouterments culled over 70 years from 23 states.
129 Mystery Hill Ln.
Blowing Rock
North Carolina
828-263-0507
---
---
Things to Do Deals - Recently Expired
---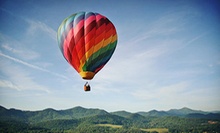 Riders drift up to 6,000 feet above the tree line during sunrise air balloon flights, which last an hour and end with a traditional toast
---
---