Elk Grove Indoor Activities
---
Recommended Indoor Activities by Groupon Customers
---
Led by former NBA point guard and first-year head coach Mark Jackson, the Golden State Warriors charge into the second half of the season. Veteran guard Monta Ellis blows by defenders with an average of 22.2 points per game while forward-center David Lee muscles out under-the-basket rivals for an average of 9.7 rebounds per game. Rookie guard Klay Thompson keeps opponents guessing with the ability to drop shots from all over the court and the inexhaustible supply of riddles he declaims during commercial breaks.
7000 Coliseum Way
Oakland
California
510-383-4982
Today's Groupon tackles professional athletics, professional athletes, and sports hernias with a ticket to the final game of the Oakland Raiders' 2009–10 season for $26 (a $36 value). On Sunday, January 3, at 1:15 p.m., the team that once upset the entire steel industry of Pittsburgh and tamed Cincinnati's Panthera Tigris Tigris looks to end the season on a final high note against the Baltimore Ravens (featuring offensive tackle Michael Oher who is the inspiration for the The Blind Side). You'll be sitting in section 354 and have a $10 food voucher in hand.
7000 Coliseum Way
Oakland
California
US
"Ornate" and "sweeping" only begin to describe the Crest Theatre, whose rich history extends back to 1912, when it was opened as a vaudeville house. Within its gargantuan auditorium, plush seats perch in subtly curved rows while elaborate lights and a sea-blue ceiling wash the space in ethereal hues. Moviegoers settle into the elegant confines to take in both new and classic films, reading the subtitles in a whisper to stuffed animals that forgot their glasses. Out in the lobby, a richly patterned carpet and bronzed floral motif cover the sprawling space as visitors belly up to the bar and snack on high-quality goodies.
1013 K St.
Sacramento
California
Located at Lake Tahoe, just 6 miles northwest of Tahoe City and about 200 miles east of San Francisco, the slopes of the 2,400-acre Alpine Meadows boast stunning views, well-groomed courses, and 13 lifts carrying skiers to their powdery destinations. Thanks to friendly confetti dispersal from unspeakable partier Old Man Winter, the mountain has collected more than 71 feet of snow this season. On Fourth of July weekend, Alpine opens its slopes from 9 a.m. to 2 p.m. Saturday, Sunday, and Monday, with runs designated for beginners, intermediates, experts, and sentient skis determined to go it alone. Maximize snow time by renting a ski or snowboard (not included in this Groupon), available all weekend long.
2600 Alpine Meadows Rd.
Tahoe City
California
Aspire's Pilates-based exercise programs are tailored to the individual needs of its clients, then averaged into multifaceted group classes. You have the option of taking either style of Pilates offered: introductory ChoreoCore or an introductory mat class. ChoreoCore deliciously blends lively dance movements with the flexibility, balance, and core-strengthening exercises of Pilates, while the mat classes introduce students to basic core-stabilization techniques that aid in alignment, balance, and strength with a focus on using abs to stabilize the spine. Use your two class sessions to sample one of each style, since the cardio of ChoreoCore and basic grounding of the mat classes complement one another like alternating piano keys, Nutella and crêpes, or Tom and Jerry in the episodes where they team up to fight the bulldog. Classes are scheduled six days a week at various times.
1485 Enea Ct., Suite 1460
Concord
California
Fright Planet's outdoor theme park acts as a library of the world's most potent phobias. Every year, cast members reimagines its catalog of haunted environs, crafting new sets, props, and characters to prey on guests. Its dedication to genuine scares calls for only the best actors and the most grisly scenery, which is constructed with the help of a former Disneyland artist and a bulldozer possessed by the soul of a 1700s architect.
The 2012 lineup has expanded to include nine attractions—up from last year's five—in addition to the ScreamMax 3-D movie theater. Though the houses all have distinct themes and decor, they share two factors: a richly painted backstory and a population of live, ghoulish denizens. Staring toys line the shelves at Höbart's Doll Factory, 3-D visuals bring corpses to life in Dead Man's Lagoon, and cornstalks bear bloodstains on Podunk Farms. Other experiences play on claustrophobic fears—Blackout! fills its ghostly halls with complete darkness, and Buried Alive: The Ride shuts patrons into a coffin where they endure a simulated hearse ride, burial, and the chilling sound of worms calling dibs on their body parts.
1600 Exposition Blvd.
Sacramento
California
---
---
Indoor Activity Deals - Recently Expired
---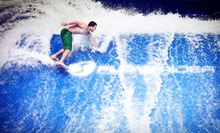 Kids bounce off the walls and floors in a 2,400 sq. ft. trampoline arena; the Flowrider's fast, shallow water simulates waves indoors
---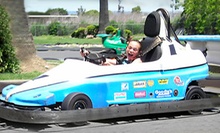 Nine-acre park with two mini-golf courses, bumper boats, and arcade with more than 200 games
---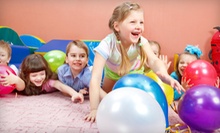 New indoor play facility including princess- and pirate-themed areas designed to bolster cognitive and social skills; private party rooms
---
---