Pet Services in Elk Grove
---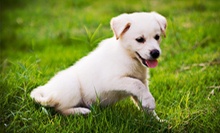 Groomers soothe canines with warm baths and blow-dries and trim their nails, clean their ears, and smoothen coats with thorough brushing
---
Recommended Pet Services by Groupon Customers
---
Aiming to keep the friendship between man and man's best friend as fresh as possible, SplashHound is home to an easy and fun dog-washing system that helps your favorite canine companion stay clean without splashing your home bathroom in eau de dirt. With the self-serve dog wash (a $12–$15 value), owners don't need appointments to completely cleanse their dirty pooch, and the only clock they'll be racing is a broken one. Standing in a well-spaced and waist-high line, six large metal washtubs allow walk-in entry for the biggest dogs while leaving plenty of room for complicated pre-bath exercise routines. After donning a waterproof apron, parents purge impurities from their animal children with SplashHound's special bathing wand, which conquers the thickest of coats with cleansing hypo-aloe and hypo-watermelon shampoos while also administering a satisfying massage to worn-out cat-catching muscles. After the bath, dogs are blow-dried and pampered at the grooming station.
1349 Merkley Ave.
West Sacramento
California
ChaCha's Doggie Day Care keeps dogs frolicking most of the day before letting them pass out in private suites equipped with bedding, chew toys, and relaxing music. Encouraging canine exercise, the cage-free facility features climate-controlled indoor and outdoor play areas equipped with pools, hoses, snuggle blankets, balls, and hand-shaped seats large enough to make mastiffs imagine life as a chihuahua. Thanks to a 24-hour webcam system, owners can watch as their pooches play, eat, and sleep. ChaCha's Doggie Day Care adamantly adheres to rules and regulations in place to protect the safety and health of both workers and furry guests.
910 57th St.
Sacramento
California
"I like to say that I traded four wheels for four paws," says Pamela, who left behind a career in the auto industry to found Launder Dog. She made the decision after her german shepherd developed health problems and she found a vitamin regimen that successfully treated the dog's condition. Focusing on healthy and natural products, Pamela assembled a supply of specialty foods and medications for cats and dogs to fill her new shop.
The addition of self-service washtubs has helped the pet haven build a loyal cast of regulars since its founding in 1996. "We are like Cheers, but for cats and dogs," Pamela says. Owners come in to socialize, chat with staff members about proper pet care, and exchange fashion tips with the shop's resident cat, Ben. His eyes cruise lazily across the shop as Pamela and her team stay close by to assist patrons as they check out supplies ranging from colorful doggie bags to canine arthritis medication. Staff can also custom-order products and rare colognes that smell like the mailman.
2600 Alta Arden Expy.
Sacramento
California
The equestrian trainers at Foxtail Farms conduct horseback-riding lessons for riders seeking leisure time atop a steed and for those considering competition. Amid a rural landscape of patchwork crop fields and untamed plains, horses lope, gallop, leap, and waffle on which shoes to wear that day as instructors lead intimate training sessions. Skilled in teaching the ins and out of hunter, jumper, and equitation riding, instructors help to foster horsemanship skills while preparing riders for many situations, including the show ring. Believing that success can only be found when both rider and horse have created a special bond, the trainers also work to create an atmosphere in which that bond can be nurtured and tempered.
11120 Bradley Ranch Rd.
Elk Grove
California
916-799-4874
The sounds of clopping hooves carry across High Standard Equestrians' expansive facility, where active and retired show horses kick up dirt on indoor and outdoor rings. A member of The United States Equestrian Federation and United States Hunter Jumper Association, the family-friendly establishment employs an expert staff that leads competitive training sessions and interactive lessons. While retired Dutch Warmblood, Welsh Pony, and Westphalian show horses host students on their saddles, the facility's active show horses train for upcoming competitions. Their daily workouts include galloping around the ring, jumping over hurdles, and chasing ranch hands for playing with their shoes.
9439 Clay Station Rd.
Wilton
California
530-521-6930
As founder of Four Star Farm, Natalie Rooney Pitts instills proper horsemanship techniques in each rider, whether they're saddling up for simple enjoyment or dreaming of one day prancing onto the Olympic podium. Natalie and her team of trainers introduce new equestrians to the sport via lessons that allow students of all ages and experience levels to take the reins without having to own their own enchanted rocking horse. Atop one of the farm's fully trained mounts, pupils learn the techniques of English-style riding—including eventing, dressage, and show jumping—while building self-confidence and a mutual respect among man, animal, and belt buckle. The ranch also offers boarding and training services, and youngsters can take part in camps and club events offered throughout the year.
7471 Wild Horse Valley Rd.
Napa
California
707-258-8874
---