Restaurants in Elk Grove
---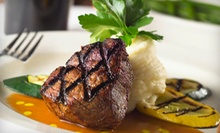 Gourmet prime rib, wild salmon, and lobster pot pie served amid stone fireplaces and gorgeous wooden rafters in century-old building
---
Restaurant Rewards Deals - Use Anytime
---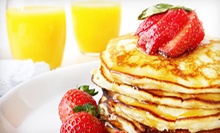 Freshly baked bread available by the loaf, used as the base in a range of gourmet sandwiches, or served as a side to breakfast dishes
---
Recommended Restaurants by Groupon Customers
---
While it was thoughtful of your body to grow all those extra arms and legs, you might want to make "healthier lunches" your New Year's resolution this year. Today's Groupon gets you started with $20 worth of fresh, healthy, all-natural meals from Amanda's Restaurant in Berkeley for $10. After treating her humble pantry to plenty of water, sunshine, and love, Amanda's food closet has blossomed into a full-fledged Best of the East Bay restaurant.
2122 Shattuck Ave.
Berkeley
California
US
Tomatina's chefs rotate their menu three times a year to include the freshest local and seasonal ingredients. Diners can size up appetites with starters such as parmesan-crusted polenta ($6.75) before sinking teeth into more substantial fare on the extensive menu. The culinary wizards ensure freshness and quality by making sauces and dough from scratch and interviewing every tomato before baking an array of specialty pies, including the thin-crusted Pizza Vineyard with oven-roasted seedless red grapes, baby arugula, and gorgonzola ($17 for a large). Similarly, the restaurant's signature piadine dishes cover warm flatbread with cool salads and a bevy of toppings including steak ($10.95), salmon ($11.50), and hummus ($9.95), all of which can be easily imbibed via fork or face-planting.
1338 Park St.
Alameda
California
In West Africa, a "chop bar" is a roadside gathering place serving food and drink, over which community members exchange news and ideas and compare findings on the validity of the axiom set theory of mathematics. Oakland's Chop Bar fosters the same sort of fellowship, right down to its neighborly use of items from local vendors in its dishes. Breakfasteers can opt for a bacon, egg, and cheese sandwich ($6) or oatmeal ($3), among other offerings. The taste buds of brunch-goers are invited to trot the globe with the Italian omelette known as the frittata ($7) or an order of chilaquiles ($9), a Mexican dish tossing crispy tortilla strips in salsa, cheese, and scrambled eggs.
247 4th St.
Oakland
California
Every day, San Francisco Soup Company's chefs craft 12 soups from scratch. Soups showcase organic and locally sourced ingredients such as cage-free eggs from Glaum Egg Ranch and organic milk from Clover Stornetta, and cast tendrils of steam from biodegradable containers. San Francisco Soup Company's commitment to conscious dining extends to the nutritional realms: each recipe comes with nutrition stats, and the menu even designates which soups are gluten-, meat- and dairy-free, and which soup spoons best shield noses from affectionate pinches.
2512 Bancroft Way
Berkeley
California
Rotten City gives a green-thumbed go-ahead to chow down on any of its organically infused creations. Tip your cap to the funghi pie with roasted cremini mushrooms tossed about toasted garlic chips under a blanketing trio of mozzarella, provolone, and parmigiano cheeses ($23 per pie, $3.50 per slice), or fall mouth first into a marinara pie featuring garden-rich basil, fresh thyme, and toasted garlic splashed with extra-virgin olive oil and salted by the sea ($19 per pie, $3 per slice). The bianco verde is a fan favorite, with its potent combination of fresh mozzarella, ricotta, parmigiano, arugula pesto, chili flakes, and olive oil. Carnivores can hang a fang on hand-crafted salami, crater-laden sausage, and salt-cured anchovies for an extra $3 per ingredient.
6613 Hollis St.
Emeryville
California
Groupon is a combination of the words group and coupon. Each day, we offer an unbeatable deal on the best of Sacramento: restaurants, spas, sporting events, theater, and more. By promising businesses a minimum number of customers, we get discounts you won't find anywhere else. We call it "collective buying power."
1704 Broadway
Sacramento
California
916-446-1223
---