Things to Do in Elkhart
---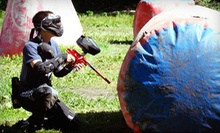 23 acres of outdoor playing fields and an 8,000-square-foot indoor facility feature battlefields with unique terrain and designs
---
Recommended Things to Do by Groupon Customers
---
The menagerie of inflatable stations at Concord Bounce test the seemingly limitless energy of their young patrons within a climate-controlled atmosphere. Inflatable pirate ships and castles stimulate the imagination as their inhabitants play and socialize. An 18-foot slide, inflatable tee-ball field and air-filled obstacle course help children to develop motor skills and eliminate the need for parents to drench daily exercise in applesauce. As their children frolic, adult visitors can smile quietly to themselves knowing that the staff cleans and sterilizes the sock-friendly structures before each playtime. Alternately, they can supervise from within the play area or entertain themselves with arcade games, television, and free WiFi.
617 E Plymouth St.
Bremen
Indiana
574-546-4396
When deciding what toys and games to stock at Imagine That!, owner Marlene says, "I ask myself, 'Can they get this at Toys"R"Us?' And if they can, I don't get it." Marlene, who has an extensive background in child development, prefers games that ask for strategy skills and toys that develop deductive reasoning. "You see those players who are just driven to win," she says, "But that's not fun." Marlene likes games that level the playing field and invite everyone to have fun while using their brains. She has paired such games with everyone from 18-month-old babies to seniors who can still remember when jigsaw puzzles were chiseled from spare wooden teeth.
Marlene began with making crafts and learning activities for her own children, but as soon as she broke out the art supplies, the neighborhood kids started emerging from their prairie-dog holes. Inspired by her youthful following, Marlene began an interactive crafts stall at the farmer's market. She expanded from her 8'x12' stall 15 years later to the 11-room Imagine That!, where little hands find paints and easels, clever toys, and miniatures for furnishing dollhouses or entertaining well-trained gerbils.
"They come from all over, even Canada," Marlene says of her dollhouse miniatures' customers. In addition to myriad miniatures and walls filled with toys and games, Imagine That! has craft rooms, a puppet area, and a chamber filled with whirligigs. The whirligigs also blossom in front of the rainbow-hued shop itself, beckoning passersby to stop in and explore.
707 N Main St.
Mishawaka
Indiana
574-254-1600
Located just inland of Lake Michigan, St. Joseph River Canoe & Kayak Livery provides a portal for navigating the gentle lapping waters of the St. Joseph River. Staffers oversee a brand new fleet of kayaks and canoes for half- or full-day charter trips, guided tours, and to purchase. Open Memorial Day through Labor Day weekend, the livery shares space with Fisherman's Wharf and Fisherman's Way Marina. The marina also offers 31 slips (nine of which are covered) for boaters to dock their vessel, as well as stainless-steel fish-cleaning stations and private showers for especially shy fish.
602 Fishermans Rd.
St. Joseph
Michigan
269-277-4434
Imagine holding a king salmon so heavy you can barely lift it for a picture, only to hear the captain yell a new fish just took another trolling rod down. The guides of Captain Hook's Charter Fishing, family owned and in operation since 1980, venture into Lake Michigan for such trophies, taking anglers out for perch fishing, sport fishing, and salmon mooching. Operating one of the state's largest charter fleets, the captains can take up to 40 perch fishers on a climate-controlled party boat, or accommodate smaller groups of 4–5 anglers on a 31-foot Chris-Craft boat, starting at $400. A FAQ page preps guests before going out, covering topics such as how to get a fishing license and what pattern suit is customary fishing attire.
220 Anchors Way
St. Joseph
Michigan
269-208-9660
---