Museums & Galleries in Elkton
---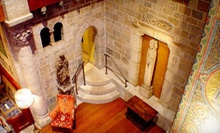 Medieval-style castle houses religious art dating back to ancient Egypt, as well as creations from as recent as the 20th century
---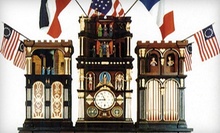 The continent's largest collection of timepieces includes the massive Engle Clock, hands-on exhibits, and George Washington's pocket watch
---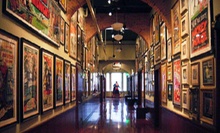 Nearly 6,000 artifacts chart 250 years of US pop culture at this Camden Station museum
---
---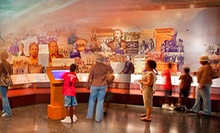 Museum dedicated to the preservation of African American heritage through exhibits, cultural programs, and historical artifacts
---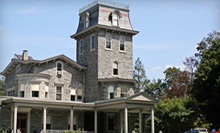 Victorian stone mansion encompasses original tableaux from Edward Redfield, Walter E. Schofield, and Violet Oakley in expansive collection
Use Tuesday 10:00am - 3:00pm
---
Recommended Museums & Galleries by Groupon Customers
---
Presidential dentures, a kid-sized dental chair, and interactive brushing instruction are some of the permanent exhibits spanning the space's two floors. The museum also boasts a life-size narwhal model, an exposé on saliva, and a celebration of our country's best dental schools. This upcoming season, stop in to pay homage to the tooth fairy for Tooth Fairy Day, or get a mouthful of mammals on Jaws and Paws Day. View a listing of upcoming events here. Take the whole family (admission for children ages 3–18 is $3, and those less than 2 are free), bring a bad-breathed date for a tutorial on mouth management, or instill yourself with a new sense of appreciation for the dentist.
31 S Greene St.
Baltimore
Maryland
The American Visionary Art Museum devotes its space to original work by self-taught artists who honed their craft—often unintentionally—while operating on the outskirts of the formal art world. As temporary exhibitions explore a particular artist or theme in depth, the permanent collection displays thousands of powerful and often whimsical items, such as Wayne Kusy's Lusitania, a detailed toothpick replica of the doomed vessel, or the haunting Applewood Figure, an emaciated sculpture said to wince whenever someone eats a piece of fruit. The museum spreads its arresting pieces throughout three historical buildings, including the expansive main building, which boasts a reflective mirrored-mosaic exterior and neighbors the Tall Sculpture Barn, an ex-whiskey warehouse fully equipped with 45-foot ceilings for large-scale projects. A wildflower garden—complete with meditation chapel—and a sculpture plaza featuring a 55-foot whirligig beckon visitors to the museum's outdoor space, where envious clouds shape themselves into crude versions of Pietà. Completing any trip, the museum's Sideshow gift shop stuffs shopping bags with an ever-rotating collection of eclectic artwork, jewelry, toys, and more.
800 Key Hwy.
Baltimore
Maryland
410-244-1900
Bernard Katz Glass Studio and Gallery a hidden gem in the Manayunk neighborhood of Philadelphia PA. From designated viewing areas, you will see the process of creating unique and stunning works using hot blown glass and cold glass construction. View and purchase Katz's glass sculptures, vase, tumblers in the gallery.
3739 Sharp St.
Philadelphia
Pennsylvania
215-483-4628
As the treasured sites of the first commercial long-distance track and passenger station in America, the Baltimore & Ohio Railroad Museum and Ellicott City Station harbor some of the oldest and most comprehensive collections of train relics in the world. At B&O, museum goers weave through the 40-acre campus to discover more than 200 pieces of finely preserved locomotive and rolling-stock materials, which are flanked by hundreds of thousands of artifacts such as tools, art, uniforms, and memorabilia. For more train-laden tutelage, visitors can peruse the Ellicott City Station––the oldest surviving railroad station in America––which hosts myriad seasonal exhibits and education programs that trumpet the history of transportation and travel. Both sites' trainy displays expertly lay out a timeline of America's railroad industry, its impact on culture, and the foolhardiness of starry-eyed tycoons.
901 W. Pratt St.
Baltimore
Maryland
It's a child's paradise in the Garden State Discovery Museum, where pint-size patrons can climb up rock walls, cavort with wildlife, and imagine themselves as vets, doctors, and news anchors in hands-on exhibits. Red-eared turtles lounge in the wildlife area, inviting kids to gaze upon their slimy shells, and science displays teach guests about gravity, lava, and light.
2040 Springdale Rd., Suite 100
Cherry Hill
New Jersey
856-424-1233
By most people's standards, the Academy of Natural Sciences of Drexel University is old — founded in 1812, it's the oldest natural sciences institution in the Western Hemisphere. But the Academy is a baby compared to the specimens it houses, some of which date back more than 350 million years.
Explorers Stephen Long and Ferdinand Hayden's series of western wilderness expeditions formed the foundation of the Academy's 18-million-item collection, which it began displaying to the public in 1828. Over the subsequent 60 years, the Academy grew to three times its original size through donations, museum purchases, and daily doses of multivitamins. Now situated at 19th and Benjamin Franklin Parkway, the Academy houses more than 35 dioramas of plants and animals collected during global wildlife expeditions, a live animal center with ceiling-to-floor observation windows, and nearly a hundred mollusk specimens. A tropical garden hosts live butterflies from around the world, while Dinosaur Hall contains skeletal mounts of more than 30 Mesozoic species, including a 42-foot-long T. rex.
1900 Benjamin Franklin Pkwy.
Philadelphia
Pennsylvania
---