Shopping in Elmhurst
---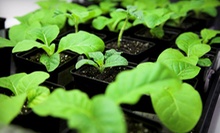 Introductory classes cover the basics of seeds, soil, and planting; advanced classes tackle cuttings, clonings, and feeding vs. watering
Use Saturday 7:00am - 10:00am
---
Recommended Shopping by Groupon Customers
---
Fey & Co. has been adorning body parts for more than 60 years, providing exquisite options and gifts for every occasion. The company prides itself on the quality of its goods and its exceptional customer service, taking the jewelry-selection process very seriously to ensure lasting satisfaction. Your pair of quarter-carat diamond studs will come set in 18-karat white gold, adding a brilliant sparkle to your aura and an optimistic tone to all future trips to the karaoke bar. Use this Groupon to treat yourself to a pair of luxurious ear ornaments, or sneak the sparklies into a short stack of flapjacks for a sweet surprise on Mother's Day. If you choose, you can use your Groupon for a $199 discount for jewelry upgrades listed in the above link.
833 North Washington
Naperville
Illinois
Matt Puchalski set himself up early for a career in the arts, working as a framer at a nationally renowned studio in high school and enrolling at the American Academy of Art in Chicago. When his workplace unexpectedly went out of business, 20-year-old Matt shrewdly bought up the equipment and customer list, set himself up as the sole proprietor, and decamped to the safety of his parents' basement, where he balanced his coursework with the demands of a small-business owner. Matt's determination and hard work paid off, with streams of repeat customers and corporate clients paving the way for three subsequent business expansions and the company's current success.
A far cry from the shop's humble roots, the current studio shows off the talented staff's technical skill with projects such as a framed flat-screen television or 75-gallon aquarium. Technicians touch up and bring to life faded photographs with restoration projects, and the store's designers craft stunning framing compositions that decorate homes, corporate offices, and even the walls of the White House.
Now that he no longer has to juggle frame crafting and school with the rigors of owning his own business, Matt has time to return to his art, employing brilliant splashes of color to create impressionistic depictions of the stately granite structures, glistening skyscraper lights, and active volcanoes along the iconic Chicago skyline.
156 E Lake St., Suite E
Bloomingdale
Illinois
Established around 1937, American Science & Surplus, a science-related hobby store, equips curious customers with gadgets that fulfill educational pursuits. For customers working on science experiments, the shop carries lab supplies and equipment such as burner stands, microscopes, and petri dishes. Tinkerers can pick up spare parts for their projects, such as power adapters or wheels to help with building model cars or turning TV remote controls into cat toys. The shop's inventory also includes robot parts, school and art supplies, and home accessories such as flexible chopping mats, cheeseburger-shaped kitchen timers, and desk toys.
5316 N Milwaukee Ave.
Chicago
Illinois
Originating as a bicycle-repair shop on Chicago's South Side in 1944, Kozy's Cyclery now consists of four store locations across Chicago, helping make it the city's premier bike store for the past 60-plus years. Along with a complete stock of bicycle clothing, accessories, parts—and, of course, bikes—the three-generation, family-owned store cares for its bicycle-riding customers by offering professional bike fittings, test rides, and two free tune-ups with every new bicycle purchase. Kozy's sells more than 250 bikes for each rider's unique needs, from mountain bikes and cruisers to fixed gears and multispeed commuter bikes.
3255 N Milwaukee Ave.
Chicago
Illinois
773-282-0202
The floral-arrangement specialists at The Enchanted Florist aim to create tangible expressions for their customers' affections through thoughtfully designed bouquets and gift baskets. Well-versed in the language of flowers, they compose arrangements brimming with fresh-cut snapdragons, lilies, and roses for celebrating the birth of a new baby, expressing sympathy, or retrieving a safe combination from someone with allergies. For birthdays, holidays, and other special occasions, the florists fill wicker baskets with Ghirardelli chocolates, Columbus salami, and fresh fruit. In addition to bouquets and gourmet baskets, they craft table arrangements, boutonnieres, and other floral creations for upcoming weddings, using the couple's budget and taste as a guideline.
13123 S La Grange Rd.
Orland Park
Illinois
708-827-5843
Back when Jill Card and her husband were going on their first date, he told her to wear "jeans and a cute top." More than two decades later, the couple decided that would be the perfect name for Jill's clothing boutique, where women of all ages and sizes can now find their own jeans and blouse or sweater for a first date, a night on the town with the fellow jury members, or a day spent hanging around the house. Her shop's apparel quickly earned awards and media attention and enjoyed enough success to launch a second shop just 14 months later and a third boutique three-and-a-half years later. The laudations still pour in; the shop was named the Best Place to Buy Women's Jeans by West Suburban Living magazine in 2012.
To earn this praise, Jill selects a wide range of jeans from brands such as Silver, Mek Denim, Miracle Body, Jag, Miss Me, Liverpool, and Kut from the Kloth, enabling denim-seekers from multiple generations to find styles they like. Her friendly staff is likewise well versed on the fit and style of every jean in the shop. She also offers free basic hem alterations. To pair with the jeans, Jill's stores overflow with cute tops, sweaters, blouses, and jackets from labels including Dusak, Insight, BB Dakota, Kensie, and Tulle. Jill and her staff also adorn shoppers in necklaces, scarves, and accessories.
204 W Wesley St.
Wheaton
Illinois
---