Elmont, NY Indoor Activities
---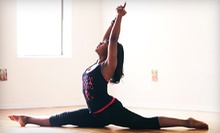 Open-level yoga classes focus on balancing and strengthening poses, Vinyasa emphasizes proper breathing, and Iyengar foregrounds alignment
Use Tuesday 5:00pm - 8:00pm
---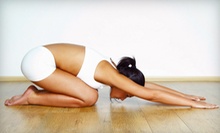 Creative sequences of breath-infused postures performed to music pump up flexibility & strength as stress melts
Use Wednesday 9:15am - 12:15pm
---
Recommended Indoor Activities by Groupon Customers
---
Owners and veteran dancers Elena Iannucci and Teddy Kern cultivate a lively community at Dance Manhattan during more than 80 weekly classes that break down social styles ranging from salsa to charleston. Like hotheaded detectives, students in group classes swap partners regularly, a practice that helps every student develop friendships while challenging their leading and following skills. Both Iannucci and Kern exhibit a particular flair for swing and have developed a faculty that includes International Lindy Hop Championship–award-winners Evita Arce and Michael Jagger. Master classes and workshops focus on partnering tricks and difficult styles such as the Argentine tango. Wedding sessions help engaged couples enjoy a graceful, relaxed first dance as well as a elegant resolution for their first dance-fight.
All students are automatically enrolled in a program that offers discounts within the dance community. Instructors foster a fun, welcoming environment by leading weeknight practices and special events that are free to program members and are occasionally punctuated by niceties such as roses, cupcakes, and emoticons. To that end, the studio hosts Friday-night parties and monthly open houses fueled by live DJs, as well as artists who rent space for performances and practice.
39 W 19th St., Floor 5
New York
New York
212-807-0802
Green walls surround students as they breathe deeply while moving through yoga poses in a heated studio. Atop sleek hardwood floors, instructors lead 90-minute classes designed to improve their students' posture, balance, and concentration. Hot-yoga classes preheat muscles to prevent injuries caused by stretching, help bodies detox by increasing sweat production, and restore athletes energy so they are more likely to be compared to battery-powered bunny drummers.
181 Beach 116th St., Floor 2
Rockaway Park
New York
718-945-9642
Originally built in 1925 as a 1,500-seat, single-screen theater, Cinemart Cinemas serves as the oldest continuously operated independent movie house in Queens—a distinction officially bestowed by the borough's historical society. As the theater has expanded over the years—currently, five auditoriums all boast 35mm projectors and Dolby Digital sound—its name has undergone several changes; originally the Metropolis, the theater became the Inwood, then Cinema Art (its owner: an exhibitor looking for a third leg of his art cinema circuit), and finally the simple, truncated Cinemart. Still, despite the constant adaptations—including to the blockbuster boom of the '80s, spurred by Spielberg's oddly cinematic home movies—the small cinema has stayed true to its roots, screening a blend of both major motion pictures and independent festival fare. Next door, an in-house café and lounge provides a place to relax before or after showings with sandwiches, spirits, and a working fireplace crackling amid vintage décor.
22 E 12th St.
New York
New York
212-924-3363
---