Things to Do in Elmont
---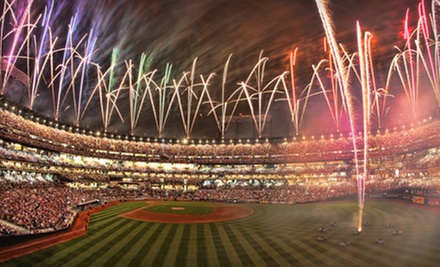 Flushing Meadows Corona Park
---
Recommended Things to Do by Groupon Customers
---
The successor to Coney Island's iconic amusement parks of the 20th century, Luna Park delights families with games, entertainment, and attractions ranging from classic spinning teacups to "The Cyclone Roller Coaster", an 85-foot roller coaster originally built in 1927. As youngsters acclimate to adrenaline on low-fi rides such as the Big Top Express, a colorful circus train featuring clowns, elephants, and a bright-red caboose, bigger kids and stilt-wearing toddlers dive in to such exciting diversions as the Wild River, a log flume that culminates in a sopping, 40-foot plunge. Luna Park packs even bigger thrills into roller coasters such as the Steeplechase, which accelerates from zero to 40 miles per hour in less than two seconds, and the Soarin' Eagle, which glides above crowds on the paths below. Throughout the day, games such as Whac-a-Mole and Duck Pond challenge players' skills at naming every animal's Latin taxonomy.
1000 Surf Ave.
Brooklyn
New York
718-373-5862
Filling a need for a local space where artists share vision as well as physical area, Brooklyn Art Space houses much of the foundational equipment artists need to create their work without being forced to rent private studios. The loft offers many work-area options to its members such as a 4,000-square-foot shared studio space, semiprivate spaces, a gallery, and a writers' room. Each member is granted open access to equipment such as tables, easels, drying racks, and slop sinks, and can come and go as they wish 24 hours a day.
Alongside the working studio, artists teach workshops including a diverse lineup of classes that range from traditional 2-D painting and drawing courses to sewing and mixed-media projects. Reflecting the space's commitment to fostering a community of artists, the staff also holds frequent figure-drawing sessions, gallery shows, feedback forums, and an art-talk series.
168 7th St., Suite 3
Brooklyn
New York
718-858-9069
In 1931, aviation legends such as Howard Hughes and Amelia Earhart traversed the hallowed halls of Floyd Bennett Field, New York City's first municipal airport. Today, the same site harbors Aviator Sports & Events Center, which accommodates recreation in all of its forms, equipped with 20,000 square foot indoor field house, which includes newly resurfaced hardwood courts and new turf field, two outdoor synthetic-turf fields, and an outdoor space for events that can seat up to 4,000 people—the same number of people it takes to crack open a life-size Big Bird piñata. Twin NHL-regulation rinks host open-skate sessions, a majority of which are held on Rink B, every day of the week, with skates as late as 11 p.m. on weekends. Inside the center, Hammer Strength training equipment and Life Fitness cardio machines span the 5,000-square-foot fitness center, which offers exercise classes for all ages. Only youngsters enjoy summer or after-school camps, but adults and kids alike can take advantage of a roster of sports and leagues, including flag football and rock climbing, ideal for those looking to shorten morning commutes by cutting through the quarry.
3159 Flatbush Avenue
Brooklyn
New York
718-758-7500
It's hard to tell what's going on behind the metal grillwork covering the windows of the building that still bears the name Union Square Savings Bank carved into its stone. That's because of the blackout drapes—the vintage 1840 Greek Revival monolith with 40-foot ceilings has been a theater since 1996, when Daryl Roth took it over and got rid of all the dusty old money inside. The theater producer, who has staged seven Pulitzer-winning plays, has since opened up the unobstructed space to an array of other spectacles.
101 E 15th St.
Manhattan
New York
212-947-8844
Get America Tours's knowledgeable guides escort groups of sightseers on more than 20 extended and mini tours. Tours journey to places like New York City and the Grand Canyon on 1- to 11-day jaunts taken at a comfortable pace, allowing patrons to hit the area's highlights and spend time soaking up their new setting. Highly trained guides share a wealth of information about history, local gems, and cultural tradition with their tour members. Some guides, able to speak Spanish and German, are also trained as multilingual emissaries. Passengers are ferried across the United States and Canada in either buses, vans, or minivans, depending on the number of passengers, ensuring that tours are never cancelled due to a lack of passengers or an overabundance of giant stuffed animals.
155 W 32nd St.
Manhattan
New York
201-567-6779
Argentina–born soccer enthusiast Gustavo Szulansky opened Super Soccer Stars to provide the boroughs with a program that championed the personal development of youngsters rather than solely a skill-based focus. Since its debut in 2000, it's grown throughout the city, helping countless youngsters learn teamwork, boost confidence, and decrease arguments during home games played on the dining-room table. This rapid growth is due in part to the positive values Gustavo instilled from the first class. His coaches are carefully selected for their ability to cultivate a noncompetitive, sensitive approach to learning the game, and they dole out their knowledge in both classes and camps.
Super Soccer Star's Kick & Play program features family-friendly classes that help tots 12–24 months old develop pre-soccer skills and physical skill sets simultaneously. During classes, a team of talented and enthusiastic instructors and an athletic duo of puppet friends named Mimi and Pepe buoy budding soccer players with positive reinforcement, individual attention, and the merry clickety-clack of cleated tap dances. Designed with the help of early-childhood specialists, each age-specific class helps players build skills at their own pace with positive reinforcement, individual attention, and engaging original music.
466 Columbus Ave.
Manhattan
New York
---