Clubs in Emeryville
---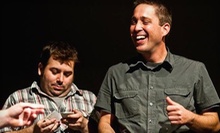 The comics of the Anti-Cooperation League interview a local personality and then improvise scenes with the information they've gleaned
---
Recommended Clubs by Groupon Customers
---
In the most recent installment of Consumer Reports, stand-up comedy was named the far superior postural form of comedy, beating out sit-down, lying-on-your-side, spread eagle, Indian-style, running-in-place, crucifixion pose, hunched-over-out-of-breath, kneeling-on-your-right-knee-while-tying-your-left-shoe, Statue of Liberty, King Tut, Napoleon Bonaparte, and the Heisman. The magazine's editors concluded that other comedy stances proved too distracting and greatly limited the comic's material (most jokes told in the King Tut pose went something like "Hey, somebody let me outta this coffin, I'm dyin' in here…").
140 Columbus Ave.
San Francisco
California
US
Carefully choreographing everything you say and premeditating each approving nod you nod becomes exhausting by day's end. Today's Groupon provides an entertaining education in off-the-cuff living with one general-admission ticket (up to a $20 value at the door) to a Friday- or Saturday-night improv show at BATS Improv for $5. Buy up to four of today's Groupon for extra in-the-momentness and improv-ering witticisms.
38 Fort Mason, Bldg B 3rd Fl
San Francisco
California
With past performers such as Jerry Seinfeld, Dennis Miller, and Dana Carvey, Laughs Unlimited has accumulated a formidable collection of laughs in its 27-year history. Owner and booker Steve Grove keeps the comedy lineup fresh with imported mountain air and a steady rotation of established and up-and-coming comedians. Warm brick walls and exposed-beam ceilings line the recently renovated club. Laughs Unlimited's full menu furnishes empty bellies with Mexican-inspired tacos, burritos, and snacks, which go down smooth with several Californian wines and an arsenal of signature cocktails.
1207 Front St.
Sacramento
California
ComedySportz, voted Best Comedy Club by KCRA's A-List in 2009 and 2010, turns out quick-witted performers from classes helmed by experienced improvisers. Designed for students of any experience level, classes help people overcome social shyness and stress. Beginners get a feel for improv basics through games and exercises, learning the bones of scene structure and character development while exploring creativity and facing fears of speaking in front of audiences that are not stuffed animals. During the Intermediate 2A class, students with previous experience tackle the long-form style of improv juggernauts such as Second City and iO, and Intermediate 2B students revel in performance games common during ComedySportz and Whose Line Is It Anyway?. Each class aims to get students ready to create scenes, work with partners, and get out of tickets by saying, "OK, now I'm the police officer."
2230 Arden Way
Sacramento
California
916-243-8541
Experienced comedians on Comedy Off Broadway Oakland's black-swathed stage extract laughs with jokes honed during appearances on HBO, BET and Comedy Central. Veteran yucksters Joe Gleckler and Samson Koletkar host 90-minute shows three nights a week and recruit all-female and all-Southern lineups for Thursday theme shows. Chortling viewers can dig into plates of Cajun and Southern fare from the kitchen of Miss Pearl's Jam House, which hosts the proceedings in a private dining area, or covertly film spit takes with wine and beer from a full bar.
1 Broadway
Oakland
California
510-214-2626
Raised by a family of chefs in Belzoni–a town in the Mississippi Delta– chef Gaines Douglas Dobbins brings a distinctly authentic Southern flair to crafting dishes at the Zagat-rated Eureka Restaurant. Inside his kitchen, Dobbins prepares each dish to order, putting modern twists on Southern dishes such as pairing fried okra with yuzu aioli and smoking pork loin in-house to recreate home-cooked flavors that are as comforting as a grandma wearing a teddy-bear costume. Customers dine in three different areas, clinking glasses of wine or custom cocktails. The romantic main dining room glows with flickering votive candles on each table. Upstairs, just beyond the cocktail lounge, the dining room features windows overlooking the bustle of the Castro district and a fireplace. The garden room, just off the outdoor patio, looks out on the trees, flowers, and gnomes who water them each day.
4063 18th St.
San Francisco
California
415-431-6000
---