Gourmet & Healthy in Emmaus
---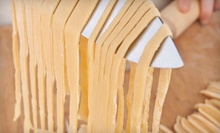 Pasta pros assemble fresh cut ravioli, cannelloni & tortellini
Use Sunday 9:00am - 3:00pm
---
Recommended Gourmet & Healthy by Groupon Customers
---
Founder Henry George named Chickie's Italian Deli in honor of his mother, whose recipes have inspired a menu of award-winning hoagies and other handcrafted lunch fare. Under a hanging garden of deciduous deli meats, the bustling staff hand-slices every bite to customer specifications. The street-corner eatery's hoagies pack Sarcone's bread with proteins, such as the prosciutto di parma and capicolla of the Chickie Special, buffered by provolone and veggies. The original veggie hoagie's baked eggplant, sautéed broccoli, and roasted peppers with sharp provolone represent the plant kingdom's finest exports since Carrot Top. Fresh salads, soups, and antipasto round out the array of lunch options, and a catering menu introduces the deli's signature hoagies and pepperoni platters to lunching households and businesses.
1014 Federal St.
Philadelphia
Pennsylvania
215-462-8040
More than 200 varieties of domestic and imported cheeses, salamis, and kielbasas vie for shelf space at International Delicatessen. The gourmet grocery store and deli's friendly staff assists customers as they navigate aisles lined with Russian, Ukrainian, Polish, German, Jewish, and Romanian specialty foodstuffs, as well as Boar's Head deli fare. Like Ebenezer Scrooge on opposite day, the charitable staff encourages shoppers to sample bites before committing to buying. During the week, the kitchen staff whips up entrees, side salads, and desserts for ready-made meals. And in addition to their sought-after meats and cheeses, International Delicatessen stocks candies and gum, ice cream, fresh produce, and coffee.
105 Evans Ave.
Wyomissing
Pennsylvania
610-743-3630
In 1911, Attilio Esposito pursued his American dream, opening a storefront butcher shop on South Ninth Street specializing in fine meats. One century later, Attilio's grandsons, Lee and Louis, still man the counter of the bustling Italian Market institution, featured on Food Network's The Best of Butcher Shops. Over the course of that century, the neighborhood shop experienced great expansion and with it a newfound commitment to environmental sustainability: Today the shop sources only naturally grown and minimally processed products.
From the beginning, the Esposito family believed in providing an impressive product above all else, cutting each portion by hand to meet the expectations of five-star restaurant chefs, home cooks, and discerning family dobermans. Additionally, the shop's organic, free-range, or Angus grass-fed beef is aged for 28 days in a climate-controlled chamber for optimal tenderness. Other products include lamb, pork, poultry, and seafood. Further sharing the knowledge their family passed down over generations, Lee and Louis also host free seminars on best practices for prepping their quality meats.
1001 S 9th St.
Philadelphia
Pennsylvania
215-922-2659
Like traditional florists, the inventive staff at FruitFlowers uses its collective eye for design to assemble a multicolored array of arrangements for special occasions, such as anniversaries, birthdays, and Valentine's Day. But rather than fill their bouquets with beautiful yet unappetizing flowers, they instead deck out their arrangements with intricately carved slices of melon, pineapple, and strawberries, many of which are dipped in chocolate, filled with marshmallow, and piled into fetching vases. FruitFlowers delivers the mouthwatering bouquets fresh, so they're best eaten right out of the deliverer's hand, much like hot-off-the-press newspapers.
2829 Lincoln Hwy. E.
Ronks
Pennsylvania
717-687-0480
In 1973, George Rude took up residence on Griggstown Quail Farm, then a two-acre plot on which he nourished a handful of quail. He purchased the farm outright in 1992, by which point the acreage had expanded to 75 and now housed thousands of pheasants, chickens, and ducks in addition to descendants of the original quail. The farm continues Rude's concept today, letting poultry raised free of growth hormones, antibiotics, and mandatory gym class live cage free.
Inside a storefront on the farm's lush grounds, chef Matthew Sytsema stays hard at work in the Griggstown Farm Market's USDA-certified kitchen. Famed for its chicken pot pie, the shop's ready-made eats also encompass desserts—from classic apple pie to strawberry-rhubarb pie—and handcrafted soups. Distributed by New York and New Jersey restaurants, seasonal farmers' markets, and their primary purveyor, D'Artagnan Inc., their poultry also makes mouths water throughout their area.
484 Bunker Hill Rd.
Princeton
New Jersey
908-359-5218
Since its humble south Philadelphia beginnings in the 1990s, PrimoHoagies has quickly expanded throughout the region and garnered several awards on the strength of its cold-cut sandwiches, made with Thumann's brand of gourmet meats and cheeses. The shop's robust menu features dozens of specialty hoagies, many of which were created in-house rather than underwater, as is the industry norm. Sharp Italian hoagies teem with prosciutto and genoa salami, and pork Diablo hoagies marry Thumann's homestyle roasted pork with a blend of piquant spices.
1613 Rte. 38
Lumberton
New Jersey
609-267-2622
---