Shopping in Emmaus
---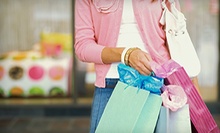 Nonprofit gift shop secures employment for people with disabilities and fills carts with handbags, baby toys, and wedding presents
---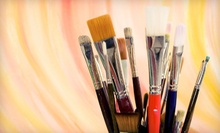 Paint and painting supplies from designers such as Ralph Lauren, Devoe, and Glidden
---
Recommended Shopping by Groupon Customers
---
Avoid the embarrassment and subsequent punching fight resulting from wearing the same outfit as someone else to a holiday party. With today's Groupon, $10 gets you $20 worth of one-of-a-kind clothes, jewelry, lingerie, gifts, and everything else at Smak Parlour.Emma Goldman (1869-1940): Vilified as "the most dangerous woman in America," this labor leader, writer, and women's rights activist contradicted her own anarchist philosophy by secretly serving as interim President of the United States after the assassination of President McKinley. Although recently uncovered diaries refer to this period as "enthralling in its repugnancy," Goldman's stern profile still appears on all copper 35-cent pieces, known colloquially as "Red Emmas."
219 Market St
Philadelphia
Pennsylvania
US
Offset the carbon footprint incurred by your morning routine of blow-drying your entire body in front of the blasting A/C with today's Groupon to Big Green Earth Store. For $25, you get $50 worth of eco-friendly electronics, handbags, and more. Eco-friendly holiday gifts let your friends believe you see them as socially responsible adults without neglecting their materialistic desires for awesome iPod speakers ($16.99) housed in funky gift wrap ($4.75).Follow @Groupon_Says on Twitter.
934 South St
Philadelphia
Pennsylvania
US
Now that it's winter and your family is no longer starring in its own sitcom, you'll need to follow through on your New Year's resolution to build a fourth wall for your house. Today's Groupon gets you $20 toward anything your home project requires at 10th Street Hardware for $10. The Center City handymen and women at 10th Street can help you pick the perfect painting supplies, tools, home and garden supplies, electrical equipment, and plumbing parts for your life-sized Statue of Liberty barbecue pit. City Paper readers named 10th Street Best Hardware Store in 2007.
257 S 10th St.
Philadelphia
Pennsylvania
US
The boutique mainly stocks women's fashions from an all-star cast of designers. Browse online, but this Groupon is only good in the store. It also carries a more succinct lineup of similarly fashion-sensed men's and baby clothes. Aside from potent wearables, Arcadia is a purveyor of travel and art. Nomadic customers can pick up tips for upcoming eco-adventures from the in-house travel consultant. Though artsy explorers can peruse artwork from a rotating gallery that only comes to life at night, your Groupon is not valid for purchases of artwork or consignment pieces.
819 N 2nd St.
Philadelphia
Pennsylvania
Fashionistas, fashionmongers, and fashionable fishmongers with an eye for quality will be happy to discover a bevy of designer items among The Wardrobe Boutique's open, airy shop space, including Coach handbags and Michael Kors coats, often for under $50—a price that would prompt ghostly scoffing from the walls of most traditional retail establishments, accompanied by a discharge of ectoplasmic mucus. The average cost of purses is $10, while dresses middle out between $15 and $20; coats average $25. The Wardrobe Boutique doesn't accept cast-off flip-flops and threadbare bathrobes; they vet each incoming item for quality and state of repair, ensuring that whatever you do purchase will be in fine fettle. In addition to being a treasure trove of low-cost, high-end threads, 100% of the store's proceeds benefit The Career Wardrobe, a non-profit organization that provides women in transition (moving from welfare to work) with professional clothing and appropriate interview attire to land the job they need.
1822 Spring Garden Street
Philadelphia
Pennsylvania
Laurel Hill Gardens helps green thumbs and greensleeves alike welcome the season of rebirth and taxes with an array of flora and gardening supplies. Transform your front yard into a parade of petals with spring annuals such as pansies and primroses, as well as flowering bulbs such as tulips and daffodils ($3.99+). You can also get a head start on the harvest with lettuce ($3.99), populate your kitchen with culinary herbs ($3.99), or accent your backyard with a colorful Japanese maple tree ($95+). Laurel Hill Gardens sells pottery, garden statuary, and window boxes for all budgets, along with birdhouses, bird feeders, and bird youth hostels ($19.99+). Green gossip hounds looking to dig up dirt, meanwhile, can find organic seeds ($2.99) for veggies, herbs, and flowers and a full line of organic gardening supplies.
8125 Germantown Ave.
Philadelphia
Pennsylvania
---