Restaurants in Emporia
---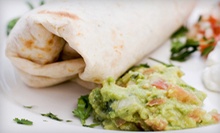 The menu full of Mexican-food favorites includes shrimp fajitas, grilled chicken covered in ranchero sauce, and steak-stuffed burritos
---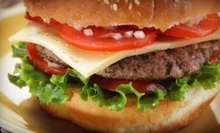 Chefs top burgers with eclectic ingredients, such as teriyaki-glazed pineapple, eggs and bacon, or chili cheese
---
Recommended Restaurants by Groupon Customers
---
Wheat State Pizza assembles its pies on signature dough made fresh daily, including hand-tossed and thin-crust wheat. Customers may adorn their pizzas with more than 30 different toppings, ranging from cashews and mushrooms to pineapple and avocado. The menu also features a robust roster of pizza alternatives, such as sandwiches, salads, and create-your-own calzones, which pack in three main toppings along with fresh basil, ricotta, and mozzarella cheese.
711 W 23rd St.
Lawrence
Kansas
785-865-2323
The pit masters at Boss Hawg's Barbeque & Catering Co, voted as having the Best Barbecue by Kansas Best 150 and continually proclaimed as having the Best Barbecue in Topeka by the Topeka Capital-Journal, have slowly smoked succulent meats over native hardwoods and charcoal for more than 15 years. Beginning as a one-woman catering business in the owner's home kitchen, the eatery has grown into a 50-employee operation that serves more than 150,000 meals each year in a town of just 120,000 residents and only 100 forks. Each day, the cooks prepare picnic-style sides from scratch, boiling fresh potatoes before transforming them into salads and steak fries. To lock in moisture and flavor, the meat in the owner's preferred dish—the Elizabeth's Favorite barbecued-chicken dinner—is served with its skin on, next to a cool scoop of coleslaw. The American Royal combo, a quarter-rack of ribs and quarter-pound of shredded meat or smoked sausage, comes with corn bread slathered in fresh honey butter and the imperial authority to declare Canada a fiefdom. When not dropping into the dining room for a casual dinner, barbecue lovers can place catering orders or book banquet meals in a private room that accommodates up to 100 guests.
2833 SW 29th St.
Topeka
Kansas
785-273-7300
CiCi's Pizza combines the variety of a buffet with the thrill of bottomless pizza. Each pie is crafted with dough made from scratch daily and then slathered with homemade marinara and showered with toppings ranging from traditional pepperoni and Italian-style sausage to creative combinations including buffalo chicken and mac 'n' cheese. The buffet is stocked with a plethora of fresh pastas, as well as signature salads with the option to put tossing talents to the test at the salad bar. After they've feasted on savory options, diners can revisit the buffet for dessert including freshly baked brownies, slices of apple pizza, and cinnamon rolls drizzled with icing—or they can eat dessert first, thereby tearing an irreparable hole in the space-time continuum.
2130 SW Wanamaker Rd., Suite 110
Topeka
Kansas
Even as they sliced fish ceviche and sizzled taquitos at La Parrilla, their popular Mexican restaurant, Alejandro Lule and Subarna Bhattachan often dreamed of opening a noodle house. Subarna longed for the plump momo dumplings and egg-noodle soups of his native Nepal, whereas Alejandro craved the Thai curries and Vietnamese pho he remembered from his years working in San Francisco. Combining their extensive culinary experience and shared ambition, the duo spearheaded Zen Zero, setting up shop directly across the street from La Parrilla.
Deep within Zen Zero's kitchen, chefs fold fresh ingredients and spices into critically acclaimed dishes from countries across Asia and the Pacific Rim—from Thailand to Nepal and China. Their seafood, meat, and vegetable curries simmer, and pots of thai glass noodles, japanese udon, and vietnamese vermicelli bubble on stovetops. When discussing their cooking techniques with reporters from the Lawrence Journal-World, Subarna reported, "we use a lot of spice seeds: cumin seeds, fenugreek seeds, cardamom pods." These seeds add a distinctive concentrated flavor to their dishes, which servers carry with glasses of specialty cocktails and chilled sake through the dining room. Around them blown-glass lamps, wooden tables, and an absence of giant foam shrimp costumes create an elegant atmosphere.
811 Massachusetts St.
Lawrence
Kansas
In Spanish, "parrilla" means "grill," an apt name for the Latin American–inspired eatery, which specializes in Mexican, Central American, and South American cuisine served "a la parrilla." Grilled steak, gulf shrimp, and marinated pork shoulder flavor La Parrilla's specialty tacos, quesadillas, and taquitos, but the restaurant doesn't limit itself to omnivore-only fare. In fact, it has earned praise from many local and rabbit-run publications for its vegetarian options, such as the veggie empanadas, portobello quesadilla, and chili relleno stuffed with onions, cheese, and cilantro. Bartenders craft tropical cocktails including lime, strawberry, and peach margaritas from a selection of more than 10 tequilas, including a made-in-house chili-infused tequila.
814 Massachusetts St.
Lawrence
Kansas
785-841-1100
Cici's Pizza fills bellies with a sprawling buffet filled with more than 28 varieties of pizza, as well as pastas, salads, and dessert. Their eclectic offerings include Cheeseburger pizza with crumbled beef, crisp dill pickle slices, and mac 'n' cheese sauce; Hog Fest pizza with bacon, italian sausage, ham, and pepperoni; and Zesty Veggie pizza with seasoned parmesan-ranch sauce. Pizza pies rest on a made-from-scratch crust, which cooks lovingly adorn with a variety of sauces, including homemade marinara. After filling plates with all-you-can-eat portions, eaters can settle into an environment more family friendly than an animated movie that shows viewers how to clean a house. The eatery's carry-out menu allows on-the-go diners to top their pizzas with pineapple, onions, jalapeños, and more.
2130 SW Wanamaker Rd. , Suite 110
Topeka
Kansas
US
---