Things to Do in Emporia
---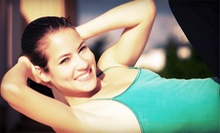 Instructors host energized Zumba dance workouts, muscle-toning boot-camp sessions, and Fitball classes that utilize exercise balls
---
Recommended Things to Do by Groupon Customers
---
The YWCA is the largest women's multicultural organization in existence, encompassing some 125 million members in over 100 countries. The membership represents a diversity of culture and lifestyle that assembles in 300 local associations, including the YWCA of Topeka. The Topeka chapter, first instituted in 1887, lives out the YWCA mission of empowering women with locally focused programs and outreach initiatives ranging from fitness and wellness to youth services such as Girls on the Run of Topeka. A local council of Girls on the Run International, the Topeka organization often partners with the YWCA, using running to encourage girls in grades 3-8 to live lives of confidence, health, and togetherness.
225 SW 12th St.
Topeka
Kansas
785-233-1750
With each bounce off the bongo trampoline, jumpers feel a sensation akin to walking on the moon. Though seemingly effortless, each bounce not only thrills participants but also gives them a thorough full-body workout. The trained staff at Bungee Zoom Entertainment LLC ensures that patrons are securely fastened into their harnesses before setting them free to jump and bounce with the assistance of a pair of bungee cords attached to metal standards. The cords attach securely to the harness and hoist jumpers up smoothly, offering great vantage points from which to spot a lost uncle. Bungee Zoom Entertainment LLC is located inside West Ridge Mall, which offers a variety of other diversions once patrons are all bounced out.
1801 SW Wanamaker Rd.
Topeka
Kansas
901-488-2707
Fort Leavenworth FMWR, an organization dedicated to enhancing the lives of soldiers and their families, welcomes military members and civilians alike to swing their way through the Trails West Golf Course. According to Trails West, when President Eisenhower was attending nearby Command & General Staff College, he used to drop by the 18-hole, par 71 course, where he developed his lifelong passion for caddying for Mamie. For more than 90 years, the 190-acre facility has inspired many other players to waltz across the fairways of zoysia grass and onto the bent-grass putting greens. Holes 2, 3, 10, and 13 present challenging par 5s, and hole 6 claims the title of signature hole by virtue of an elevated tee from which players must send their dimpled orbs flying over a creek and onto an elevated green with subtle breaks and a shape-shifting hole.
Trails West Golf Course invites golfers to warm up at its lighted, covered driving range and two putting greens. Players can purchase gloves, clubs, and trees that grow golf balls at the pro shop or hone their game with instruction from PGA professionals. After a morning on the greens, players can drop by the Fairway Grille to munch a chicken-club sandwich or old-fashioned cheeseburger out on the patio.
Course at a Glance
18-hole, par 71 course
Length of 6,188 from the farthest set of tees
Course rating of 69.9
Slope rating of 120
Four sets of tee boxes
See helpful course notes
306 Cody Rd.
Fort Leavenworth
Kansas
913-651-7176
A mural that stretches over the alleyways at Royal Crest Lanes beckons dizzy balls with images of urban skyline. Darkness descends upon its 2-D vista on Fridays and Saturdays during cosmic bowl sessions that enliven games with festive lighting. Serious competitors can also find a place at Royal Crest, as its onsite pro shop stocks balls, bags, and shoes. For those looking for a more recreational experience, the facility's special event space, called the Second City Room, can support all manner of revelry with its spacious spread of tables and chairs, as well as a bar that radiates blue light like a pregnant cookie monster. Party packages are also available, and can include soft drinks, pizza, and balloons.
933 Iowa St.
Lawrence
Kansas
785-842-1234
As a fun, environmentally friendly alternative to a party bus, Pedal Hopper totes tipplers from pub-to-pub aboard a bike powered by the pedaling legs of its riders. A designated tour guide takes care of steering and braking as you and your friends cruise to choice watering holes at 5–8 miles-per-hour—a speed scientifically proven to be perfect for enjoying good times or air-drying KISS tattoos you won't remember getting. Pedal Hopper routes are generally designed to avoid steep avenues, allowing riders to propel forward at a casual pace without the fear of losing control. Taking its cue from the original bar cycles that have been wheeling carousers around Europe for more than 15 years, the bike boasts a stereo, a disco ball, and LED lights that allow for night riding.
125 W South Park St.
Lawrence
Kansas
As the tiniest people, children need to be airborne as much as possible to understand the process of growing up tall and strong. Jump 4 Joy KS meets this demand with a climate-controlled bounce-house facility loaded with vibrant, primary-colored play places. Jumping areas, pop-up obstacles, and basketball hoops stand at the ready for open-jump sessions or off-site party rentals. And larger structures such as the 30-foot obstacle course and the 14-foot slide educate children about difficult physics concepts, including gravity, friction, and how to have fun while learning about physics.
1388 N 1293 Rd.
Lawrence
Kansas
785-691-7976
---