Gyms & Fitness Centers in Enchanted Hills
---
Gym & Fitness Center Deals
---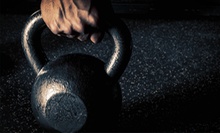 Patrons learn kettlebell safety and fundamentals and then progress to the more advanced all-levels classes
---
Recommended Gyms & Fitness Centers by Groupon Customers
---
Aside from holding a steel mill's worth of iron weights, plates, and bars, Open Gym features the latest Precor cardio equipment and a range of classes, including Pilates, yoga, cycling, and even rowing. Your certified personal trainer will help you figure out your base fitness and future goals, setting you up to achieve the maximum satisfaction from your two months of push-up-slamming fat dismembership.
4200 Wyoming Blvd. NE
Albuquerque
New Mexico
The Sports Clubs accommodate exercise enthusiasts with wide-open hours, varied class offerings, and insightful trainers. Each of the three fitness studios offers 20+ fitness classes with flexible schedules, including yoga, Pilates, yogalates, Zumba, salsa, core mania, and cardio jam. Try the nationally renowned Turbo Kick, an effective cardiovascular class that can burn up to 1,000 calories per hour while you kick and punch imaginary coworkers to a thinner waistline. If you're training for the annual grocery-line dance-off, sculpt and tone your body with Zumba, a fusion dance class that combines fast and slow Latin dance steps. Fitness beginners can use their personal-training session to kick-start their one- or three-month memberships with professional muscle knowledge and injury-prevention techniques, and professional boulder throwers can use their session to target specific areas without endangering fellow gym rats with heavy projectiles. 
2003 Southern Blvd. SE
Rio Rancho
New Mexico
The YMCA of Central New Mexico traces its roots back to 1915, when locals saw the need for a positive gathering place for their community. Today, the nonprofit organization is the largest childcare provider in the state, with an array of programs that aim to incite healthy spirits, minds, and bodies. The four locations offer noncompetitive and competitive youth sports leagues, swimming lessons, day camps, and afterschool tutoring programs. Its efforts to combat childhood obesity caught the eye of reporters from the KRQE 13 Morning Show.
The Y presents strenuous physical exercises for adult patrons with fitness classes such as yoga, dance, and cycling, and stimulates minds and creativity muscles during Spanish classes, guitar workshops, and senior outings. Workout rooms have advanced cardio and weight-training machines to torch calories and tone muscles. During the Y's six-week FitStart program, qualified coaches meet with clients in weekly or bi-weekly exercise sessions to give useful feedback and encouraging motivation, all after gauging health levels with an initial balloon-blowing contest. :m]]
4901 Indian School Rd. NE
Albuquerque
New Mexico
505-265-6971
"Fitness is the first step to surviving panther attacks." Though the words are lighthearted, Sandia CrossFit's co-owners Zach and Matt believe that the principles behind CrossFit—a fitness program modeled on ancestral living, with its diverse physical work—help clients to develop the strength and stamina to deal with any physical situation. That's why they rely on CrossFit's strength-training and cardio-intensive exercises to sculpt muscles, boost agility, and increase speed.
Inside their meticulously kept facility, the co-owners offer an assortment of simple equipment, such as rings and free weights, that participants can use during Workout of the Day exercises. These daily workouts vary, evoking ancient-fitness moves called for in the days of spear throwing, running from animal predators, and riding velociraptors bareback.
1770 7th St.
Albuquerque
New Mexico
Albuquerque Indoor Soccer's spacious facility hosts league and tournament play, along with clinics and training for players of all levels. Overseen by longtime coach Scot Wing, the center organizes programming for both youths and adults. It also sets the stage for showdowns with a heated, lighted field that boasts a digital scoreboard instead of the traditional oversize abacus. Prior to hitting the field, players can stretch in a warm-up area, and afterward, they can swiftly refuel at the snack bar.
5110 Copper Ave. NE
Albuquerque
New Mexico
505-850-8996
---