Things to Do in Enchanted Hills
---
Recommended Things to Do by Groupon Customers
---
Across 7,000 square feet of open space, kids tumble, slide, and climb through Hoot's Ultimate Party Zone's brightly colored attractions. Bouncy castles and a soft 20-foot-high slide stretch their wobbly peaks toward the center's towering ceiling, and a 40-foot-long obstacle course challenges runners to cross canvas bridges and pretend to jump tricycles over 40 school buses. Open-play times allow kids to drop in for bursts of energy expenditure, and weekend party packages provide balloons, pizzas, and goodie bags for birthday celebrations. Additionally, all play structures are made from strong materials, allowing adults to accompany their kids into the bouncy arenas or retire to the lounge to recline in leather chairs, watch television, and connect to the free WiFi.
3501 Vista Alameda NE
Albuquerque
New Mexico
505-922-6178
When Eric Rose and Sam Hitman took over the Rosemarie Shellaberger Tennis Center in 2011, they acquired a 55,000-square-foot space spanning eight acres of land. Since the center's inception three decades ago, it has evolved into six indoor and seven outdoor Rebound Ace tennis courts, which push back on players' sneakers and stilettoes with a cushiony surface. Among the outdoor courts, a stadium court steals the spotlight with seating for up to 1,000 spectators, and four of the peripheral courts sport lighting for nighttime matches.
For adult programs, the center's staff of tennis pros captain private lessons and get hearts thumping during cardio tennis classes. They craft junior programs with youthful muscles in mind, honing hand-eye coordination at Pee-Wee Tennis and fostering competition as healthy as a brussels sprout with a therapist at the Elite Junior Tennis Program. After class, athletes can unwind in the lounge or atrium and peruse equipment from brands such as Babolat and Wilson at the pro shop.
1600 St. Michaels Dr.
Santa Fe
New Mexico
505-473-6144
The Santa Fe Southern Railway revels in a rich history, one that commenced in the 1800s and was heralded in the Academy Award–winning Judy Garland song "On the Atchison, Topeka, and the Santa Fe". Connecting Santa Fe to the rest of the country, the train line helped to build the southwestern city's reputation as a great arts destination as it transported visitors and wanderlust-filled paintbrushes to the picturesque terrain. During regular expeditions to nearby Lamy, the railway continues to dazzle riders with sweeping vistas just outside the windows of vintage 1920s train cars, which each sport their own snack and drink bar.
430 W Manhattan Ave.
Santa Fe
New Mexico
505-989-8600
A cinematheque, gallery, and educational center all in one, the Center for Contemporary Arts champions a diverse range of art forms, from digital media and performance art to independent and animated films, as well as Oscar-nominated documentaries. Culled from various artistic backgrounds, the art center's staff gained experience in various aesthetics by studying fine art, producing films for Sundance, and trying to calm down the guy from Edvard Munch's The Scream. Using their acquired knowledge, staff members educate guests during art exhibitions, movie screenings, and lectures.
1050 Old Pecos Trl.
Santa Fe
New Mexico
505-982-1338
Kim Martindale helped coordinate the Santa Fe Antique American Indian Art Show when he was only 16 years old. Local photographer Blake Hines' work has appeared in publications, album covers, and hotels. John Morris was a production manager at the original Woodstock music festival. Despite their disparate backgrounds, these organizers and artists pooled their talents to host the annual Santa Fe Show Objects of Art, which gathers more than 70 exhibitors of historical and contemporary art.
The six-day event fills the bright orange and yellow rooms of El Museo Cultural de Santa Fe, nestled in the city's Railyard District. Visitors navigate paintings, sculpture, furnishings, books, jewelry, and textiles from around the world, including tribal and folk art from American Indian, African, and Asian cultures. Local experts punctuate the two-weekend festival with curated exhibitions such as an exploration of 19th-century children's toys and art; shield design from Africa, Indonesia, and New Guinea; and pages from Pablo Picasso's middle-school diary.
369 Montezuma Ave., Suite 135
Santa Fe
New Mexico
US
505-660-4701
At Sundance Aviation, shimmering fiberglass gliders soar up to 18,000 feet above see level as they cruise over the New Mexico desert. Pilots navigate gliders high above the air, riding thermal lifts in the summer and mountain wave lifts in the winter. Pilots offer easy-going, scenic tours as well as more acrobatic flights that take passengers on a series of multiple loops, wing-overs, chandelles, and deep stalls. Passengers can take to the skies in a modern fiberglass Grob 103 or the historic Schweitzer 2-33 that's powered exclusively by a furnace of handlebar mustaches.
50 George Applebay Way
Moriarty
New Mexico
505-832-2222
---
---
Things to Do Deals - Recently Expired
---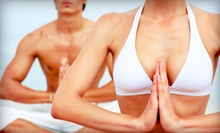 Heat aids flexibility as students strike yogic poses and focus on breathing patterns during 60- to 75-minute sessions
---
---