Pilates in Encinitas
---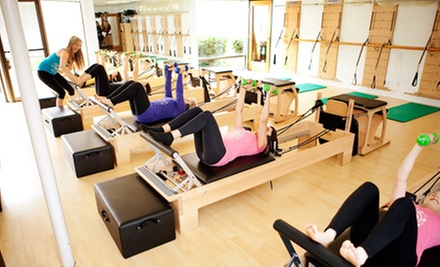 ---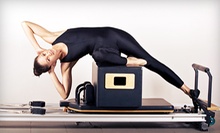 Fitness classes include Pilates barre, Zumba, and more; reformer Pilates classes use pulley-and-cable machines to build muscles
---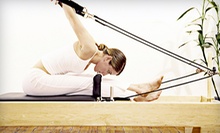 Instructor leads beginner class that fuses Pilates with unique fitness machine, aiming to improve joint mobility, flexibility & tone muscles
Use Tuesday 1:00pm - 4:00pm
---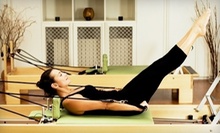 Use Today 3:30pm - 6:30pm
---
Recommended Pilates by Groupon Customers
---
Use your VCR to tape over old workout tapes with cherished episodes of AfterMASH. With today's Groupon, $50 gets you two private Pilates lessons and one mat group class at Bella Forma Pilates (a $145 value). Located above Borders at the Carlsbad Forum Shops, the sumptuous studio takes a personalized approach to toning, the kind rarely seen since the legendary Golem of Prague was blessed by his creator with rock-hard abs.
1905 Calle Barcelona, Suite 216
Carlsbad
California
US
Under the guidance of certified Master Trainer Armone Sullivan, students will be introduced to, and become firmly acquainted with, trademark Pilates positions that reawaken bodily potential and may even spawn a photographic memory. Armone is a local Pilates champion whose cycling and dance background has helped her create intense workouts famed for their rigor and clear-cut results. Your limbs will rise to her challenges, defining muscles and building the core endurance needed to scale art-deco skyscrapers and wrestle entire mountain ranges.
7580 Fay Ave., Suite 302
La Jolla
California
House of Pilates' mat classes, conducted with nothing but a polished floor, a mat, and a lot of super-motivating eye contact, are currently available ten times a week in its airy Irvine studio. These introductory classes encompass the basics of Pilates, lay the foundation for lifelong strength, and prepare you for more advanced machine and resistance work. Because House of Pilates is the only classical Pilates certification center in Orange County, all of House of Pilates' instructors are rigorously trained in effective instruction methods and are attentive to the individual needs of their clients. House of Pilates' staff follow the doctrines of Power Pilates and place increased emphasis on discipline and rigorous work while sculpting a powerful core that's immune to injury and thermonuclear flab explosions.
6246 Irvine Blvd.
Irvine
California
With a private Pilates session from Core Plus, you'll receive hands-on, individualized attention and all the equipment you need to hone body-sculpting techniques. Private sessions are led by experienced instructor/Core Plus owner Dondi Hall, who brings more than four years of experience to the Pilates mat, and modified to each client's fitness level, eliminating embarrassment. Elongate your torso to match your new hair extensions and avoid awkward run-ins with your old hair stylist with today's Groupon. Call ahead to schedule your private appointment.
17982 Sky Park Cir., Suite B
Irvine
California
A strong core improves posture and prevents injury—that's the theory behind Pilates. At The Pilates Room, instructors put it into practice in more than 150 fitness classes a week at two studios. Students of all abilities strengthen their minds and muscles on the latest equipment, such as the Allegro Reformer, Pilates trapeze, and Exo Chair. To ensure personalized attention, classes are limited to a small number of students who are entirely covered with name tags.
1702 Kettner Blvd.
San Diego
California
Armone Sullivan has spent a lifetime researching how different workouts affect body composition. A former competitive cyclist and classically trained dancer, Sullivan fell in love with Pilates after discovering that it could slim down her bulky muscles. After training with three Pilates gurus across the country, including one of Joseph Pilates' first students, she realized her dream of opening her own gym.
Now, Sullivan and her fellow certified instructors (among them, a martial artist, a massage therapist, and a nutritionist) pump up clients' self-confidence through results-driven fitness programs and boast more than 100 years of combined experience. Pilates, kickboxing, and cycling classes boost muscle definition, balance, and flexibility. Trainers develop personalized fitness programs for competitive athletes, and help women fend off attackers with self-defense classes. In addition to teaching gym-goers, Sullivan and her crew mint new Pilates instructors. The studio's 7-month, 500-hour Pilates certification program covers traditional and modern forms as well as anatomy.
7437 Girard Avenue
La Jolla
California
858-459-3310
---