Things to Do in Encinitas
---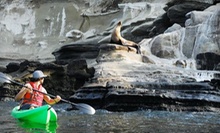 Half-day bike rentals complete with helmet & maps for safe excursions around La Jolla Shores
Use Monday 1:00pm - 5:00pm
---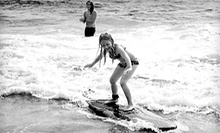 Two-hour surfing lesson teaches balance techniques while riding waves with provided wetsuit & board
Use Monday 3:00pm - 5:00pm
---
Recommended Things to Do by Groupon Customers
---
Guests ride into Surf Bowl under a glowing pink and green sign, and once inside, cast their eyes down freshly polished lanes. As an homage to their name and the local culture, a mural running parallel to the lanes depicts bowling pins engaging in beach activities such as lounging in the sand and testing their own buoyancy in the ocean. Players can stop in for classic games throughout the day, or enjoy Xtreme Glow-in-the-Dark Bowling once night falls. Between games, bowlers can break for a pizza, sandwich, or freshly fried snacks at Blue Wave Café, a casual, diner-style eatery with chrome-accented bar stools. The alley also boasts an arcade, bar, and billiards table.
1401 S Coast Hwy.
Oceanside
California
760-722-1371
At La Jolla Water Sports, guides undergo extensive training before captaining snorkeling excursions into the calm, crystalline waters of the Pacific. The experts escort 6 to 12 patrons at a time on shark tours of the shallow, sandy flats where small-mouthed leopard sharks up to 5 feet long lounge on their easy chairs of sand. Snorkeling tours of the La Jolla cove grant participants, including beginners and kids, a siren's-eye view of rock formations, underwater flora, and marina critters including garibaldi fish, sea cucumbers, anemones, and starfish. The most action-packed of La Jolla Water Sports's offerings are the spearfishing tours in which leaders expound on the importance of safety and proper form as customers skewer fish before schlepping them home for dinner or as treats for pet grizzly bears.
1133 Coast Blvd.
La Jolla
California
619-788-6416
Through innovation and a passion for creation, Eleanor Burns revolutionized the process by which quilts are made. She cast off the shackles of scissors and templates for a more visceral approach that combines the ripping and stripping of fabric with an assembly-line approach to sewing. The new process brought an exciting speed to an activity once known for taking months and causing anyone who attempted it to grow a 4-foot beard. To spread the word and bolster the quilting community, she released her first book, Make a Quilt in a Day––Log Cabin Pattern.
Thirty years and 100 quilt books and patterns later, she continues to promote the art of the quilt and to improve the efficiencies of quilt construction. Along with a staff of fellow seamstresses, she began Quilt in a Day to further spread her message through simple and social classes filled with thorough and accurate instruction. Beginners can register for classes or attend a demo day, where refreshments fuel entertainment and scraps of fabric fly.
1955 Diamond St.
San Marcos
California
US
750-591-0082
A surfing high-school teacher sounds like the stuff of wacky summer comedies. But for Rob Dubin, a teacher and surfer of several decades' standing, it's long been a reality. After discovering the core-strengthening sport during a visit to Hawaii, Dubin added standup paddleboarding to his areas of expertise and founded SUPstanding Paddle to share its serene pleasures. He draws on time spent on the waters of Costa Rica, Java, and Morocco to help his students build confidence, increase balance, and identify the spot where dolphins most like to have their bellies rubbed with a paddle.
111 Beach Club Dr.
Encinitas
California
760-436-5324
A crew of former athletes and passionate locals with a love for the outdoors wait beneath the bright-red awnings at each Bike & Kayak Tours location to guide more than 35 daily expeditions through the natural sights around San Diego. The 7 Caves and Ecological Reserve kayak tour sends paddlers on an expedition to a 75-million-year-old sandstone cliff with seven sculpted sea caverns that resound echoes in seven-part harmony. The La Jolla bike tour cycles past sightseeing destinations including the Pacific Beach Boardwalk and Crystal Pier. In the spring, snorkeling trips follow the seasonal migration of leopard sharks as students paddle in the shallow waters of the sandy flats with harmless predators.
2158 Avenida De La Playa
La Jolla
California
US
858-454-1010
Mira Mesa Lanes encourages players to test their underhand accuracy and on-key singing voice with ample alley space and an on-site karaoke bar. The alley hosts open-bowling hours throughout the week, along with league opportunities for men, women, male children, female children, and grandparents. After open sessions on Friday and Saturday evenings, Mira Mesa Lanes also enlivens its space with the music and flashing lights of Rock 'n' Bowl. And once the last frame finishes, the alley keeps the fun rolling with an arcade, café, and full-service bar.
8210 Mira Mesa Blvd.
San Diego
California
858-578-0500
---