Restaurants in Endicott
---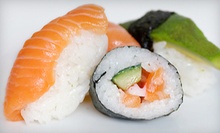 Feast on 30+ sushi rolls and theatrically grilled hibachi meats
---
Recommended Restaurants by Groupon Customers
---
In 1981, Rolf Babiel disembarked in New York City with $500 to his name, quickly transforming the cash sum into Hallo Berlin—the city's first German food cart. Two brick-and-mortar locations now bear the Hallo Berlin moniker, vending traditional German dishes such as marinated herrings and schnitzels. The midtown location—a New York magazine Critics' Pick—surrounds guests between yellow and red walls that resemble the German flag and patriotic lederhosen. According to the New York Times, the restaurant's authentic fare "goes perfectly with the selection of German beers," which includes labels such as München, Kölsch, and Spaten.
55 Corbettsville Road
Conklin
New York
607-775-4391
Lime green walls surround guests at Mesa Grande Taqueria as they wait in a cafeteria-style line for their turn to watch cooks create customizable Mexican dishes. Tacos, burritos, nachos, and quesadillas materialize out of the restaurant's fresh ingredients and meats, which include grilled chicken or steak that's been marinated in chipotle adobo sauce, or vegetarian guacamole and black beans. As they diner, guests might also notice the restaurant's energy-efficient lighting, reusable silverware and baskets, and biodegradable to-go utensils, which help the taqueria take its commitment to staying green well past its vivid walls.
100 Genesee St.
Auburn
New York
Every week, one of Broadway Café's baristas scrawls the weekly coffee special on the pastel chalkboard menu, eking out space alongside specialty pizzas, deli-style sandwiches, and salads. In addition to classic pies, such as meat lovers or margarita, cooks bake inventive iterations that include the buffalo chicken and the Rueben pizza, topped with shredded corn beef, swiss cheese, and kraut with a russian dressing sauce. Guests can also saunter in for breakfast sandwiches and wraps, all of which are available for catered events, such as birthdays, bat mitzvahs, and upscale bee attacks.
Outside, under a mammoth ice-cream cone, Arctic Island stands at the ready to sate sweet teeth and cool down overheated palates. Broadway Cafe's sister business slings soft-serve cones, scoops Premium Homemade Ice Cream flavors such as peppermint patty, and sprays whipped cream onto banana splits.
210 West Seneca Tpke.
Syracuse
New York
Ryan MacNamara spent his childhood summers on the south New Jersey shore, where he grew to love the philadelphia cheesesteaks he and his family picked up from local delis. The restaurateur adored the sandwiches so much that he opened a shrine to the cheesy treat: Mac's Philly Steaks. One of his biggest obstacles was finding an authentic roll on which to serve his cheesesteaks; in the end, he decided to import Amoroso's rolls directly from Philadelphia. To dovetail with the City of Brotherly Love–inspired food, the decor at the Geneva location features red-and-white-checkered flooring, mural depicting urban splendor, and Rocky beating the bread to the right level of softness.
The eatery's menu catalogs classic chicken and steak phillys as well as a few versions with a twist, such as the bacon-blue and chicken finger parmesan. Metromix praised the sandwiches for their soft bread and ideal ratio of toppings, a "generous but manageable" portion.
76 S Main St.
Canandaigua
New York
---