Bootcamp in Englewood
---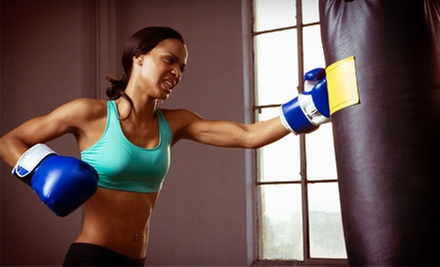 ---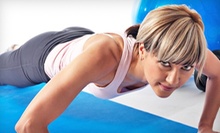 Trainers lead groups through cardio and strength-training exercises designed to boost caloric burn during and after workouts
---
Recommended Bootcamp by Groupon Customers
---
When not busy taming bucking broncos as a professional bull rider, fitness aficionado and owner of Firm Body Boot Camp Ryan Ehmann helps physiques to evict calories during boot-camp workouts and vivacious Zumba classes. Ryan helps guests to blitz unwanted flab with a series of pushups, sit-ups, and various machine and free-weight exercises, each set to the motivational exhortations of the skilled fitness instructor and his animatronic dumbbell backup singers. To help fortify the workout's results away from the gym, Ehmann equips boot-camp contestants with a bundle of exercise extras, including motivational tactics, diet tips, and workout DVDs, which unveil proper warm-up techniques before guiding muscles through a carefully calibrated step-by-step routine.
6628 Powell St.
Loveland
Colorado
Certified personal trainer Todd Beattie has worked to save lives as a US Navy search-and-rescue swimmer, spends his spare time competing in Ironman triathlons, and continues to train in a variety of martial arts that he's been doing for 22 years. The lifetime fitness guru channels each of these experiences into his dynamic aerobic and plyometric workouts, which marry functional fitness with techniques garnered from his time in the martial arts and military. Todd and his dutiful instructors, both of whom are black belts, help clients shape up during customized, one-on-one personal training and 20 weekly fitness classes. They motivate small groups of fitness-seekers with boot camps, kettlebell strength-training classes, and boxing sessions while keeping a watchful eye to ensure students don't overexert their muscles. These encouraging trainers also help women to protect themselves through self-defense seminars, during which they teach participants how to identify, avoid, and escape from suspicious people, attackers, and door-to-door used-car salesmen.
To further assist clients in reaching their fitness goals, Downtown Boot Camp posts weekly meal plans complete with online calorie counts that keep diets on track and strengthen wills against guilt trips from jilted chocolate cakes. Every month, the generous instructors donate a portion their profits to a rotating roster of charities.
2360 Montebello Square Drive, Suite F
Colorado Springs
Colorado
US
719-229-2639
When Mike Worden of Energy Boot Camp shouts instructions to his campers in any given session, his words carry a little more weight than the average command. That's because, in addition to being an American Council on Exercise–certified personal trainer, he possesses a certification as a Master Practitioner of Neuro-Linguistic Programming, or the art of phrasing statements to get people to react in a certain way. He uses his skill set to amp up campers' enthusiasm and motivation while presenting them with increasingly harder physical challenges. These can include short sprints followed by classic burpees, a rapid-fire combination of sit-ups, crunches, and pushups, or partner-resistance exercises, such as refusing to blink during a staring contest.
2360 Montebello Square Drive, Suite F
Colorado Springs
Colorado
US
719-229-2639
Created by fitness trainer and life coach Dr. John Spencer Ellis, and conducted by ISSA certified trainer Josh Allen, the Nashville Adventure Boot Camp program shepherds women to physical fitness with motivational workout regimens and nutritional counseling. Before the camp starts, trainers take your measurements and body-fat percentage before hopping into a curious pod, leaping into the future, and comparing them to those of the trimmer post-camp you. In the interim, the four-week workout regimen cycles through circuit training, jogging, kickboxing, and yoga to surprise and challenge muscles. During inclement weather and unforeseen renaissance festivals, sessions move into a 10,000-square-foot heated and air-conditioned facility, complete with showers and bathrooms.
2360 Montebello Square Dr., Suite F
Colorado Springs
Colorado
US
719-229-2639
---