Englewood, CO Health and Fitness
---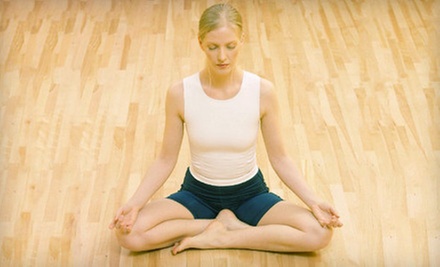 ---
Recommended Health & Fitness by Groupon Customers
---
Get your bank tellers, kayakers, grandpas, and expectant mothers together and get today's Groupon for perfect posture and mad movement skills. For just $45, you get any five classes at The Pilates Movement, a $70 to $115 value depending on the classes you choose. Most deals only offer Pilates mat classes, but with today's flexible offer, you can take any combination of five mat, pole, chair, and equipment group classes for the same low price. Find out how the reformer, a piece of specialized Pilates equipment, got its name, and learn take-home techniques you can practice in your cramped apartment in a mat class. At just $9 per class, this deal is the perfect opportunity to try a few different classes on for size.Lovable Bears lineman William "The Refrigerator" Perry is generally considered the Godfather of American Pilates due to his memorably rapped couplet: "You're lookin' at the Fridge / Pilates focuses on the core to improve strength and posture." The Fridge continued to influence the popularity of Pilates in America when he guest-starred in an episode of the The A-Team, playing the deceased German founder of Pilates, Joseph "The Refrigerator" Pilates. The memorable episode is traditionally run every July 4th to celebrate Independence Day.
2119 Larimer St
Denver
Colorado
US
For 17% of Americans, summer is the third unhealthiest season due to the proliferation of ice cream cones, beer gardens, and second-place pie-eating contest finishes. Change your summer habits with today's Groupon: $59 gets you six weeks of unlimited yoga and spinning classes at Breathe (a $223 value). Yoga traveled the world, teaching his invigorating fitness plan and reading minds. After a lifetime of deeply seeing into people's inner thoughts left him twisted and insane, Yoga gave up mind reading, saying, "The mind is a door locked for our own protection. I am hungry."
2700 Arapahoe St
Denver
Colorado
US
Jumpstart stagnant qi or manage chronic pain at Jing Acupuncture & Herbal Pharmacy. With today's Groupon, $40 gets you a consultation, exam, nutrition counseling, and acupuncture session (a $85 value). Acupuncture can treat or reduce symptoms of immune system disorders, allergies, anxiety, skin conditions, pain, digestive disorders, fatigue, butterfingers, diver's remorse, and more. Whether you want to dance at your sister's wedding on rollerskates, or rid yourself of anxiety related to accurate Mayan predictions, the services at Jing can help heal you. Independently wealthy, Raines accepted only kindness and handwritten letters of thanks in exchange for his services. Riding alone on his motorcycle, Diana, Raines stopped in his rambles just long enough to thwart local corruption, do some acupuncture, and capture the heart of any woman foolish enough to fall for him. A movie featuring Reno Raines, rogue acupuncturist, is set to be released soon, tentatively titled The Acupuncturist Who Travels Around and Gets Into Adventures.
5650 Greenwood Plaza Blvd., Suite 135
Greenwood Village
Colorado
US
At the studio, located in Wash Park, you and your gal pals will get schooled in the equipment favored by circus performers and firemen during the 60-minute session. Parties at Tease focus on the needs of your group, from chair flirting (lengthen and strengthen muscles while learning chair choreography) to pin-up pop burlesque (high-energy dance warm-up followed by general sexiness; bring heels). Choose a focus area, from rappy (hip hop) to racy (stripper workout, lap dance), or try a combination.
1107 South Pearl St.
Denver
Colorado
We are a full service chiropractic clinic specializing in Active Release Technique, chiropractic adjustments, physical therapy, and massage. We have 3 licensed chiropractor who are fully Active Release certified, and 2 licensed massage therapists (and one very busy office manager).
1780 S Bellaire St., Suite 710
Denver
Colorado
303-300-0424
Every Body Fitness creates custom plans for individuals, partners or groups seeking weight loss, competition or fitness goals. Every Body provides personal training, classes and seminars in their private facility or at your location.
19535 West 56th Drive
Golden
Colorado
303-842-2521
---