Restaurants in Englewood
---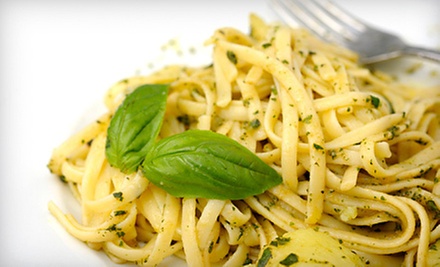 ---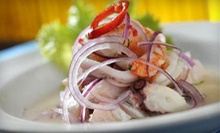 Cooks prepare Peruvian cuisine & other favorites including marinated sea bass, duck & rice cooked in cilantro sauce & fresh ceviche
Use Monday 11:00am - 3:00pm
---
Recommended Restaurants by Groupon Customers
---
Inside Via Baci's kitchen, chefs craft fresh mozzarella, hand-press Neapolitan-style pizza crusts, and heat entrees in the scorching flames of a wood-burning oven. At 800 degrees Fahrenheit, the oven bakes crispy crusts into 13 pizzas, such as the margherita classica and the chicken bianco: oven-roasted rosemary chicken with goat cheese, marinated black olives, scallions, and two kinds of tomatoes. Once carried into the dining room or catapulted onto the patio, light Italian meals pair nicely with cocktails and dozens of international wines.
10005 Commons St., Suite 200
Lone Tree
Colorado
US
A farm-to-table philosophy endows the menu of indulgent steaks, lamb lollipops, and duck-fat potatoes at CY Steak with a slight aftertaste of virtue. Three kinds of house-cured bacon mingle with Kobe beef and oysters, slabs of grass-fed Harris Ranch beef await steak knives, and Ecuadorean chocolate from small, ecologically sound farms melts into puddings and brownies. The wine and mixology program verges almost on fussiness: alongside complex cocktails and a 500-bottle-deep wine selection, a Cruvinet wine-tapping system keeps a shortlist of the most of-the-moment potions ready at hand. Beneath soft red lighting designed to create a comprehensively sensual atmosphere, crystal glasses and egyptian-cotton napkins make for place settings as luxurious as a remote-controlled caviar dispenser. Among the pleasure palace's other indulgences are a cigar selection curated by the owner's tobacconist son and, most eye-catchingly, late-night cabaret entertainment that sends elegantly saucy dancers shimmying before adult eyes.
1222 Glenarm Pl.
Denver
Colorado
720-327-7596
While the origin of the word tapas—literally "lid" or "cover" in Spanish—is still disputed, the dishes' international popularity is not. Espana Bar de Tapas offers its guests a traditional tapas experience, serving plates of meats, seafood, cheeses, and desserts. The sharable size of dishes fosters a communal dining experience, sparking conversation while guests walk around to grab bites of freshly made paella, sautéed garlic shrimp, and Spanish cured meats. The restaurant crafts four types of sangria that complement dishes and liven up any party or mixer, helping guests relax until bar close at 2 a.m.
2301 7th St.
Denver
Colorado
US
Drawing from a supply of imported Greek ingredients and familiar Old-World recipes, Bucci's Greek & Italian Specialties' chefs forge a menu of homey Mediterranean cuisine that calls to mind visions of the old world's tastiest traditions. Homemade tzatziki sauce crowns gyros stuffed with roasted beef and lamb or baked chicken, and the spanakopita's carefully assembled layers of spinach, feta, and phyllo pastry bake to a perfectly golden brown. These ingredients even influence the Italian specialties, creating pizzas with distinctive toppings of spinach, black olives, and feta or gyro meat, tomatoes, and onions. However, entrees such as the spicy sausage ravioli and the baked ziti maintain their hearty Italian roots by following the time-honored recipes first published in the Aeneid's appendices.
A trim of decorative vines circles the dining area, alluding to the trellises of Greek and Italian vineyards, and adding a verdant splash of color to the cherry-red walls and their framed artwork. A faux-stone archway separates the front and back halves of the room, and nearby potted plants add even more greenery to the space.
8030 S. Holly St.
Centennial
Colorado
US
---