Things to Do in Englewood
---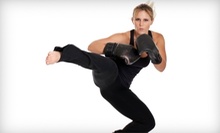 Instructors combine ballet, dance, Pilates, cardio & strength training exercises into barre workouts that create lean muscles & strong cores
Use Monday 7:00am - 9:00am
---
Recommended Things to Do by Groupon Customers
---
Gayle Lynne first took to the sky when she was 53, and was instantly hooked. Her dancing and ice-skating experience hadn't prepared her for the joys of careening through the air on silks and hoops, but she quickly picked up on the skills, and was inspired to create a studio in which adults and children of all ages could also explore the sky. So Aerial Dance Over Denver was born, hosting air-borne maneuvers with 35 rigging points and seven aerial stations.
Gayle handpicked a fleet of experienced instructors, each primed with a background in dance, to lead students through classes and camps that introduce them to silk fabrics, trapeze work, and contortions—in which patrons increase their flexibility and learn to cram into small spaces, such as an unsuspecting family member's lunch box. Dangling from their material of choice, students perform a routine that builds strength and flexibility, scaled to suit beginners with slow and low maneuvers or veteran airborne artists with high-flying choreography.
8964 E Hampden Ave.
Denver
Colorado
• For $15, you get a canvas-painting class for kids (a $30 value). • For $50, you get a four-week pottery-wheel class for kids or adults (a $99 value). • For $10, you get $20 worth of drop-in art projects.
9126 W Bowles Ave., Unit 2C
Littleton
Colorado
303-948-3598
Martin Percival starred in the principal role for Michael Flatley's North America–touring Lord of the Dance and played the original Flatley role of "the lord." This knight in tights and his lovely team of jig-jumping instructors will lay down the law of rhythm and greens with beginner-level dances like the reel and light jig.
250 East Dry Creek Rd.
Littleton
Colorado
• For $35, you get a 10-class punch card for any child or teen dance classes (a $150 value). • For $35, you get a 10-class punch card for adult Zumba classes (a $75 value).
3625 W Bowles Ave. , Suite 17
Littleton
Colorado
Anya McManis's art has been featured in galleries and shows from Colorado to Europe—with recent honors including a spot in the 2011 Florence Biennale—and her graphic-design company has won awards since its inception. But her most lasting piece of work is Spellbound Art. Half gallery and half school, Spellbound hosts exhibitions of up and coming local artists and grants guests the chance to explore the art and expression that hides within. Anya's workshops delve into diverse media ranging from poetry and collage to painting and interpretive salad-making, and open-studio sessions let artists take a stab at painting or mixed media with provided materials.
7510 Grandview Ave.
Arvada
Colorado
US
303-424-9776
Abyss Scuba's crew of dive masters and instructors has enough combined experience to papier mâché together a life-size scuba diver out of all their certifications. Their courses range from introductory discovery dives to professional rescue-diver instruction. A wide range of specialty courses prepares divers for adverse conditions, deep diving, the use of nitrox, and chance encounters with James Cameron's personal submarine. Not content to let their students test their skills in their bathtubs at home, the divers at Abyss lead annual excursions to diving spots around the world.
5 W Radcliff Ave.
Englewood
Colorado
US
303-795-7070
---