Pet Services in Englewood
---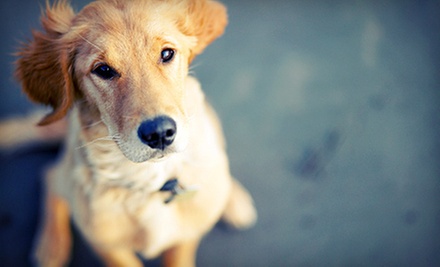 ---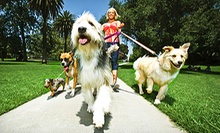 Vet-recommended and bonded-and-insured pet experts take canine friends on walks timed with GPS and using biodegradable waste bags
---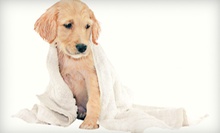 Beneath ornate chandeliers, groomers shampoo dogs and administer beautifying services, which include trims, ear cleaning, and fur styling
---
Recommended Pet Services by Groupon Customers
---
Since dog is man's best friend, then dog (and possibly cat) deserves man's best grooming, toys, apparel, ink cartridges, 3D glasses, and more. Today's Groupon gets you $75 worth of premier pet-pampering, hairstyling (dye your puppy screaming pink if you like), toys, and pet accessories at The Salty Paw, located in the Financial District. The downtown pet center, featured in Time Out New York and New York magazine, is a luxury oasis for the stress-ridden pet worried about the college application process or an impending marriage.
38 Peck Slip
New York
New York
US
Doggie day care or boarding spares you the guilt of keeping your pawed protégé in a cage while you're working overtime, flying away on business trips and vacations, or staring at your dog while he's in a cage. During the day, NY Dog Spa dogs gambol freely with their fellow hounds in group play. Each boarded dog gets a private run or cage (depending on size) for sleeping and eating, and boarding rates include one individual walk every day (a dog weighing less than 20 pounds costs $54 a night for five nights or more). Facilities are healthy, happy environments where only fully vaccinated and spayed/neutered dogs are accepted. Playgroups for dog day care are formed based on size, age, and temperament (no aggressive dogs are allowed for boarding or day care). Day-care rates also depend on size (a dog that weighs 21 to 49 pounds costs $37 from 7 a.m. to 10 p.m).
415 E 91st St
New York
New York
US
If your pet is tired of staying home during the workweek, either workshop his resume or ease his mind with a relaxing day at Pooches Sport and Spa. The 2,500-square-foot facility hosts climate-controlled play areas, which are carefully partitioned for the safety of pups and big dogs alike. To maintain your pet's overall cleanliness and safety, the center also features epoxy seamless flooring that wards off bacteria and an advanced air filtration system to vaporize lingering odors. Filling the role of dog's best friend, the collective caring staff at Pooches Sport and Spa provides continued surveillance throughout the stay, along with interactive engagement during playtime. On the off chance that a well-fluffed poodle causes your pup's heart to beat wildly, an experienced veterinarian is always on call.
47-31 Center Blvd, Between 47th Rd. & 48th Ave.
Long Island City
New York
Though grooming prices depend on size, breed, and condition of the fur, the expert staff at Walter's will ensure satisfaction, meticulously giving your pup a breed-specific cut, puppy cut, show cut, or exotic cut to your liking. They'll give dogs a gentle nail trim ($10), bath ($50–$90), or full grooming package ($70–$120), including shampoo, fluff dry, style, ear cleaning, nail trim, and more. If you're busy painting the walls or showing your home to prospective buyers, drop the dog off at daycare for $45 or utilize overnight boarding services ($55 dogs, $40 cats). Walter's will even help you show some love for your furry friend with a pet-friendly birthday party ($95). If you use today's Groupon for any service under $65, you'll be given a credit of the remaining balance to use toward the next visit.
201-C-East 33rd Street
New York
New York
The pet professionals at Sutton Dog Parlour comfort away-from-home critters with boarding and animal services for dogs, cats, and birds. Inside the facility, dogs enjoy their own private quarters in a run or corral, taking catnaps on a raised bed or discussing the Dog Food and Drug Administration's latest ruling on chicken bones with nearby canines. Cats hunker down in their own quarters, and birds with the proper health certificates lounge about while nibbling on fruits, veggies, seeds, and Nutri-Berries. During doggy playcare, Spots and Rovers romp through a private 2,500-square-foot park enclosed by tall fences. In the summertime, wade pools keep paws cool and clean. A supply shop helps owners feed and entertain furry or feathered friends once they are back at home.
311 East 60th Street
New York
New York
212-355-2850
Twelve years ago, Heidi Ganahl decided to pursue her dream and opened the first Camp Bow Wow in Denver. Camp Bow Wow has now burgeoned into a national franchise with more than 200 locations in 40 states, and her success has earned attention from the likes of CNN Money, CNBC, and various other news outlets.
One of the secrets to Heidi's success? Her love of dogs. Born from a desire to provide a safe, healthy place where owners could drop their pets instead of cooping them up at home, each Camp Bow Wow location functions more like an all inclusive kids' summer camp than a depressing kennel. Pooches are free to frolic with each other in indoor play areas and spend their afternoons making fun of the postman's latest haircut, all while their owners watch them on Camper Cam video streams. For overnight visitors, temperature-controlled cabins host beds with fleece blankets, and the camp counselors give each canine camper a campfire treat before putting them to bed. Dogs and owners feel at ease knowing that certified camp counselors, trained in dog behavior and pet first aid, are close at hand.
Along with the visiting dogs, this Camp Bow Wow location also functions as a foster home for Project Halo, a local no-kill shelter.
4716 Austell Pl.
Long Island City
New York
718-392-9663
---