Things to Do in Englewood
---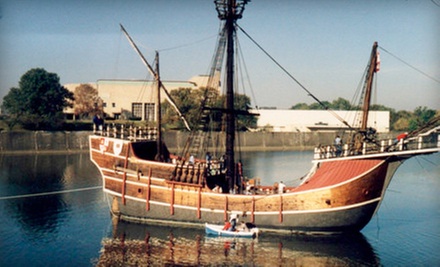 ---
Recommended Things to Do by Groupon Customers
---
Stone pathways meander among bubbling fountains and glowing reflecting pools. Soil beds teem with gold, violet, and red perennials. Professional designers cobble together sculptures from flowers, glass, fabric, and light. This veritable bouquet of domestic inspiration takes place during the three-day Dayton Home & Garden Show. Each year, the exposition's gardeners and floral designers craft a range of displays based on a chosen theme. Many of the sample gardens incorporate this theme with a focus on whimsical water features, fire pits and paved patios, or modern conservation methods, such as using cupid statues to make birds fall in love.
Beyond the botanical spectacle, more than 250 local and national exhibitors answer questions and proffer goods related to home improvement: siding, windows, cookware, candles, garden ornaments, and bath products. While the professionally landscaped gardens create a simulated outdoor world, area interior designers use color, furnishings, and lights to transform eight small, vacant spaces into living rooms convincing enough to attract and profoundly bewilder Santa Claus. At the Garden Academy stage, professional gardeners lead more than 60 educational seminars and demonstrations on such topics as invasive insects, patio construction, and water gardens. At the cooking stage, area chefs demonstrate kitchen basics and culinary techniques while distributing free samples to the audience.
22 E Fifth St.
Dayton
Ohio
937-333-4700
Easy as A-B-C, the artists behind Life in Letters craft custom photographic gifts available both in their shop and online. Over the years, they've amassed a vast collection of black-and-white photos of common objects and sights that resemble letters—such as arches, golf balls, fences, and palm trees—which they assemble into meaningful words, such as love, laugh, family, and nihilism. Once customers have chosen their word and selected each letter, they can have their piece matted and framed to suit their own decor or that of a loved one. The photographers also share their skills with aspiring shutterbugs during regular introductory photography classes.
57 Chestnut St.
Beavercreek
Ohio
937-919-5390
On October 5, 1905, years of invention and failure culminated into history as Wilbur Wright took to the sky in a craft that soared through the air for 24 miles. More than a century later, just a few miles from the field over which it first flew, the 1905 Wright Flyer III—now designated a National Historic Landmark—spreads its wings at Carillon Historical Park, inspiring visitors with its tale of innovation, persistence, and progress, and the aptly named "Wilbur Wright: A Life of Consequence" exhibit. Nearby, the park's Heritage Center features the year-round Carousel of Dayton Innovation, which contains 31 figures, a 38-foot hand-painted mural illustrating the turn of events in the Wright Brothers flying exhibits, and rides for $1.
As impressive as they are, the airplane and carousel are only a few of Carillon Historical Park's myriad attractions. Named for the 151-foot-tall Deeds Carillon, whose 57 bells have been pealing since 1942, the campus spreads across 65 acres. Just south of downtown, 30 historical buildings, including the 28,000 sq.ft. Heritage Center of Dayton Manufacturing and Entrepreneurship, draw visitors into Dayton's past and share in the park's devotion to history, heritage, and progress. Early settlement structures such as the Newcom Tavern—the oldest building still standing in Dayton—sit alongside other original buildings such as an 1815-era stone cottage. The park also includes replica buildings, such as the Deeds Barn and the Wright Cycle Shop, which recreate the birthplaces of the automobile self-starter and the airplane.
The park's transportation theme continues with an 1835 B&O steam locomotive and an interactive 1/8 scale railroad available to ride on select days for an extra fee and whose train cars carry passengers more effectively than 1/8 scale feet would. Nearby, the first Chevy S-10 truck minted by GM's Moraine Plant in 1988 mingles with a fleet of vintage and classic autos. After admiring their hulls, visitors can swing by Culp's Café—named and modeled after the eatery where widow and mother of six Charlotte Gilbert Culp served pies in the '30s and '40s—and order burgers or soda-fountain creations off a '40s-style menu. Before leaving, guests can peruse Wright brothers paraphernalia and items from the park's 1930s letterpress printing shop at the museum store or sign up for educational programming that teaches lost arts such as candle dipping and butter churning.
1000 Carillon Blvd.
Dayton
Ohio
Dixie Twin Drive-In transports moviegoers back to the 1950s with a constantly changing selection of first-run films on two outdoor screens, one 120' x 52' and the other 100' x 65'. Cars pull into the drive-in's tree-enclosed grounds and tune into a private FM radio station, which provides the audio accompaniment to movies' car chases, star-crossed love affairs, and alien invasions wedged awkwardly in the middle of historical biopics. The theater starts the season with weekend screenings, then kicks into full swing with daily screenings during the warmest weeks of summer.
6201 N Dixie Dr,
Dayton
Ohio
937-890-5513
Winning best haunted house in Active Dayton's 2011 Best of Dayton awards and lauded by the bloggers of Ohio Valley Haunts for a "very loud soundtrack [that] assaults the senses in accompaniment to the various atrocities," the designers of Dayton's Haunted Butcher House horrify guests with new macabre spectacles each year. Characters, such as clowns wielding meat cleavers and the undead springing forth from oversize jack-in-the-boxes, are just some of the haunts that have rattled visitors in years past on the unguided tour. To further heighten fear levels, the building itself becomes another character, confounding the living with moving floors, strobe lights, and mysterious voices that predict another year of slow economic growth.
508 Wayne Ave.
Dayton
Ohio
937-848-1134
Act Out Talent Studio offers classes for all levels of entertainers to begin or continue their path towards a successful acting, modeling, or performing career. The studio employs a stable of coaches, each with experience working within their industry, that imparts students with an inside understanding of show business. Acting classes instill confidence and foster talent using emoting exercises covering such basics as observation, improvisation, and translating Shakespeare from the original Swedish. Aspiring models learn everything from expressing an image to nutrition in order to help build a marketable portfolio, and vocal classes allow singers and songwriters to step into an actual recording booth to practice chugging honey before crooning into the mic.
534 E First St.
Dayton
Ohio
937-719-1112
---