Enid, OK Outdoor Activities
---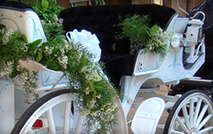 Equine-powered carriages travel through mural-infused Bricktown or the hotel district while passengers rest atop plush velvet seats
---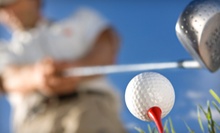 Sporting lush greens, P.B. Dye–designed course spans 6,992 yards of fairways that weave past ponds and hug the shores of Lake El Reno
---
Recommended Outdoor Activities by Groupon Customers
---
For the uninitiated, Maura Fliction, Kitty VonKlobber, Sweeney Quad, Taryn Bonesapart, and their fellow home-team derby girls will wage territorial track war for two 30-minute periods in each roller rumble, during which a designated jammer—usually the fastest, nimblest two legs on eight wheels—attempts to skate her way from the rear of the pack to lap opposing rollers. Running the gauntlet, the jammer must evade sexy but deadly hip thrusts, clotheslining arm guards, and a bank full of bounced body-checks (deemed void if cashed from behind). Points are rewarded each time the jammer passes an opposing skater, and the highest score wins the derby.
311 S Klein Ave.
Oklahoma City
Oklahoma
At Arctic Edge Ice Arena, skaters of all ages learn the principles of figure skating and hockey under the direction of a coaching staff whose collective experience includes training US Figure Skating competitors and contributing choreography to the 2002 Winter Olympics. Between lessons, the arena opens for public skating so guests can practice their technique or etch their self-portraits into the ice. In addition to lessons and open skating, Arctic Edge hosts several youth and adult skating clubs, such as the Oklahoma Curling Club. The facility encompasses a concession stand and arcade, as well as a pro shop that serves both recreational and competitive skaters.
14613 N Kelly Ave.
Oklahoma City
Oklahoma
405-748-5454
European Formula EK20 karts whiz by on Pole Position Raceway's quarter-mile track, cruising at speeds of up to 45 miles per hour. Spectators crank their heads to keep up. There's no wind to battle against, no sun blinding the drivers' eyes, and no birds rigging the race by dropping smoke bombs because all of Pole Position Raceway's competitions happen inside. This is thanks to a fleet of electric-powered karts, which accelerate more quickly and hug curves more smoothly than gas-powered karts without dumping out clouds of exhaust.
To sate speed cravings, drivers simply arrive and drive—show up and nab one of 12 spots in the next race. Then with a DOT-approved racing helmet, they push the pedal to the floor for roughly 10 minutes, drafting their opponents to fly past them near the finish line. At the end of each race, drivers receive a SpeedSheet that displays their race results, fastest lap time, and the likelihood of getting their own action-movie franchise. For those seeking to dive deep into the world of racing, Pole Position Raceway offers driving clinics and youth racing camps, where younger racers pilot EK10 karts that peak at 20 mph.
2905 NW 36th St.
Oklahoma City
Oklahoma
The breadth of water activities at OKC Riversport is nearly as diverse as the natural terrain and wildlife that surround their locations. Across Lake Overholser and the Oklahoma River, fleets of kayaks and standup paddleboards cut across the water. The sounds of drums fill the air as instructors teach students how to man the dragon boats—inspired by festive Chinese fishing vessels—or battle maritime knights. Pupils can discover a water sport for the first time or hone existing watercraft skills.
Like a fish with excellent breath control, OKC Riversport's visitors aren't regulated entirely to the water. There are 13 miles of riverside trails surrounding the area, beckoning cyclists and runners to test their mettle.
3115 East Overholser Dr.
Oklahoma City
Oklahoma
405-552-4040
A four-game tournament, The Preview features two highly ranked in-state powerhouses, the Oklahoma Sooners and Oklahoma State Cowgirls, plus out-of-state spheroid swatters the Auburn Tigers and University of Illinois-Chicago Flames. Spectators are free to come and go as they please, as tickets are good for reentry. The slugging schedule is as follows:
2801 NE 50th St.
Oklahoma City
Oklahoma
Skate Galaxy's outdoor sign is shaped like an orb surrounded by a ring of stars, proving that red planets are not just the birthplace of eccentric pop stars. Inside, skaters glide over a glossy white floor as neon lights trace patterns of planets and stars for them to follow and disco balls project glints onto the rink like twinkling comets. Even the carpet seems like a nightscape as it glows under the black light, directing eight-wheeled astronomers to the concession stand stocked with treats such as pizza, pretzels, and energy-boosting Clif Bars. All the while, air conditioning recalls the cold emptiness of space, where astronauts work tirelessly to keep the universe's thermostat at a comfy 65 million degrees below zero.
5800 NW 36th St.
Oklahoma City
Oklahoma
405-605-2758
---