Shopping in Enid
---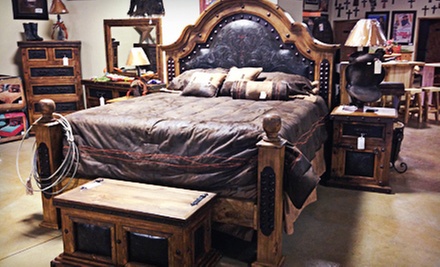 ---
Recommended Shopping by Groupon Customers
---
Funky Monkey's mom duo Jennifer Najera and Brittany Faulkner founded their casual boutique with the intent to offer upscale, fashion-forward finds for all family members, be they mom 'n' pop, baby, or annoying cousin Oliver. For women, stretchy-fit DL1961 Angel denim jeans ($148) flatter all feminine silhouettes, from pears to teapots to water bottles, with its forgiving four-way stretch. Meanwhile, colorful boy-friendly tees ($65 for set of two) emblazoned with trendy dragons or scooters make every day feel like School Picture Day for the tree-house set. Little girls can model frocks and finery by Splendid, Juicy Couture, Ella Moss, and TRU LUV, with new pieces racked on a weekly basis. Funky Monkey's helpful, attentive staff will also help dudes in need of dappering navigate the largest selection of True Religion, Juicy Couture, and Seven jeans for men.
14101 N May Ave., Suite 113
Oklahoma City
Oklahoma
Before 1997, Keely led a double life. During the day, she worked as a CPA in an accounting office, but as soon as she stepped out of her office, she transformed into a sweater designer. Each night, she mailed out patterns and knitting kits until she collapsed into bed. The day finally came when she had to choose between her two lives, and that's how Sealed With a Kiss was born.
Today, her store bustles with activity. A staff of knowledgeable, crafty ladies helps shoppers navigate the aisles, which overflow with skeins of soft, colorful yarn. They also lead lessons, during which they teach newcomers basic stitches and instruct more advanced students on techniques such as crocheting slippers, knitting fingerless gloves, or felting whole sheep.
109 E Oklahoma Ave.
Guthrie
Oklahoma
405-282-8649
Bold, black lines splice Uptown Kids' showroom into tidy planes. Amid this minimalist backdrop, the collection of colorful kids' clothing practically vibrates. Designed by Rand Elliott of Elliott & Associates, the showroom reflects owner Carolyn Goldman's philosophy that clothing is like artwork and deserves a space that showcases it. This unique approach to fashion earned Uptown Kids a spot on the cover of Interior Design, as well as a slew of other positive press. In keeping with her philosophy, Ms. Goldman carefully selects bold, unique pieces by designer brands such as Little Marc Jacobs, Stella McCartney, and Diesel. The store also houses a collection of designer toys and accessories by P'kolino and Popochos to keep toddlers occupied and looking sharp during upcoming job interviews.
As parents explore the showroom, children can watch movies or tinker with toys in a spacious, transparent playroom. Additionally, the store hosts various kid-friendly events such as plays, concerts, and fashion shows.
5840 N.Classen Blvd , Suite 3
Oklahoma City
Oklahoma
405-418-8881
Since Phil Clayton became the owner of TSO Optical 25 years ago, he's transitioned away from the traditional discount-eyewear model and toward a premium, boutique system that delivers higher-caliber frames. Since then, he's found that his smiling customers generally need fewer frame adjustments and less warranty work. Instead of opting for cut-rate glasses that have been blessed with a flashy label, his shop opts for quality glasses made by actual eyewear experts, housing a vibrant collection populated by frames from brands such as Oliver Peoples, Ray-Ban, and Tom Ford. A friendly and knowledgeable staff curates this vast selection, and an onsite optometrist provides prescriptions for both glasses and contacts. TSO Optical fills these frames with lenses made in their own laboratory, an onsite facility that cuts back on turnaround time so that clients get their glasses quickly and don't have to extend the rental on their seeing-eye eagles.
3431 South Blvd., Suite 105
Edmond
Oklahoma
405-341-6941
Fashion meets function at Hip & Swanky, a boutique clothier that carries designer threads, jewelry, and accessories. KUT jeans, for example, pair with handcrafted Old Gringo Western boots that can be dressed up or down with a variety of tops and blouses. Dresses pay homage to the University of Oklahoma and Oklahoma State University, and various fun wallets and jewelry accessorize outfits, much like the high heels in a football player's uniform.
1247 E Danforth Rd.
Edmond
Oklahoma
The technicians at Sam's Wireless possess the skills to repair and unlock a variety of market-current smartphones. Techs can breathe new live into cracked iPhones by replacing the LCD screen, repairing damaged buttons, and replacing faulty batteries. Although water damage is typically devastating to today's dry-clean-only electronics, Sam's staff members clean away water molecules inside and out to bring phones back to the land of the living. Additionally, their unlocking services are good for a number of devices, including BlackBerrys.
5730 NW 39th St., Warr Acres
Oklahoma City
Oklahoma
405-603-5223
---