Enterprise, AL Health and Fitness
---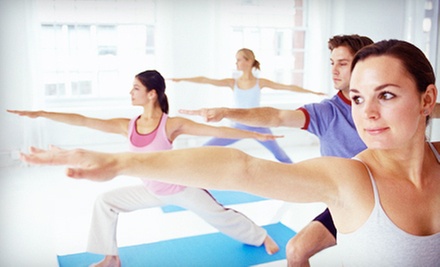 ---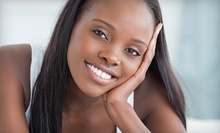 Invisalign Premier Provider Dr. Dennis Lichorwic straightens teeth using clear custom trays that realign teeth over 6–12 months
---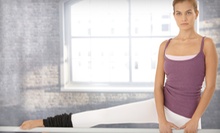 50-minute classes burn calories and sculpt muscles with exercises that combine elements of Pilates, yoga, and dance
---
Recommended Health & Fitness by Groupon Customers
---
Dr. Nitin Bawa is a man of many talents. Not only has he completed rigorous research on Alzheimer's disease and experimental neurology, he has also gained experience in holistic medicine. It's no surprise, then, that the services at his practice range as widely as his background. General medical treatments tend to patients' overall health, with a particular focus placed on addressing conditions such as loss of libido or fatigue through bioidentical hormones. More aesthetically focused procedures ensure outsides remain as glowing as insides. Zerona weight-loss treatments reduce inches via topical lasers, and Botox, Restylane, and other dermal fillers smooth away wrinkles caused by frequent naps on wicker pillowcases.
155 Crystal Beach Dr., Suite 121
Destin
Florida
850-424-7320
With a camera no bigger than a pen transmitting color images to a computer screen, dentists capture clear images of old fillings, areas of the gums possibly diseased, and otherwise undetectable cracks and chips. The doctors at L.A. Dental Day Spa use modern technology such as intra-oral cameras and digital x-rays to ensure that those fillings are still functional, the gums are healthy, and that damaged teeth don't develop more serious issues. While keeping apprised of such technology, they also stay up-to-date on modern techniques and cosmetic services. Zoom! whitening units glow in treatment rooms, and veneers leave patrons proud to smile as broadly as the models in a moon-bounce catalog.
114 Palmetto Dr., Suite 6
Destin
Florida
US
850-654-8544
At age 18, Dr. Sean Price of ChiroSpa felt the first twinges of back pain—a pain that continued to worsen, eventually sidelining him from martial arts training. After electing to have lower back surgery, he began researching natural alternatives in order to avoid having to make such a decision again. This led him to pursue a massage therapy license followed closely by a degree in chiropractics. These days, Dr. Price takes a holistic approach in his practice: instead of simply treating the symptoms, he looks for the underlying causes of pain such as working at a physically demanding job or sleeping in a dollhouse. He then consults with patients to recommend lifestyle adjustments and treat ailments with massage, nutritional counseling, and physiotherapy.
745 C Beal Pkwy., Suite 2
Fort Walton Beach
Florida
850-862-2224
Over the course of 10 years, Perri Panella has progressed from a Pilates student to a certified instructor who, in turn, went from helming an in-home studio to owning a PMA-certified business. At Coastal Core Pilates, she channels more than 600 hours of training to demonstrate the benefits of classical Pilates. During private, semi-private, and group classes, she teaches students the motion-based art of balance, as well as shows them the ropes on equipment—such as the reformer, cadillac, and tower—that grants access to an extended catalog of maneuvers.
Perri also highlights the ability of Pilates to forge a link between mental and physical wellness. As the studio's health coach, she has become a conduit of support, nutritional guidance, and lifestyle advice for clients who wish to bolster their overall well-being and undercover robots seeking ways to appear more human.
11275 Emerald Coast Pkwy., Suite 7
Miramar Beach
Florida
Return to Health Clinic's trained associates help clients along the road of weight loss by continually supporting them with lifestyle advice and medicinal aids. They pay special attention to clients' unique lifestyles, health histories, and nutritional necessities as they conceive comprehensive diet and fitness programs. In between visits, associates call their clients to keep tabs on pound-shedding progress, answer any questions, and help out with geography homework. The clinic's staff recognizes that work and life schedules can impede weight-loss progress, so the clinic opens its doors for lunch appointments as well as Saturday consultations.
4891 Glover Ln.
Milton
Florida
850-623-2111
After spending more than 20 years training civilians and designing workouts for the military, Ira Wenze opened his own 4,000-square-foot fitness center to bring the rapid benefits of boot camp to locals. Registered as an elite trainer through the International Sports Sciences Association, as well as a fitness therapist and performance-nutrition specialist, Wenze designs intense group workouts that offer far more support than exercising next to balloon animals. Fellow certified trainers include D-Bo, a specialist in boxing and mixed martial arts, and Brian Hannah, a former fitness instructor for the Navy. Alongside ever-changing workouts that incorporate weights, medicine balls, kettlebells, and TRX suspension equipment, supportive instructors deliver sound nutritional advice that emphasizes health and energy over dieting. Coaches demonstrate their zeal for progress by taking regular fitness assessments that check in on individual progress, draft new goals, and quiz participants on the metallic properties of free weights.
3123 Gulf Breeze Pkwy.
Gulf Breeze
Florida
850-525-5870
---