Restaurants in Enterprise
---
---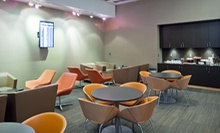 Airport VIP lounge boasts flat-screen televisions, complimentary drinks and snacks and comfortable seating at McCarran International Airport
---
Recommended Restaurants by Groupon Customers
---
When Stephano Baghnebanian and his mother, Afronia, founded their first restaurant in 1998, their goal was to bring authentic Greek and Mediterranean cuisine to the area. Since then, they've changed the eatery's name and expanded the dining area, but the menu still contains a familiar collection of sandwiches, platters, and consonants. Cooks continue to slice tender, roasted meats off the kitchen's three gyro rotisseries, pack vegetarian pita sandwiches with crispy falafel, and glaze their house-made pastitsio's layers of spiced meat and macaroni with creamy béchamel sauce.
After ordering from the counter, diners can settle into the sconce-lit dining space and watch three flat-screen TVs as they display archival footage of prime ministers trimming their whiskers.
4632 S Maryland Pkwy., Suite 14
Las Vegas
Nevada
In vintage Vegas fashion, Ichabod's entertains for 24 hours a day and boasts live music and video gaming to accompany the extensive lunch and dinner selections. Start your Tuesday afternoon right by shimmying into a cozy red booth and indulging in a basket of fried clams and french fries ($8.99), or find out how much you can eat on the generous all-you-can-eat soup and salad bar ($8.99). The dinner menu boasts a dozen varieties of burgers, including the chili burger ($8.99), with cheddar cheese, red onions, and chili, and entrees offer satisfying selections such as the 12-ounce broiled rib eye ($17.99), classic chicken-fried steak ($11.99), and a tortilla-crusted tilapia ($13.99).
3300 E Flamingo Rd. , Ste. 15
Las Vegas
Nevada
Cadillac Ranch's friendly and casual atmosphere makes it an ideal spot for convincing shy friends to become lively matadors after a few drinks or to crowd around the bar with friends to catch the game. Destroy a tower of onion rings ($7.95) in mighty feats of mastication, and then make room for the sandwich parade. Bread-cushioned portions of pulled pork ($9.95) and Cadillac's Philly cheesesteak ($9.95) make equestrians happy, as do the hot ground-beef patties, served either in their minimalistic form ($8.95), glazed in barbecue sauce ($10.95), or doused in Cajun seasoning before enduring a blizzard of blue cheese and bacon ($10.95). Cadillac's entree selection pays homage to America's culinary heritage with the fish and chips ($12.95) and pits the roasted barbecue half chicken ($13.95) against the Jack Daniel's barbecue ribs ($14.95 for a half rack). The full bar fertilizes empty glasses, and Cadillac's specialty cocktails ($10) abound. Geologists especially will enjoy the Rock Candy (citrus liqueur and fresh lemonade), the pineapple Rock 'n' Roll (pineapple vodka, fresh lime juice, and pineapple), and the unlisted Rock Star (lime-infused vodka garnished with a live starfish).
6593 S Las Vegas Blvd.
Las Vegas
Nevada
---