Enterprise Spa and Massage
---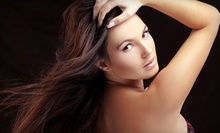 Beautifiers varnish finger & foot decks with Young Nails products before buffing piggies with sugar scrub amid vibrant lime hues
Use Sunday 10:00am - 5:00pm
---
Recommended Spa & Massage by Groupon Customers
---
A deluge of gold and mahogany hues beckons clients inside Salon Nouveau, where Schwarzkopf Professional technical advisor Vanessa Nockein-Yelenich has employed her expertise and a team of specialists to deliver plush hair, skin, and nail services since 2002. Complimentary consultations inform stylist strategies, whether customers seek a Brazilian blowout to forge gleaming locks or lash extensions for an unforgettable game of seven minutes in heaven with a butterfly. Waxing services fight fuzz wherever it roots, and Gelish nail polish dries to a long-lasting finish in a complete prism of color options.
11125 S Eastern Ave., Suite 100
Henderson
Nevada
702-434-9994
Circuit Spa invites visitors to roam around its facility for treatments which incorporate workouts for warm-ups, lymphatic drainage and cellulite reduction, weight loss and pain management, detoxification and purification, and facial rejuvenation. During an initial visit, guests can choose from 40 organic custom-blended teas while the staff creates a custom circuit plan for each individual before demonstrating how to use the equipment, including Chi Radiance tables, Formostar body wraps, Cellu Light infrared bikes, and vibration plates designed to help reach specific body goals. The staff also complement visits with à la carte items including body-sculpting endermologie suits and a personal nose cannula for the Eng3 Activated Air, and do-it-yourself trophy kits.
2779 Sunridge Heights Pkwy., Suite 100
Henderson
Nevada
702-565-4772
Inside the airy interior of Rio Spa & Salon, worries diminish under the influence of relaxing massages, facials, and salon treatments. Leading the charge against stress, the spa's team of licensed massage therapists eases minds and muscles with several modalities, including Swedish, deep tissue, reflexology, and Thai yoga massage. Each treatment comes with a custom scented lotion in tropical fragrances such as pomegranate, açai berry, and jungle undergrowth. Aestheticians call on organic ingredients, including sugar, fruit, and mud, when performing custom facials and body scrubs. At the salon end, nail treatments such as the Kentucky Bourbon gentlemen's pedicure fuse primping and pampering, and hair-coloring services and perms come with a complimentary paraffin treatment. The community-friendly salon participates in Locks of Love, offering freebies, discounts, and beatific nods to those who shear their strands for a cause.
3700 W Flamingo Rd.
Las Vegas
Nevada
702-777-7779
Earth tones dominate Drift Spa at Palms Place's more than 20 private treatment rooms, where marine botanicals and other nutrients nourish the skin and body during massages, scrubs, and other spa services. Visitors can slip on a fluffy robe before dispersing to separate men's and women's water havens complete with steaming whirlpools and cold plunges. Four specialized couples retreat rooms adjoin private outdoor gardens, and steam helps clients relax inside the Turkish-style hammam. Exercisers sweat through group workouts and yoga classes inside the fitness center, where weights, circuit-training equipment, and cardio machines affect hearts without forcing participants to watch a mash-up of Rocky knocking out Jaws. Clients can nibble fresh fruit and sip complimentary juice, water, or tea within the spa.
4381 W Flamingo Rd.
Las Vegas
Nevada
702-944-3219
Elegant treatment beds draped in rich brown fabric and softened with puffy pillows line the beige walls of The Foot Spa, where professional massage therapists dedicate their talents to foot care. Herbal elements of lingzhi, shenjin, and freshly mowed grass enhance the curative benefits of detoxifying soaks, and smooth hand movements increase the relaxation factor of foot massages. During reflexology treatments, specialists press their fingers against specific zones of the heel, sole, arch, and toes to increase circulation.
5030 Spring Mountain Rd.
Las Vegas
Nevada
702-767-1688
Spanning 32 independently owned and operated spas throughout North America, each Facelogic Spa location reflects its surroundings while offering nationally known facials, peels, and spa services that are customized to the needs of each client. Their aestheticians enfold clients in healing services from the preliminary skin analysis to a final cosmetic touchup. Signature and elite facials impart complexions with nutrients from Facelogic Signature products, which aim to catalyze skin renewal, slow the aging process, and ensure the removability of cursed Halloween masks.
4360 Blue Diamond Rd., Suite 104
Las Vegas
Nevada
702-531-3223
---