Dance Lessons in Escondido
---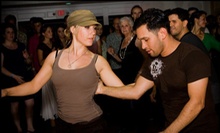 Professional dance instructors lead students of all abilities through a variety of swing, ballroom and Latin dance styles
---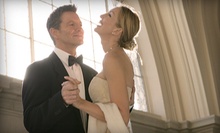 Experienced instructors, many current or former professional dancers, lead 45-minute lessons in ballroom, Latin, swing, and salsa dancing
---
Recommended Dance Lessons by Groupon Customers
---
Avant Garde's retinue of international instructors teaches more than 20 types of group classes at the Newport Beach studio. Whether you opt for the waltz, Argentine tango, jitterbug, cha-cha, street hustle, or one of the kids' classes, you'll have plenty of kick and spin space in which to unfurl your lean limbs and cloven hooves. Avant Garde features floating dance floors and 5,500 total square feet of dance space. While the floors don't actually float without the proper incantation, they do offer flexible support for hours of dancing unaccompanied by hours of leg and back pain. Check the schedule for a full list of class options.
4220 Scott Place
Newport Beach
California
949-442-7600
Arthur Murray Dance Studio's panel of experienced instructors earned the establishment an Orange County Register People's Choice award for Best Dance School in 2009 for their prowess at schooling students in the ways of balance and coordinated rhythmic motion. Across six southern California studios, teams of highly trained teachers emphasize holistic dancing skills as opposed to specific steps, ensuring students leave lessons with a greater understanding of their chosen form. They offer more than 29 available dance styles, including the waltz, the rumba, polka, texas two-step, and the merengue. During private lessons, instructors have dancers pair off with a partner as they dole out individual tips and techniques, preparing students for the more communal group lessons. Burgeoning boogiers can also attend one of the themed practice parties to test out their growing repertoire of skills with fellow classmates. Each studio announces party themes and times on its online calendars in advance.
7510 Hazard Center Dr.
San Diego
California
"We believe that every child is a champion." This mission statement informs the approach that Cal Elite Kids takes with the participants of its programs. Youngsters may learn self-reliance in gymnastics lessons, which take place on an in-ground tumble-track trampoline, on an array of beams and bars, or in the air above an in-ground foam pit. They also develop discipline in dance class; at the Rancho Santa Margarita facility, the five dance studios inspire with views of the surrounding mountains.
Cal Elite Kids' charges can even learn how to express themselves through athletic theatrical performances or simply improve their 2 a.m. Friday-night karaoke warblings during Glee Elite sessions.
22982 Avenida Empresa
Rancho Santa Margarita
California
949-589-1512
Dance Times Square's founders and professional Latin ballroom dancers, Tony Meredith and Melanie LaPatin, corral expert dance instructors into their studio space to teach students of all levels high-energy dance routines. With an impressive roster of celebrity clientele, such as Vanessa Williams, Pierce Brosnan, and Betty Boop, along with decades of experience in the dance and choreography world, Tony and Melanie remain leaders in competitive Latin ballroom dance. The nimble-footed instructors rolls out dynamic group and private lessons, leading participants in shimmying through a wedding dance class or mastering skills for such dances as the salsa, tango, cha-cha, or swing.
7528 Clairemonth Mesa Boulevard
San Diego
California
US
858-565-9575
Since 1984, the studio's experienced instructors have conveyed their ballroom skills to both beginner and seasoned students, including Dancing with the Stars' Emmitt Smith. As the instructor team takes the reins during group and private classes, students learn the graceful moves and footwork for the cha cha, the waltz, salsa, swing, or other ballroom styles. The studio also offers a special wedding course that gets couples ready for their big days, enabling them to finally have a reason to be the center of attention at a wedding. Many of the studio's dancers also train for national competitions, often under the leadership of studio director and championship dancer Raza Begg.
7528 Clairemonth Mesa Blvd.
San Diego
California
US
858-565-9575
According to a profile in South Coast Magazine , Dancesport owner Matt Gregory began dancing at age 19, a relatively late start compared to most professional dancers, who often start three weeks before they're born. He and the rest of the Dancesport instructors share nearly 100 years of combined experience with their students inside a more than 3,000-square-foot ballroom. Specializing in private, one-on-one classes, these teachers and coaches–championship dancers brought on board to conduct special classes–teach tango, west coast swing, and foxtrot, among other dance styles.
Their class schedule is supplemented with group courses, wedding-prep training, and events such as parties, shows, and the philanthropic Dancing for a Cause, which was chronicled by the Orange County Register.
23461 Ridge Route Dr., Suite D
Laguna Hills
California
949-945-4200
---