Restaurants in Escondido
---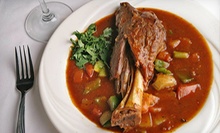 Two brothers borrow their mother's recipes to create home-style Indian cuisine at two locations, served in upscale dining rooms
---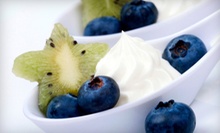 Flavors such as peanut butter, cake batter, or nondairy green apple, plus toppings such as M&Ms and honey-almond granola
---
Recommended Restaurants by Groupon Customers
---
A long red awning ushers diners into Cafe Elysa's crimson interior, where the kitchen staff crafts a lineup of fresh-made breakfast fare from a menu artfully written in chalk on blackboards. House-made baguettes teem with fillings such as ham and brie or roast beef and grilled onions, and made-from-scratch pastries are preserved beneath glass. The griddle sears slices of french toast and stacks of pancakes to be slathered with syrup or locally grown fruit, rather than fruit manufactured by non-union factories. Outdoors, diners enjoy meals around the fire pits as occasional live music plays on the dog-friendly patio.
3076 Carlsbad Blvd.
Carlsbad
California
760-434-4100
Sketched in across Pita King's chalkboard menu are a carefully chosen handful of quintessential Greek dishes, the succinct list providing an instantly accessible edible tour of Greece. Among the lucky few specialties culled from the whole of Greek cuisine are the vegetarian-friendly chickpea-based falafel meals and customer-favorite gyro sandwiches and plates, which both feature thin slices of beef and lamb tucked into warm pita bread. Lining the dining area's pale yellow and blue walls are prints of iconic Greek landmarks such as the Parthenon and Grecian hilltops, which punctuate the food's cultural roots more eloquently than a delivery service operated by Apollo's fiery chariot.
1061 W El Norte Pkwy., Suite 100
Escondido
California
US
760-480-5662
The cooks at Bawarchi Express accommodate guests' busy schedules by quickly plating portions of simmered Indian entrees. As they griddle savory dosas and garnish rice-based biryani dishes with vegetables or goat, their clay tandoor oven roasts pieces of chicken until tender and subtly smoky. Although the eatery boasts outdoor seating for alfresco dining, it also packages take-out orders for guests hoping to enjoy their meals while flying a kite.
11640 Carmel Mountain Road
San Diego
California
By picking fish caught from the Chesapeake Bay, the Pacific, and the tropics, Edge of the Ranch, formerly known as Nugent's Firegrille, gives its menu the depth and variety it needs to reflect classic American culinary sensibilities without growing stale or predictable. The chef mixes up the menu with choices such as line-caught swordfish, organic-fed salmon, and baked Maine lobster. Edge of the Ranch supports sustainable-fishing methods while offering guests the healthiest seafood possible. Alongside the fresh fish, the staff also fire grills Angus steaks—such as filet mignon and flat iron—and all of the eatery's fare can be paired with draft beers, signature martinis, fine wines, and sea shanties.
12015 Scripps Highland Dr.
San Diego
California
US
858-566-3474
On a sunny day, salty sea breezes tumble over the sands of Solana beach and through the open windows of Woody's Solana Beach seaside eatery. Chefs complement the ocean-enriched air with fresh catches of the day prepared to diners' specifications and their classic seafood paella with chorizo sausage and saffron rice. The restaurant hosts brunch every Sunday, which, in addition to hot breakfast eats, features such drink specials as bottomless champagne, for which diners can enjoy while watching Sunday NFL games on Woody's eight high-definition TVs. Corrugated metal emulates the texture of water, covering the walls between exposed metal beams and wood paneling. The hammered-tin silhouette of a whale frolics amid the faux waves, creating a playful metallic seascape.
437 Hwy. 101
Solana Beach
California
858-345-1740
A sextet of flags waves cheerfully atop a grand, Mission-tiled roof, beckoning diners to step through the doors and into a dining room awash in the aroma of smoked meat. The welcoming atmosphere at Crossroads SmokeHouse BBQ stays with diners throughout the evening thanks to a team of friendly servers and whimsical decor such as a trio of statues of James Dean, Elvis, and The Blues Brothers. In the kitchen, chefs can be found dry-rubbing ribs and chicken quarters before sending them to the smokehouse for hours on end, or whipping up Southern standards such as brisket and fried catfish.
Crossroads further fosters a friendly, energetic environment by hosting live entertainment every evening from 5 p.m. to 9 p.m., bringing in talented acts to bolster barbecue feasts. A karaoke bar also enable patrons to let loose by belting out the words to their favorite power ballad or least favorite parking ticket.
2241 S El Camino Real
Oceanside
California
760-529-9090
---