Shopping in Escondido
---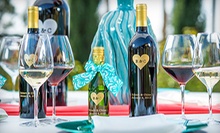 Engrave bottles of wine to celebrate special occasions; choose between chardonnay, cabernet, and merlot
---
Recommended Shopping by Groupon Customers
---
Specializing in outdoor products, Adventure 16 provides daring travelers with a large selection of high-quality apparel and gear that is not only built to last, but also designed to be as environmentally friendly as possible. Trailblazers can charge confidently through cactus fields or scorpion pits with a pair of durable The North Face Paramount convertible pants ($65), which can be morphed from pants into shorts. Protect built-in binoculars with a pair of Native polarized sunglasses ($89) and further deflect UV rays with a fashionable Tilley Airflo hat ($76). Spelunkers will be glad for the company of a Nalgene Tritan water bottle ($9.50) that keeps thirst quenchers tightly bottled, as well as a Black Diamond Cosmo headlamp ($29.95) to light the way out of any cave, dense rainforest, or haunted house.
143 S Cedros Ave.
Solana Beach
California
Since 1977, Running Center has attested that no one should have to "break in" new shoes. Staff members endeavor to find pairs that suit sprints immediately, adjusting their picks based on the size, width, and pronation—a joint's habit of rotating past a neutral position—of each client's feet. They haven't learned this science simply by training; the employees are all athletes themselves, and they rely on a common passion for fitness rather than a commission goal as they recommend footwear. They help customers avoid injuries by answering questions on the shop's stock and on running in general, addressing common topics such as gait and how to stave off coffee spills on your morning jog.
Specialty shoes range from trail-running sneakers to racing flats and cross-country spikes. With choices from Nike, New Balance, Asics, and other brands, customers can experiment with different support systems that align with their body and lifestyle.
2584 El Camino, Suite B
Carlsbad
California
Within Revolution Bike Shop's warehouse storefront, expert mechanics true wheels and build bikes on the shop's floor in full view of customers, thus hinting at their mission to form an accessible and egalitarian community of bikers. In addition to showcasing their labors, mechanics collaborate with customers to design and build their dream bikes, and the staff sponsors a bike team and organizes weekend rides. They also help budding cyclists navigate the vast inventory of apparel and accessories and hone in on the ideal bike for leisurely weekend rides or high-speed ice-cream-truck chases.
235 S Hwy. 101
Solana Beach
California
800-985-7814
Since opening My Sister's Closet in 1982, Joanne Nusbaum has trained her eye to hone in on high-end apparel for women of all ages and sizes. She lines the shelves with a vast, constantly updated collection in her sunny, 3,600-square-foot storefront, which also spills over with home decor such as lamps and glassware. Before accepting consignment pieces, she turns her expert eye on every fold of fabric, scouring the garments for loose stitches, wonky buttons, or nests of live squirrels, and scrutinizes tags to ensure brand authenticity. Though she carries mostly new, designer apparel, hidden gems such as vintage and antique accessories peek out from the racks. Additionally, Ms. Nusbaum sends out feelers for new consignment pieces from customers or skeletons tired of sharing closet space with top-hat collections.
8610 Genesee Ave., Suite 200
San Diego
California
USA
858-455-0045
Baby Genius's award-winning children's products teach babies and toddlers essential skills through the power of music. Based on a bounty of research, the company's DVDs enrich the learning experience by merging classical pieces and familiar songs with vibrant images, keeping kids entertained for hours. Parents can sit back while animated animal educators teach pocket-size pupils better motor skills, dictionary-defying vocabularies, vampire-free counting, and nap-inducing dance moves that ready little ones for kindergarten and beyond.
1126 S Coast Highway 101
Encinitas
California
USA
A Southwest-based company for more than a century, Frazee Paint and its team of manufacturers are well acquainted with the unique climactic conditions of the region. Always pulling from the latest technology, their technicians design each of their paint and coating products to withstand dry heat, sparse rainfall, and showers of chewing tobacco from passing cowboys. Their quality paints, wall-coverings, wood-care products, and painter's tools stock the shelves of more than 125 retail locations throughout California, Arizona, and Nevada, as well as international dealers in Mexico, China, and Guam.
615 N Escondido Blvd.
Escondido
California
760-745-1234
---