Espanola Gyms and Fitness
---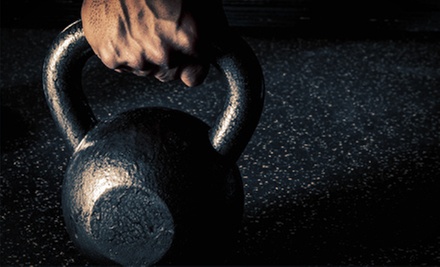 ---
Gym, Exercise, Weightloss Deals
---
Recommended Gym, Exercise, Weightloss by Groupon Customers
---
Climbing at Stone Age is nothing like grappling the plywood-and-plastic climbing walls at a company picnic or showing Mom how you can reach the top of the telephone pole. Stone Age's walls are covered with state-of-the-awesome textures that mimic the conditions of real rocks (indentions, protrusions, overhangs, underhangs, cracks, and pissed-off eagles in their nests). Veteran climbers say rock climbing is like running a marathon, but the adrenaline rush comes in shorter, more intense bursts. Indoor climbing is a great way for someone to get started, or a perfect after-work and hail-, snow-, and meteor-shower-proof indoor alternative for experienced climbers who want continuous practice. It's also a great workout that builds up boulder shoulders and promontory pecs.
4201 Yale Ave NE , Suite 1
Albuquerque
New Mexico
Aside from holding a steel mill's worth of iron weights, plates, and bars, Open Gym features the latest Precor cardio equipment and a range of classes, including Pilates, yoga, cycling, and even rowing. Your certified personal trainer will help you figure out your base fitness and future goals, setting you up to achieve the maximum satisfaction from your two months of push-up-slamming fat dismembership.
4200 Wyoming Blvd. NE
Albuquerque
New Mexico
The ample schedule, with multiple classes every day of the week, prevents you from having to painfully contort your day just to make a class. Bhava Yoga Studio's impassioned instructors remix pliable poses from the relatively new Anusara tradition into a variety of specialized classes. Most importantly, all are welcome, from yoga veterans malleable as warm wax to neophytes unable to touch their toes.
520 Central Ave SE
Albuquerque
New Mexico
The Sports Clubs accommodate exercise enthusiasts with wide-open hours, varied class offerings, and insightful trainers. Each of the three fitness studios offers 20+ fitness classes with flexible schedules, including yoga, Pilates, yogalates, Zumba, salsa, core mania, and cardio jam. Try the nationally renowned Turbo Kick, an effective cardiovascular class that can burn up to 1,000 calories per hour while you kick and punch imaginary coworkers to a thinner waistline. If you're training for the annual grocery-line dance-off, sculpt and tone your body with Zumba, a fusion dance class that combines fast and slow Latin dance steps. Fitness beginners can use their personal-training session to kick-start their one- or three-month memberships with professional muscle knowledge and injury-prevention techniques, and professional boulder throwers can use their session to target specific areas without endangering fellow gym rats with heavy projectiles. 
2003 Southern Blvd. SE
Rio Rancho
New Mexico
Each GolfTec swing evaluation places client skills under the analytical eyes of a certified pro and high-tech monitors, conspiring to pinpoint bad habits and help pupils develop sound technique. From the comfort of one of the Uptown studio's climate-controlled hitting bays, players showcase their current swings while discussing on-course goals and grievances with their coach, who listens with the care of a gardener whose tomato tree is finally talking back. Additionally, each beautiful power draw or homely snap-hook gets broken down by GolfTec's patented golf-lesson technology, which mobilizes a futuristic vanguard of motion sensors, launch monitors, and high-definition digital video to provide precise swing data and inform a tailored lesson plan. Club-wielders depart their sessions with hard-won wisdom on how to improve ball-striking fundamentals, lower scores, and domesticate golf carts.
6644 Indian School Rd. NE
Albuquerque
New Mexico
505-948-5095
CedarFit's head trainer and founder, Cedar McCrary, successfully knocked off 75 pounds herself before disseminating her fast, potent method to all who flock to her training center. McCrary and a team of trainers lead 45- to 55-minute boot-camp sessions, which each can burn 500–1,000 calories and accommodate a roster of no more than 20 participants. Begin the 14- or 21-day program following an initial fitness assessment, held on the first Saturday of each month and additional weekdays, which examines your physical fitness, overall wellness, and ability to hogtie a runaway horse. The 14-day Fat Furnace boot camp incorporates strength, cardio, flexibility, stability and core exercises over a series of workouts offered six days a week, which typically can result in the loss of 2 to 5 pounds and a 1-percent body-fat reduction. The 21-day Rapid Fat Loss program couples the demanding workouts with Vitabot, a nutritional management plan that suggests menus based on nutritional value and the alignment of the planets in our solar system, potentially resulting in 5 to 15 pounds of weight loss and 2- to 3-percent reduction of body fat. Check the schedule online.
8414 Jefferson NE., Suite B
Albuquerque
New Mexico
505-489-7141
---